Hunter Revolution™ Tire Changer
Fully-automatic changes everything
25%+
Walkaway time savings
possible for 4 tire set
2
minute service time
typical for ALL tire and wheel types
13
Fewer Decisions
Manual tire changers demand constant decision making
Specially prepared for

Key Features At Work
See how the Revolution Tire Changer Can Benefit Your Performance
Revolution Tire Changer Overview
Hunter Engineering Company's fully automatic tire changer, the Revolution uses the same fully automatic process for all tire and wheel combinations, saving time on today's diverse assemblies. The fully automatic process also eliminates the need for a skilled operator and reduces the experience gap of tire-changing teams by turning all technicians into experts.
Hunter's Fully-Automatic Revolution Tire Changer
Hunter's Revolution fully automatic tire changer! We show 10 different operators changing 10 unique wheel assemblies on 10 different Revolution tire changers, in under 2 and a half minutes.
Revolution™ Tire Changer – WalkAway™ Operation
Hunter Engineering Company previews the Revolution™ tire changer WalkAway™ operation. The Revolution™ tire changer with WalkAway™ operation features 80-seconds of autonomous bead breaking and demounting that can be performed without an operator present, reducing tire changing and balancing times by 25%+ and increasing shop capacity.
Revolution Tire Changer made in the USA
For 75 years, Hunter Engineering Company® has been designing and building automotive service equipment in the USA. We didn't set out to follow others, we set out to be the best. As a family company, we think differently.
Industry Awarded Excellence

4,700+ Revolution™ Tire Changers in Operation Globally

Units in Operation in the U.S. and Canada Across Market Sectors
Key Features At-A-Glance
Revolution Tire Changer Provides Many Features To Streamline Operations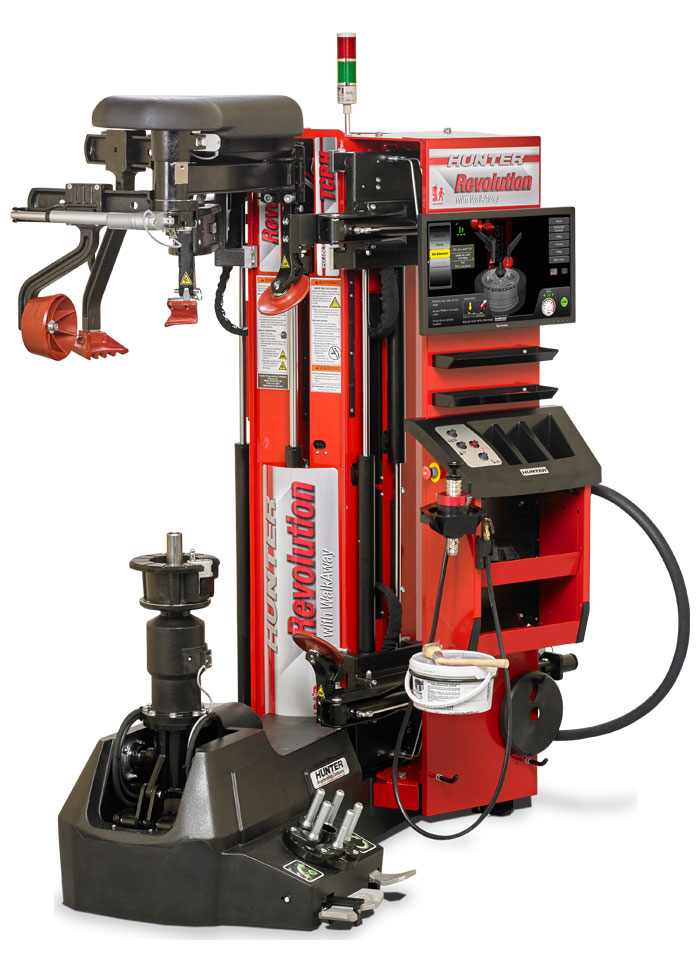 Patented
Space Saving Wheel Lift
Spindle lifts tire directly into position
Built-in wheel lift reduces overall footprint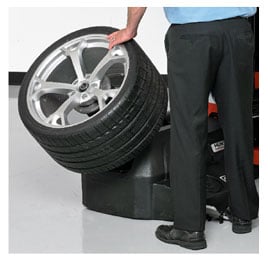 Patent Pending
"Go" Pedal Controls Operation
Press "Go" to make selection
Hold "Go" to advance procedure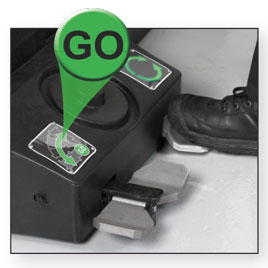 Patent Pending
Automatic Adds Simplicity
Same procedure for all tires and wheels
Operator experience no longer a factor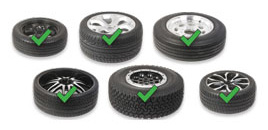 Patented
Leverless Tool Head
Demounts without levers
Prevents damage to tire and rim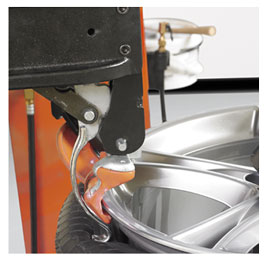 Patent
WalkAway™ Operation
80-second unattended bead breaking and demounting process
When paired with wheel balancing, 25%+ time savings is possible
57% less time spent changing a tire using WalkAway™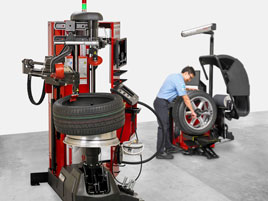 Patented
Powered Press Arm
Mount virtually any tire
Powered for maximum control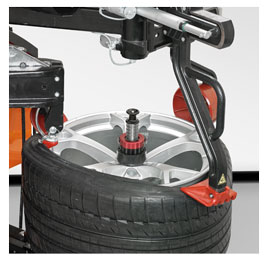 Exclusive
Animations & Videos
Animations train operator "on the job"
Video training for new users
Video library of special procedures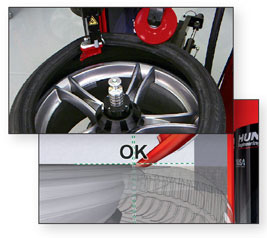 Plus semi-autonomous...
WalkAway™ mode frees the operator to perform other tasks
When paired with wheel balancing, a four tire changeover time can be cut by 25% or more!
Step 1
Mount & Clamp
Technician-performed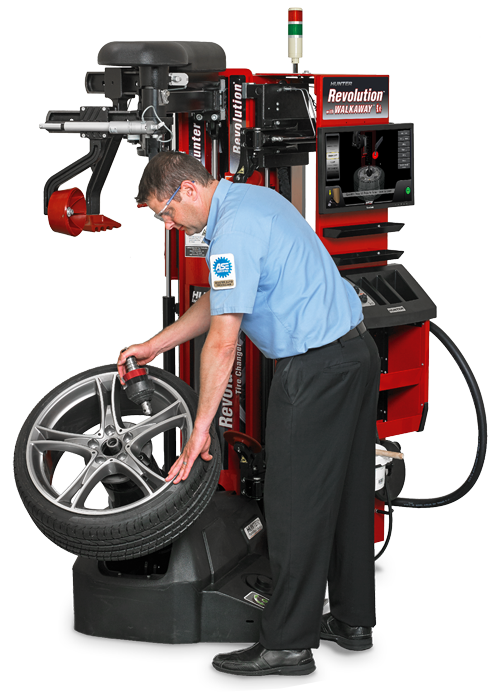 Step 2
Bead-Breaking
WalkAway™ function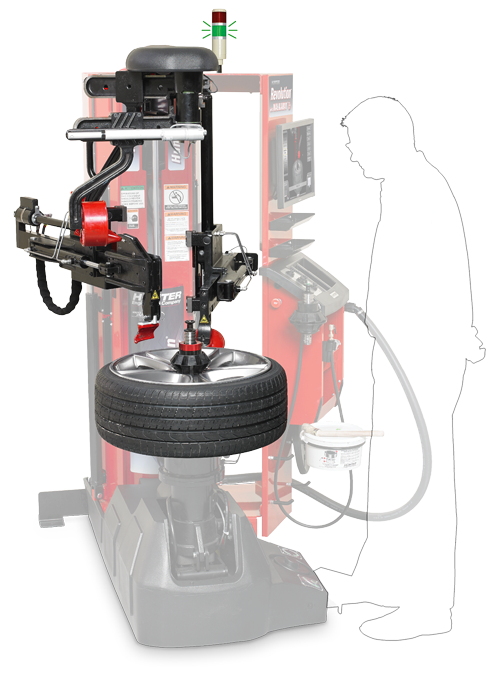 Step 3
Demounting
WalkAway™ function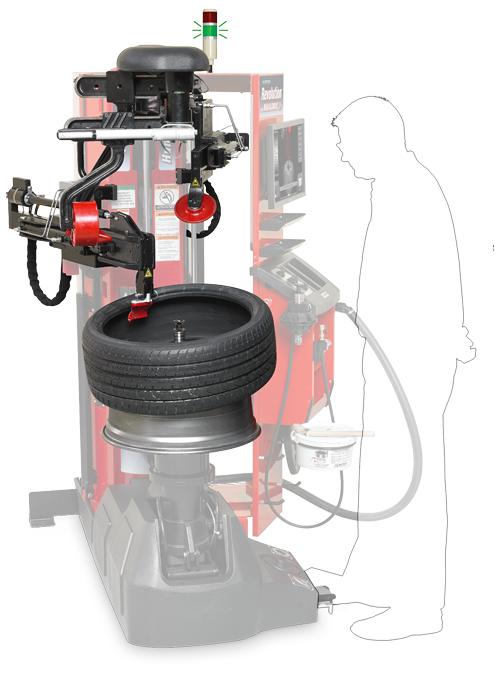 Step 4
Mounting
Technician-performed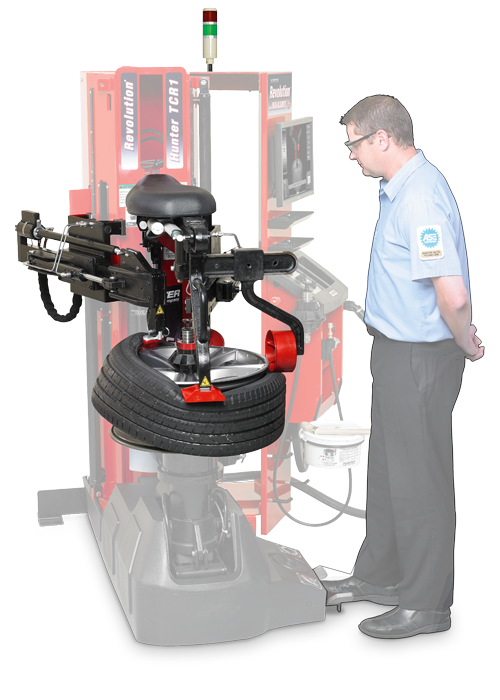 WalkAway™ mode adds capacity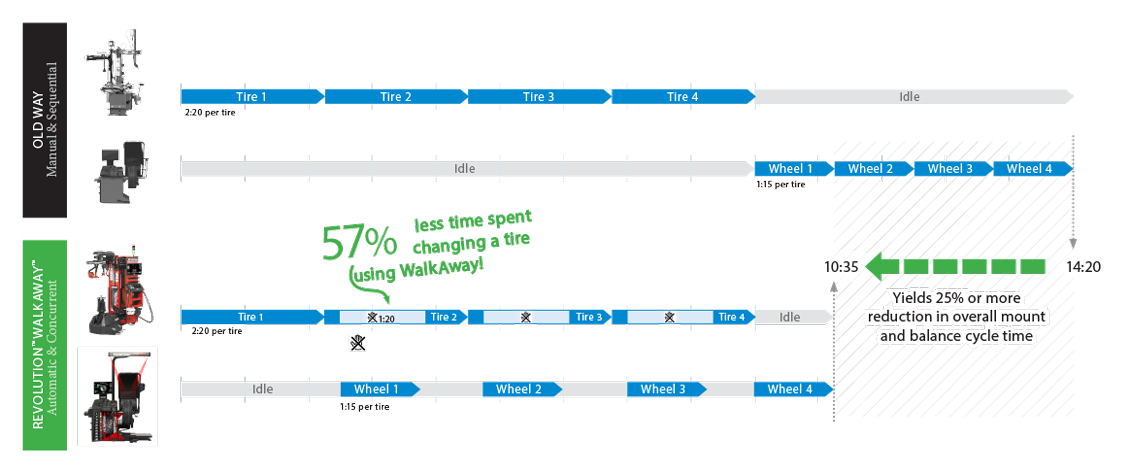 The Connected Shop Solution
Measure your shop performance real-time with live equipment results
HunterNet 2 Overview
With Hunter Engineering's connected shop solution you can measure your shop performance real-time, view live equipment results, see your return on investment, order consumables online in seconds, access training resources instantly, and manage your equipment with a robust web platform and security.
HunterNet® 2 Connected Revolution Tire Changer
Hunter Engineering Company's fully automatic tire changer, the Revolution H uses the saem fully automatic process for all tire and wheel combiniations while also offering HunterNet® 2 connectivitiy.
Review tire changer operations from anywhere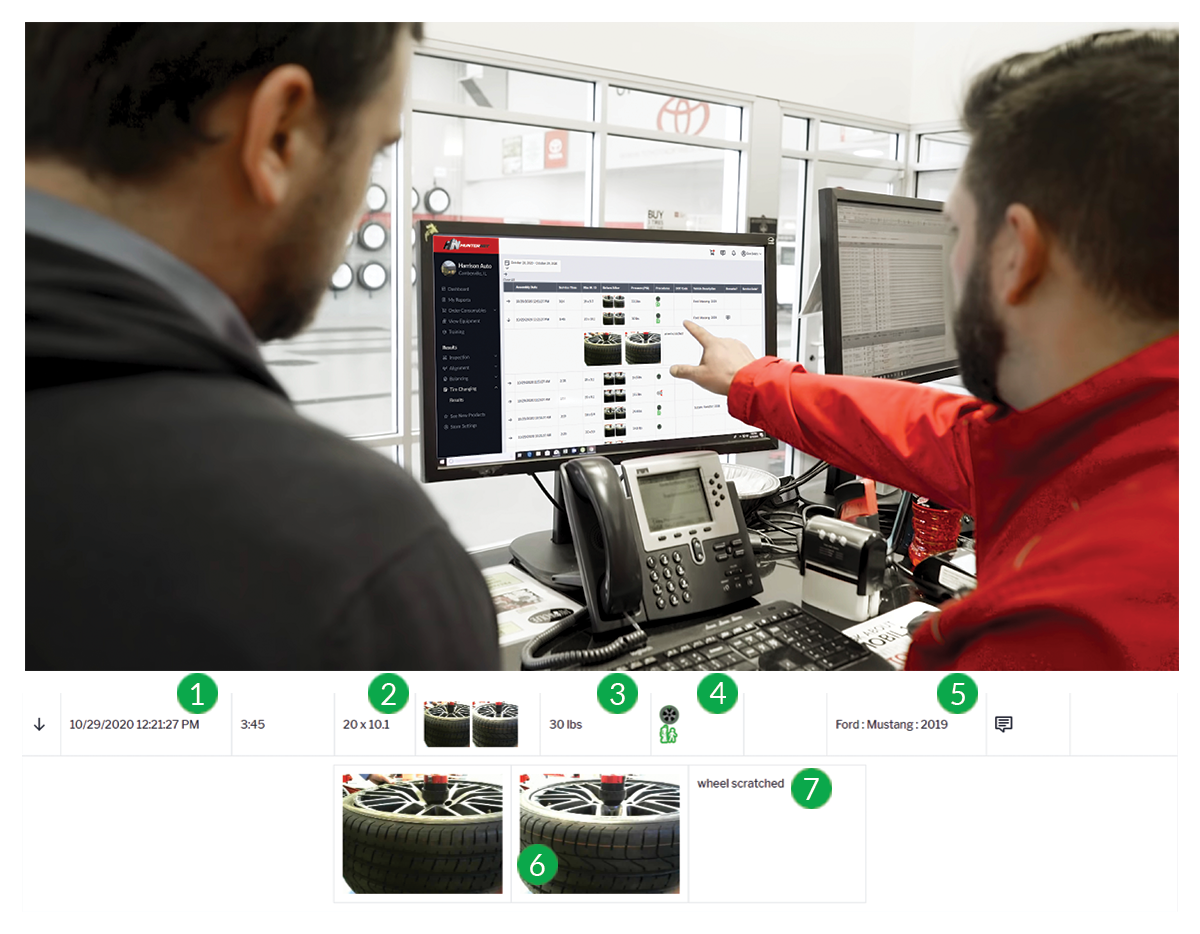 Date and Time Stamp
Wheel Data
Tire Pressure
Procedure Used
Vehicle Information
Before and After Photos
Technician Notes
Your Hunter equipment
See a detailed list of your Hunter equipment, including age.
News & updates
Get the latest news on Hunter products and services.
Tap into local support
Connect with your local Hunter team for questions and support.
See your revenue
Track your alignment and tire revenue and potential revenue if all needed services were sold.
Track your performance
Set goals and see how your business performs day-to-day.
Changing and balancing a set of 4 tires can now be accomplished in record time.
Pairing a Revolution™ and Road Force® Elite provides the best results in the least time.
Social Benefits
User friendly machine allows all technicians to service tires, regardless of skill level
Reduce Injury
Leading hands-free operation reduces likelihood of injury.
Increased Proficiency
On-demand training videos enable operators to quickly become familiar with the equipment
Certified safety
Certified to UL201 standard for garage equipment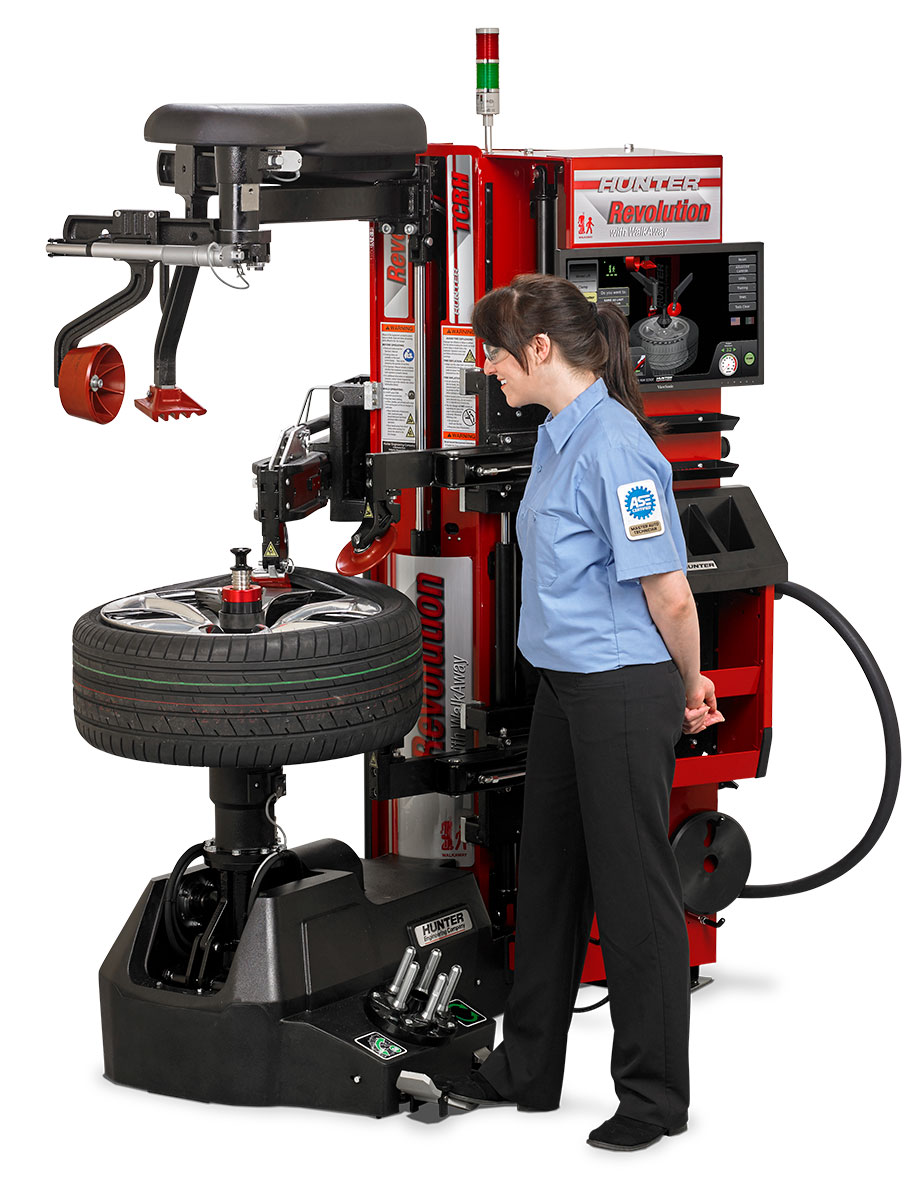 Safety
Tech position
Operator stands back and lets the machine do the work
Safety
Leverless
No levers to hit operator
Automatic press arms replace using levers for mounting
Safety
Power & clamping
Operator's hands stay away from the assembly
No pinch points
No risk of rim slipping
Safety
Wheel lift
Protects operator's back
No need to lift heavy assemblies
Safety
TPMS
Monitors TPMS location constantly
Won't allow tire to be mounted or demounted in unsafe TPMS location
Safety
Inflation
Inflation station algorithm fills to set pressure automatically - not necessary to stand on foot pedal to inflate
Inflation controls keep operator away from assembly
Safety
Tire & wheel
Automatic procedure protects rim and tire
Safety
Recording
Camera records process
Protects your investment
Verify proper work
Revolution™ Tire Changer
Eliminates technician experience gap
All techs are experts
Everyone on your tire changing team can be equally productive with simple, automatic operation.

On conventional tire machines, equipment is the tool and the technician is the tire changer.

The Revolution™ is the tire changer and the technician is an equipment operator.
Fully-automatic...
Makes all tires equal
Economic Benefits
Wheel, tire and TPMS protection reduces likelihood of costly damages to assemblies*
Time to change tires consistent and 15% faster than typical conventional tire changer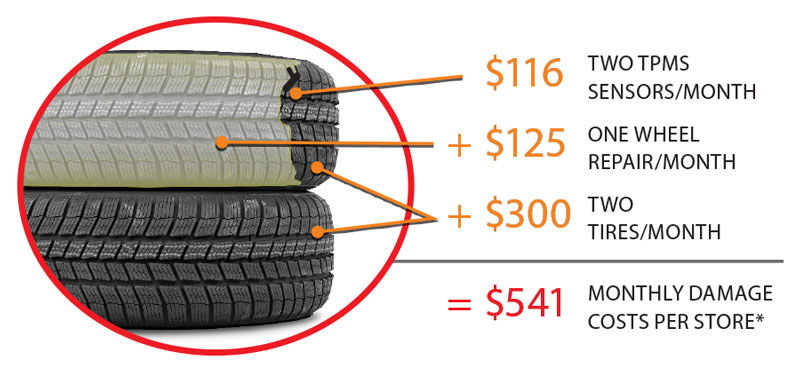 OEM Fitments (2011 - 2014)
Environmental Benefits
Reduces likelihood of damaging a tire
Tires could be saved from disposal annually across network
Saves 7 gallons of crude oil per passenger tire**
to generate replacements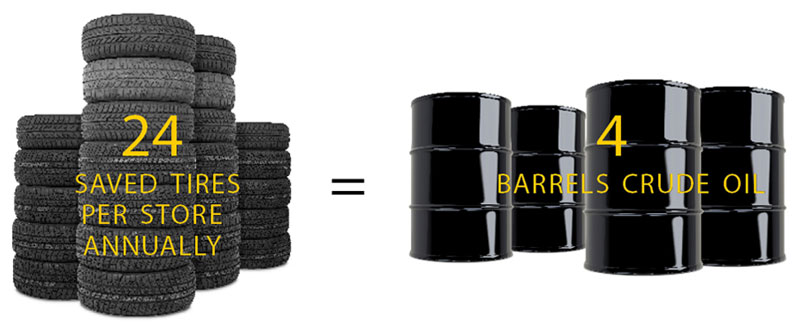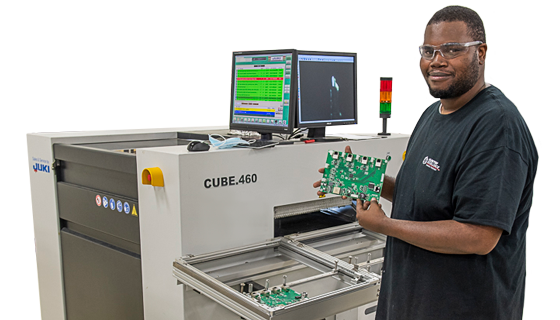 Committed to Sustainability
---
Hunter's commitment to sustainability is demonstrated through quality assurance, recycling programs, helping customers make informed, environmentally-friendly decisions, and continuously enhancing green initiatives for a healthier and cleaner world.
Learn More
Documents
Brochures
3/9/2020

8/30/2021

10/27/2021
Explore further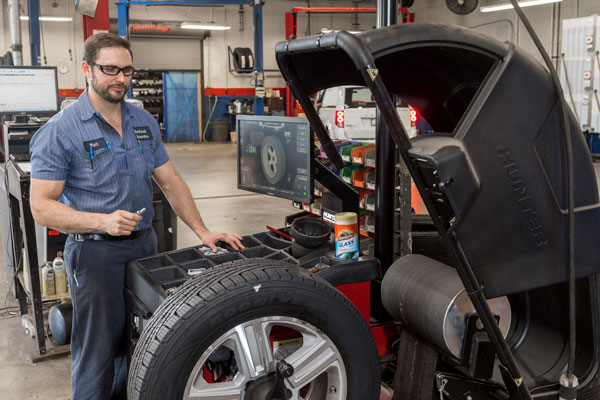 Road Force® Elite
Wheel Balancer
The world's fastest diagnostic wheel balancer; providing a faster balance than any traditional balancer.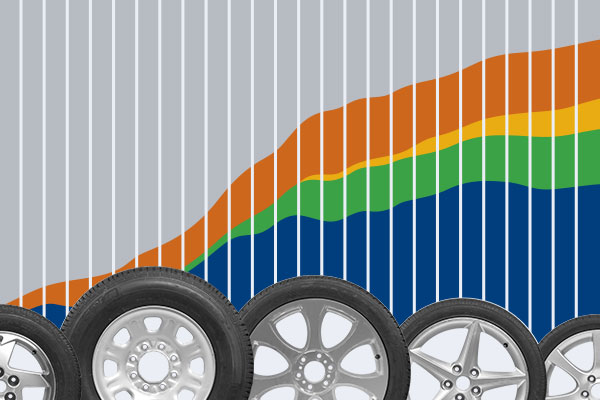 Growth of Difficult Tire and Wheel Fitments
Industry Insight
Expert assembly goes into each alignment system, alignment console, tire changer, balancer, brake lathe and other components.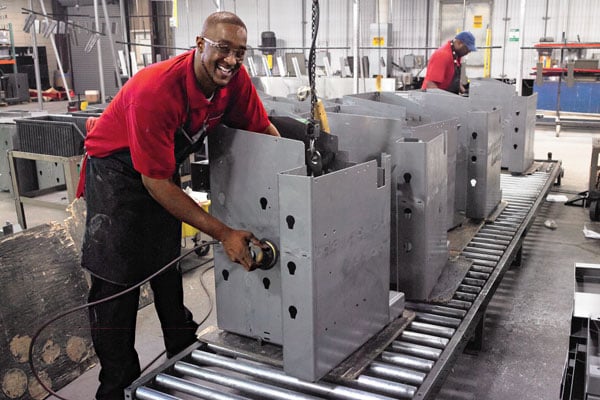 Designed & Built in the USA
Family owned, goal-driven
Expert assembly goes into each alignment system, alignment console, tire changer, balancer, brake lathe and other components.