New Maverick™ tire changer offers the best of both worlds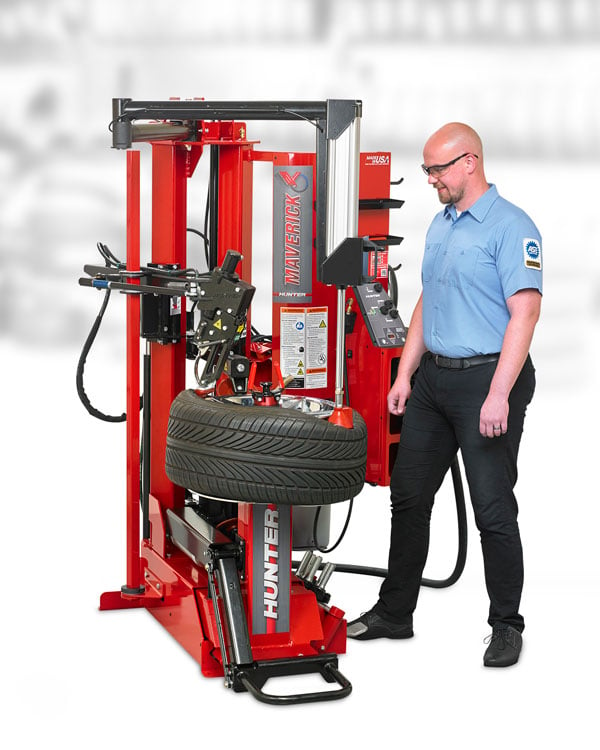 Hunter Engineering is introducing the Maverick™, its newest premium center-clamp tire changer with "Revolutionary" DNA.
The Maverick™ shares many features with Hunter's popular, standard-setting Revolution™ tire changer, but keeps the technician completely in charge with smooth and fully variable operation.
Customers have asked for Revolution™ power in a technician-driven machine. Offering the best of both worlds, Maverick™'s proportional controls combine low-speed functionality with on-demand faster operation.
Technicians who prefer a more hands-on approach to tire changing will enjoy the freedom to adapt the process to their own precise needs. The Maverick™'s simple, four-joystick layout provides superior tactile feedback with one-handed control.
An all-new leverless head utilizes a Revolution™-style tool and hook mechanism for maximum wheel protection, while automatically articulating to maintain perfect wheel alignment. A lifting ledge in the pusher foots saves additional time and effort.
"Just as the Revolution™ raised the bar with fully autonomous tire changing, Maverick™ is doing the same for a traditional, technician-driven tire changer," said Jim Hudson, product manager for tire changers. "We took some great features from the Revolution™ and designed Maverick™ to be technician-controlled, focusing on flexibility, speed and safety."
Maverick™ allows technicians to multitask with timesaving features like the exclusive InflationStation™, providing walkaway inflation and fast filling; automatic parking logic that gets the rollers and toolhead out of the way quickly without operator input; and a RollerLock center post that clamps faster and tighter with a patent-pending ball-retention design.
Additionally, hydraulic cylinders, impervious to compressed air quality, deliver superior force and precision over air cylinders. A hydraulic rotation motor results in higher torque and low maintenance.
HunterNet® 2 connectivity offers a complete view into machine utilization and tire changing trends.
Combining technician-focused speed, power and simplicity, along with class-leading wheel and tire capacity, the Maverick™ is still compact enough for small shops and even some mobile applications.
"The Maverick™ is all about giving technicians what they've told us they want," Hudson said. "It's truly tire changing their own way."
For more information, visit https://www.hunter.com/tire-changers/maverick.