The Growth of Difficult Tire and Wheel Fitments
The trend continues — difficult-to-service tire & wheel assemblies now represent 73% of fitments offered by OE manufacturers.
Low-profile, run-flat, large diameter and heavy assemblies have proved difficult to service across multiple OEMs, requiring technicians to be skilled when using conventional tire changers. While low-profile tires have become the most prevalent in the last few years, all new fitment styles increase the likelihood of additional risks: damaging wheels, breaking TPMS sensors, or even technician injury.
It is vital for automotive service providers to be equipped with the most advanced, OEM-derived technology on the market today. This allows equipment, instead of the technician, to eliminate fitment challenges, as difficult-to-service assemblies continue to become the norm.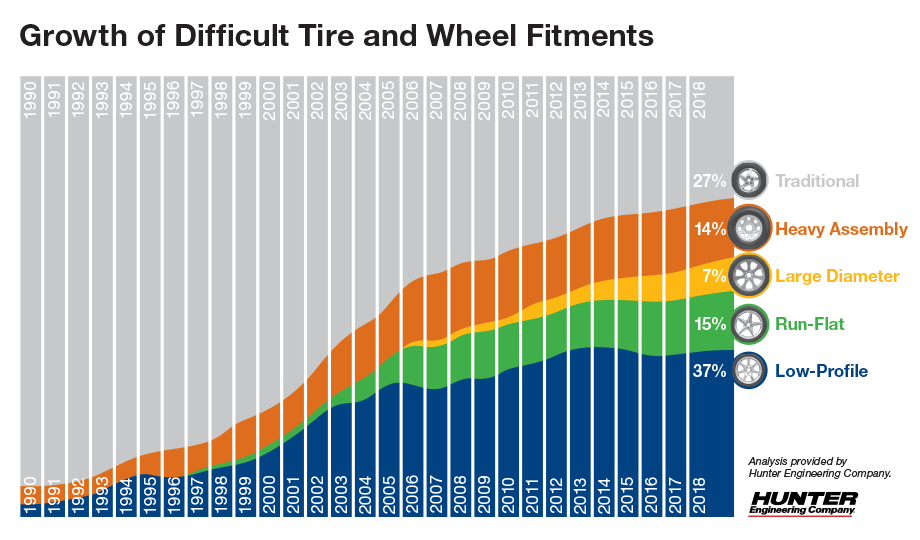 Heavy Assembly
30"+ overall diameter
Benefits from wheel lifts and other weight control features
Large Diameter
20"+ overall diameter
Somtimes require special clamping considerations
Run-Flat
Very stiff
Requires special procedures and press devices
Low-Profile
45-series or lower
Often stiff
Requires special procedures and press devices