Hunter Engineering's Ultimate ADAS™ named a winner at SEMA 2023 New Products Showcase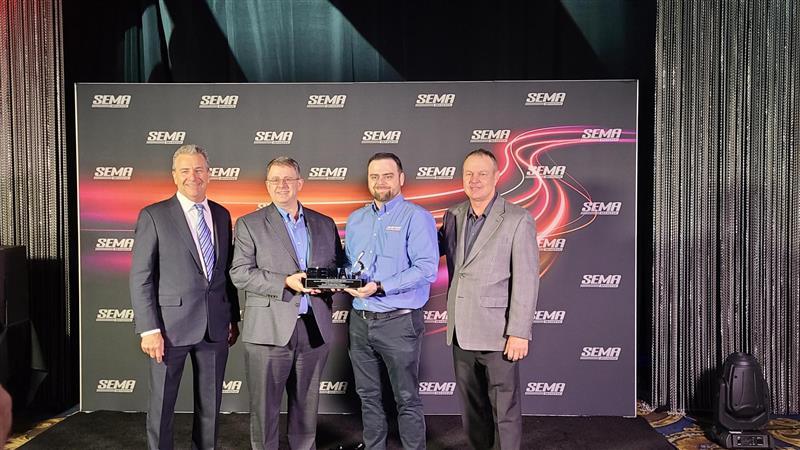 Hunter Engineering is proud to announce that its new Ultimate ADAS™ was named a winner in the New Products Showcase contest at SEMA 2023.
The announcement was made this morning at the awards ceremony in Las Vegas.
Ultimate ADAS™ was selected by a panel of judges as the Best New Advanced Driver Assistance Systems (ADAS) Product 2024, "in recognition of outstanding and innovative design achievement in a newly introduced product for the automotive aftermarket in the ADAS area."
Ultimate ADAS™ is Hunter's revolutionary system for eliminating error-prone manual layouts common to static ADAS calibrations.
The system combines Hunter's standard-setting alignment technology with an efficient and easy-to-use guided target placement system for around-the-vehicle coverage. Gimbal-mounted lasers are the key component, replacing the inexact guesswork of strings, plumb bobs and tape measures to cut setup time by 70 percent for some procedures.
"It's named Ultimate ADAS™ for a reason," says Ryan Gerber, Hunter Product Specialist, ADAS. "It's the fastest and most precise ADAS calibration system available."
SEMA's annual New Product Showcase encompasses several thousand entry products across a wide range of categories. Hunter Engineering was previously named SEMA Manufacturer of the Year in 2019.
Ultimate ADAS™ is currently exclusively available to Honda and Acura dealers, with availability expanded to other OEMs in 2024.
For more information, visit https://www.hunter.com/ultimate-adas.