Hunter Maverick® Tire Changing Machine
Change the way you change tires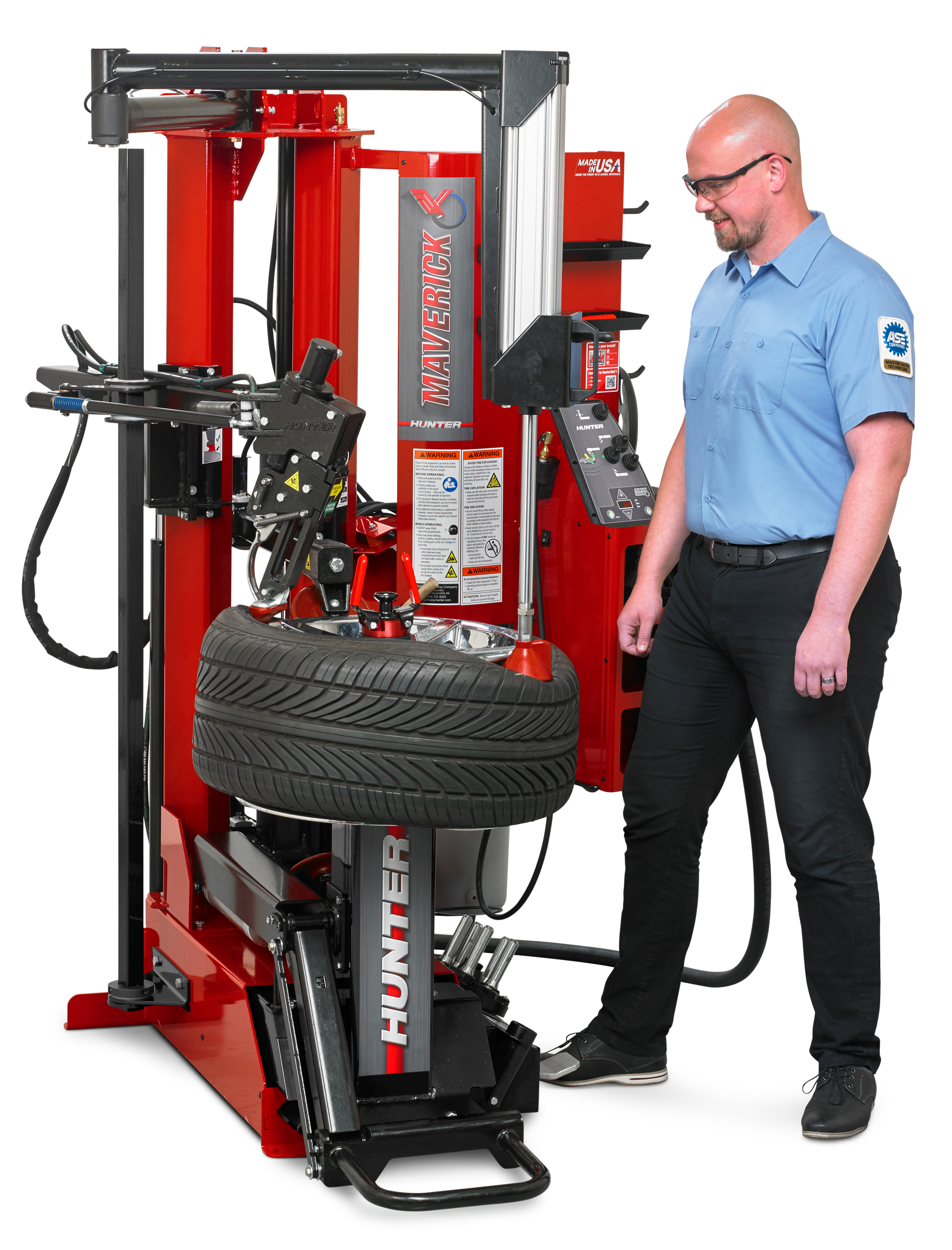 Maverick® technician-focused tire changing machine
Fully variable controls give the technician complete authority in the tire changing process
Uniquely designed SmartSet™ toolhead is easy to use
Hydraulic speed and accuracy are the best in the business
Smart safety features protect the wheel, tire and technician
InflationStation™ fills tires quickly to correct pressure
Designed and built in the USA using the finest US and global materials
Hunter's new Maverick® designed to give techs complete control
Reflecting user feedback, the Maverick® is designed for technicians who are serious about tire changing. Built proudly in Mississippi, Hunter's new tire changer really sets the wheels in motion by combining the convenience of hydraulic movement with the speed and responsiveness of manual operation.
The Maverick® Tire Changer: Standard operation
See a demonstration of Maverick®'s demounting and mounting functions, use the joystick control, and hands-free walkaway inflation with InflationStation™.
The Maverick® Tire Changer: Advanced clamping operation
Watch the advanced operation techniques for effectively clamping and mounting large reverse drop center and 19.5-inch large-bore assemblies.
Designed & Built in the USA
Hunter designs and manufactures industry-leading service equipment right here in the USA.
Made in the USA
---
The Maverick® tire changing machine is proudly made in the USA using the highest quality materials sourced domestically and internationally.
Learn more about Hunter manufacturing
Fully Variable Controls
Gain complete authority in the tire changing process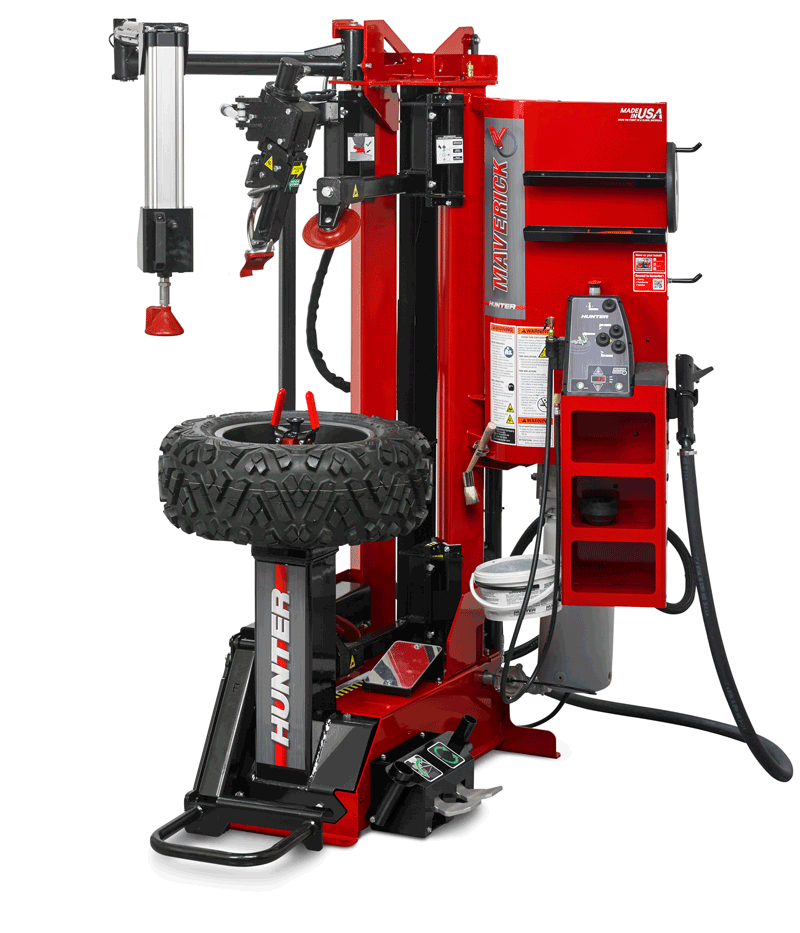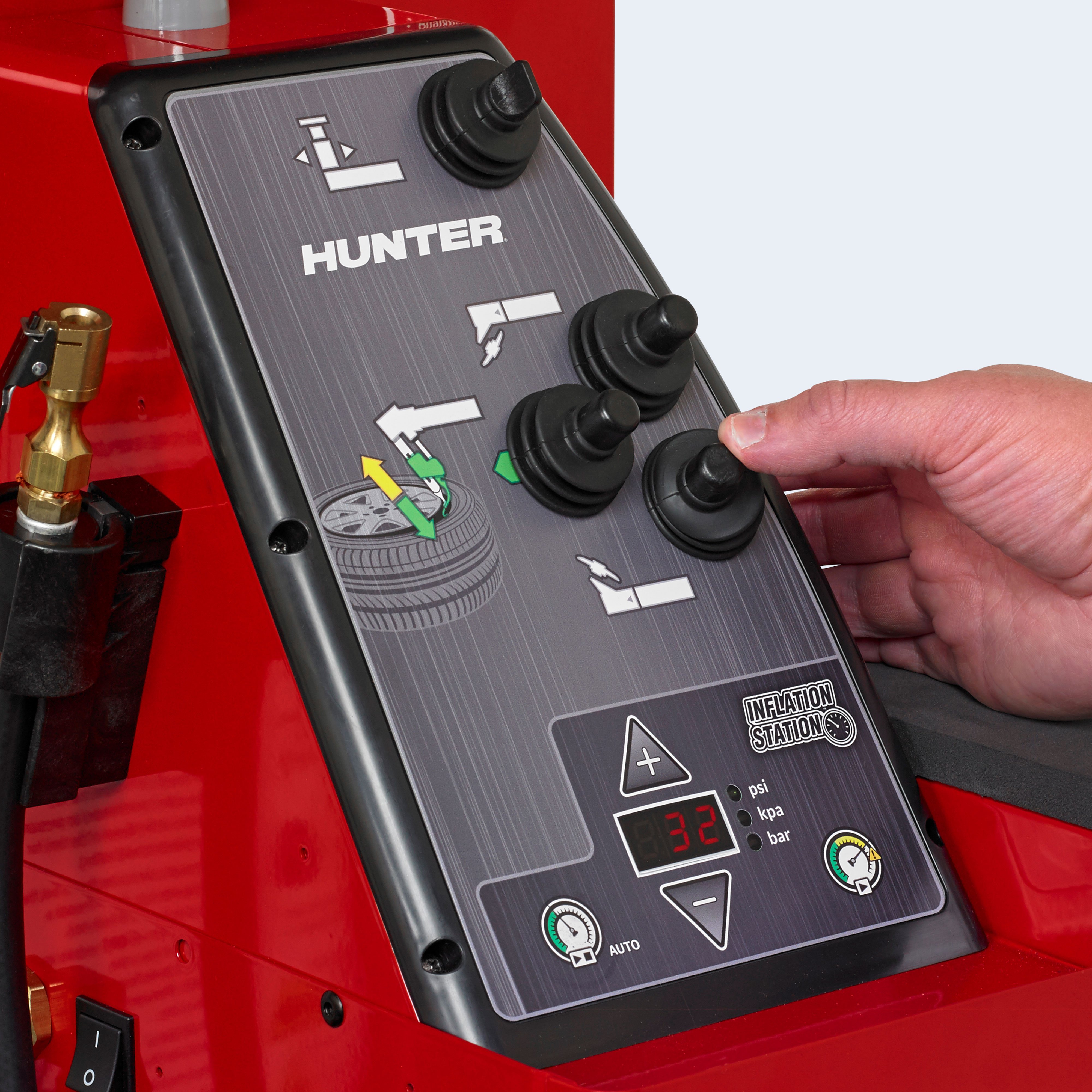 Technician-focused, responsive controls
Fine-control or fast on-demand
Hydraulic precision easier than air controls
Ergonomic for all-day use
Excellent tactile feedback — one-finger control for all functions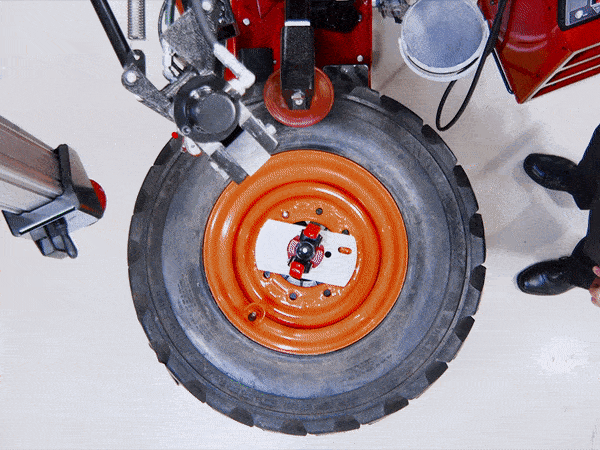 Articulating leverless system
Tool head simultaneously adjusts with base for wheel size
Send a message to your local Hunter business consultant to receive a free pricing quote or product demo.
This contact form is intended for legitimate Hunter equipment and service inquiries. All other use is prohibited and will be discarded. See Full Terms of Use
SmartSet™ Toolhead
Unique toolhead design focuses on efficiency and safety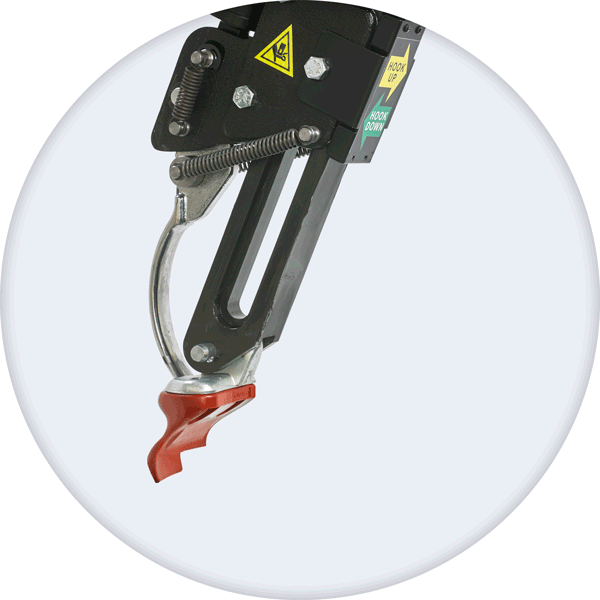 SmartSet™ leverless advantages
Indicator notch shows proper set height
Demounting hook deploys to catch and lift bead
Eliminate lever damage risk to the operator or rim
Safely and easily service clad and raised spoke wheels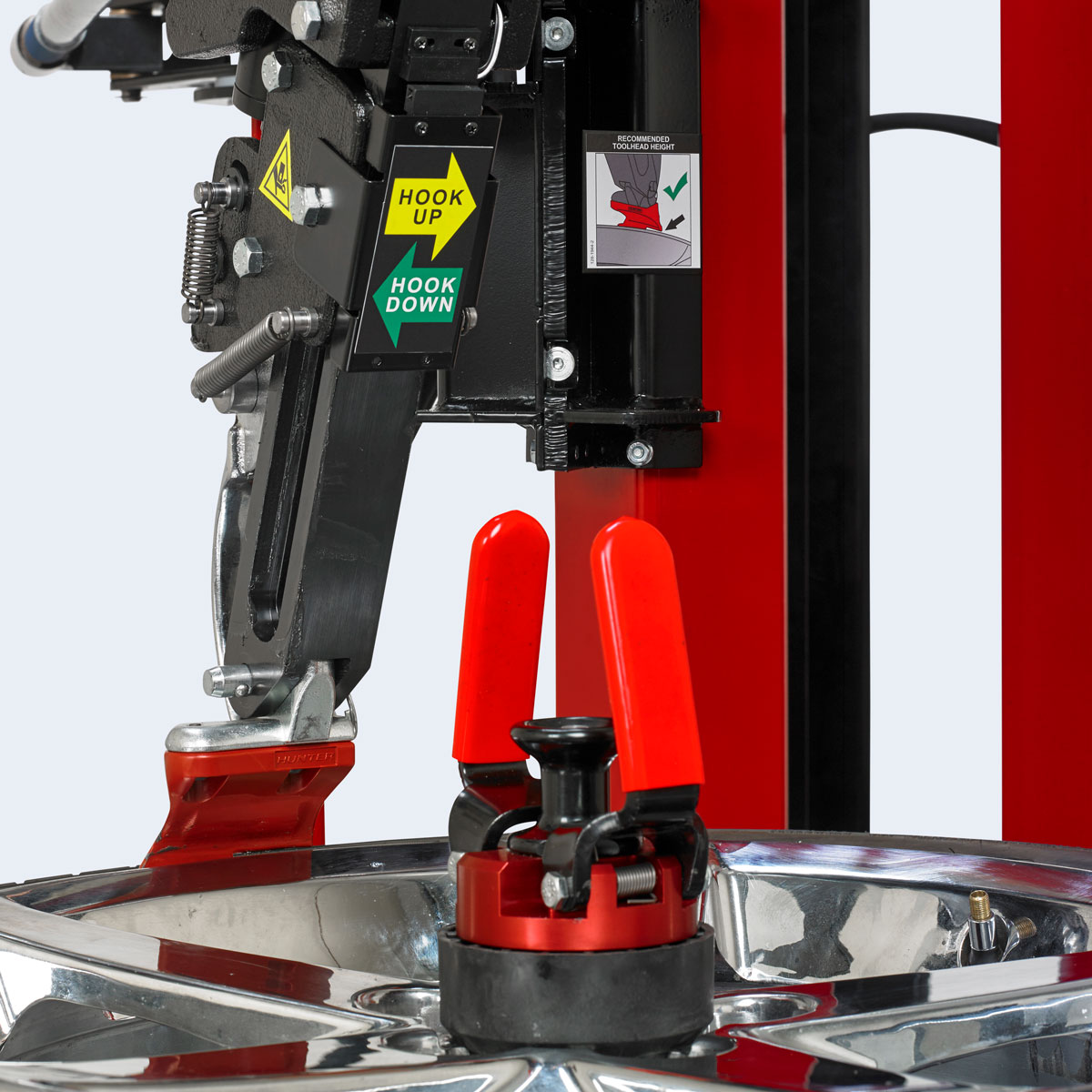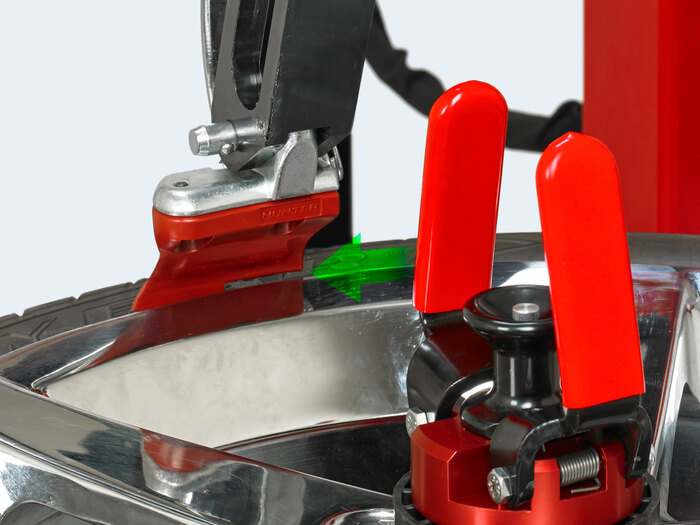 Set the toolhead to the correct position. SmartSet™ indicator notch shows proper set height.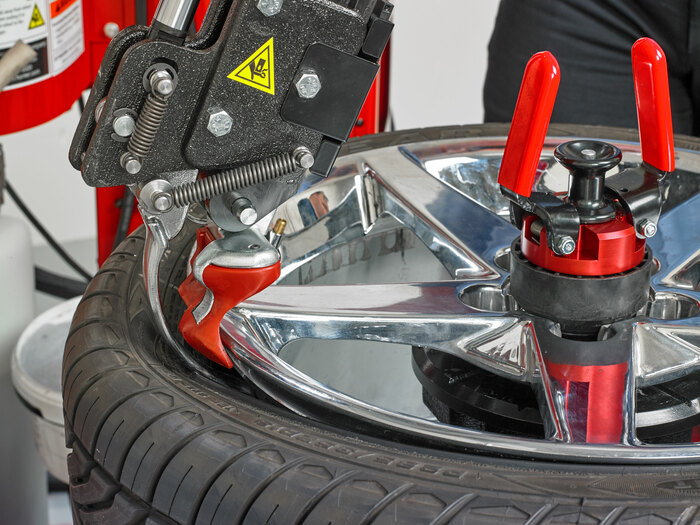 With the mounthead properly set, the demounting hook lowers to catch the bead.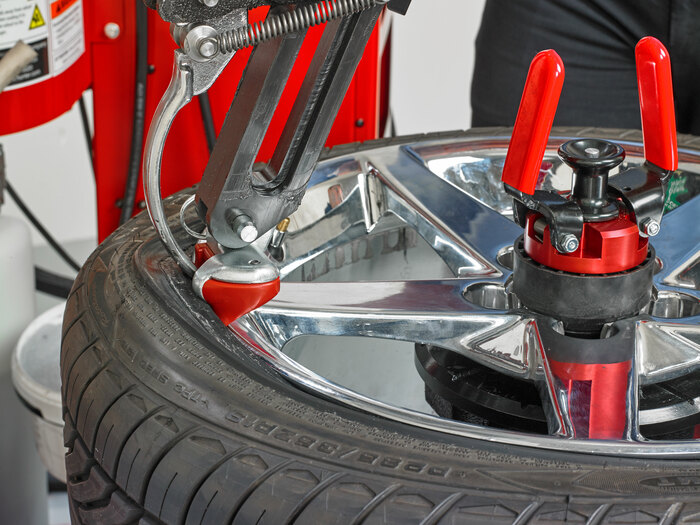 The hook raises, lifting the bead above the rim for demounting.
Give your technicians full control of the tire changing process.
Smart Software
Built-in features protect the wheel, tire and technician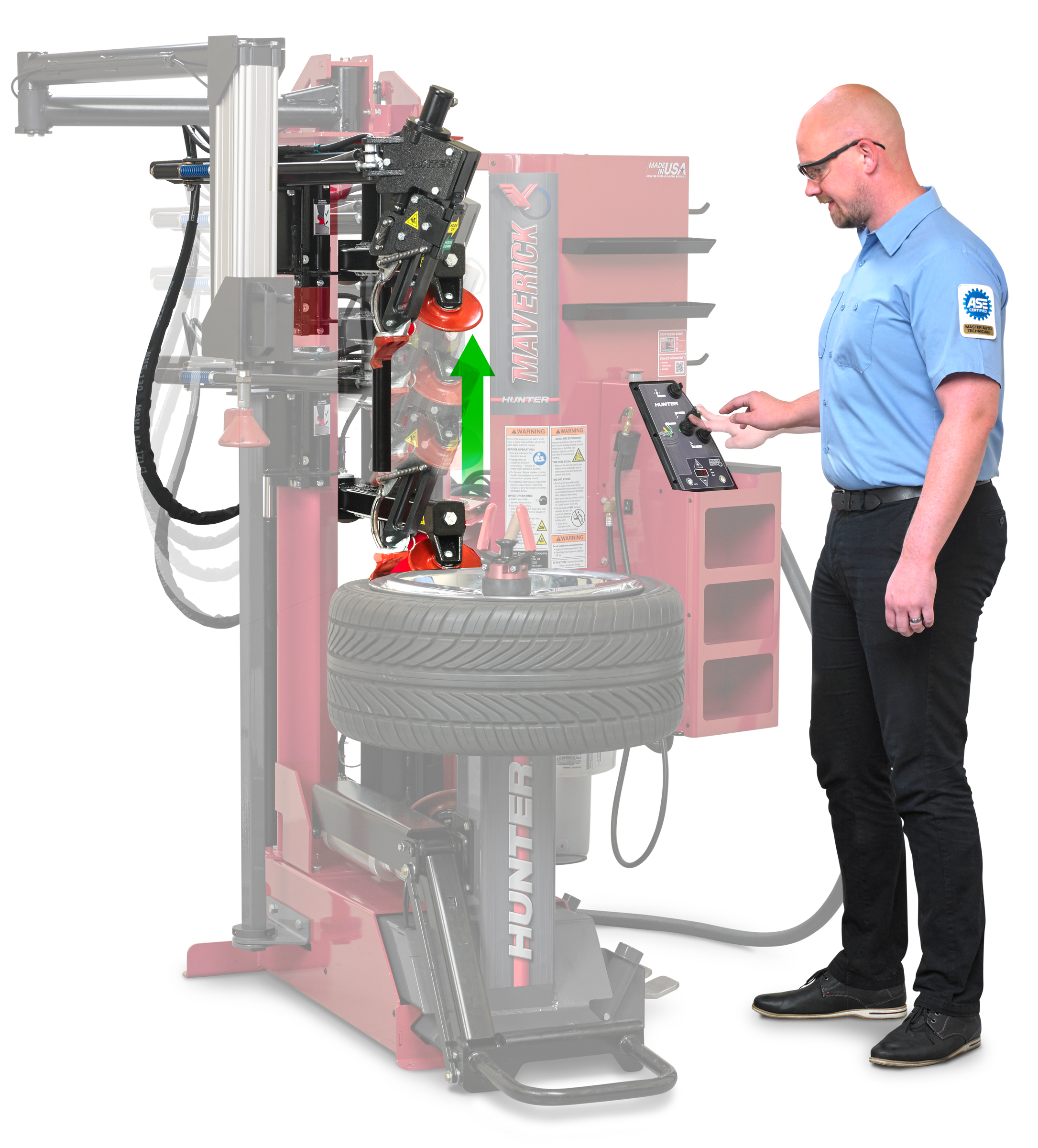 Intelligent safety and productivity
Monitors roller and hook positions to prevent unintended wheel contact
Logic automatically "homes" rollers, head, and wheel lift for hands-free productivity
Allows customization of travel and rotate speeds, ramp rate, and more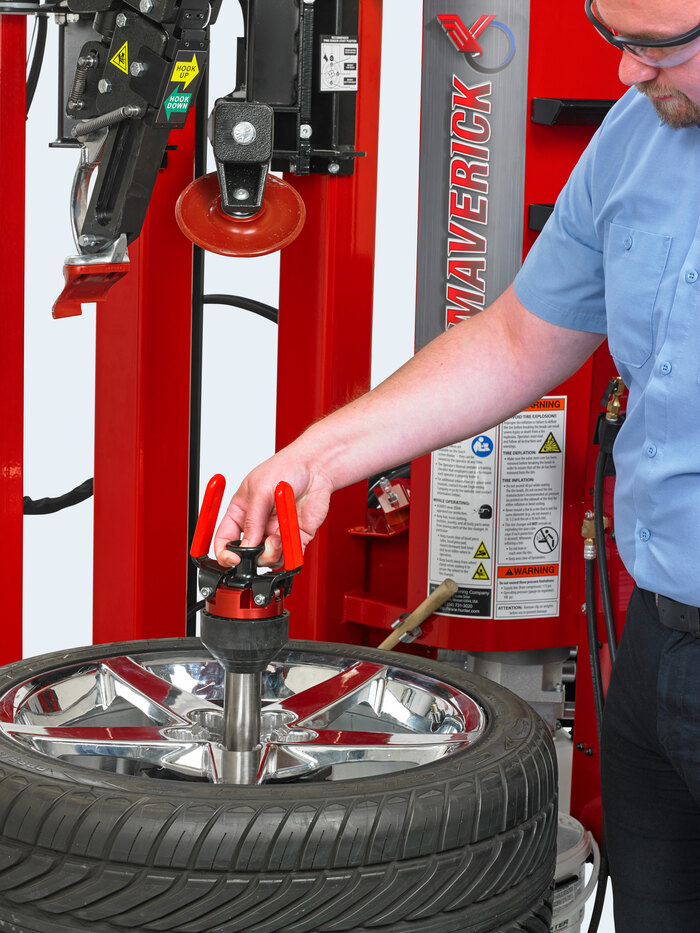 RollerLock™ clamp
Safe & quick
Ball bearing threads clamp quickly and tightly
Lever handles multiply clamping force
Smooth surface prevents center bore damage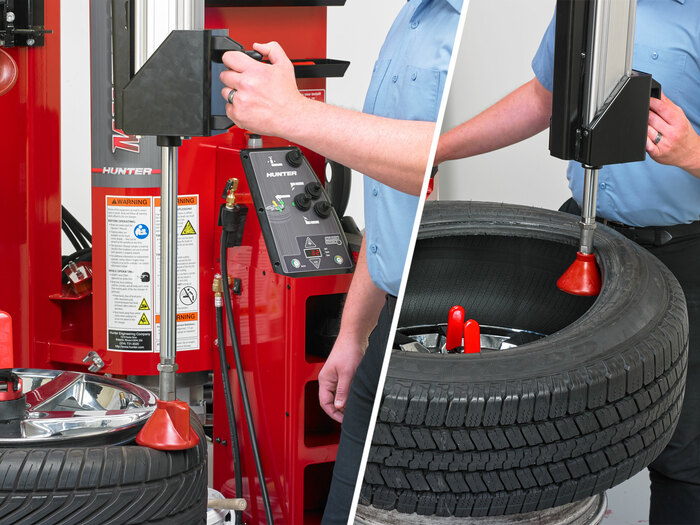 Bead press arm
Powerful assistance
Simple joystick control
Handles the toughest tires
Arm rotates with wheel
Lifting ledge allows pusher to be used as a bead lifter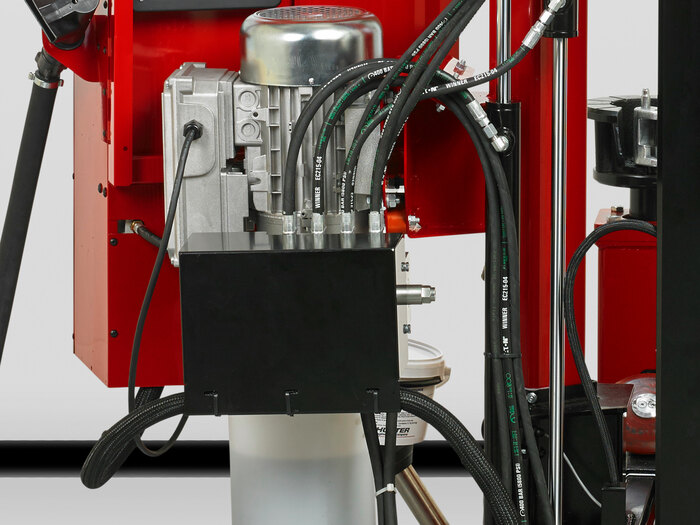 Hydraulic power
Full control & power
0-17 RPM fully variable speed forward and reverse rotation provides fast cycle times
Each tool can be moved quickly or slowly and held as needed
No erratic movement when loaded and unloaded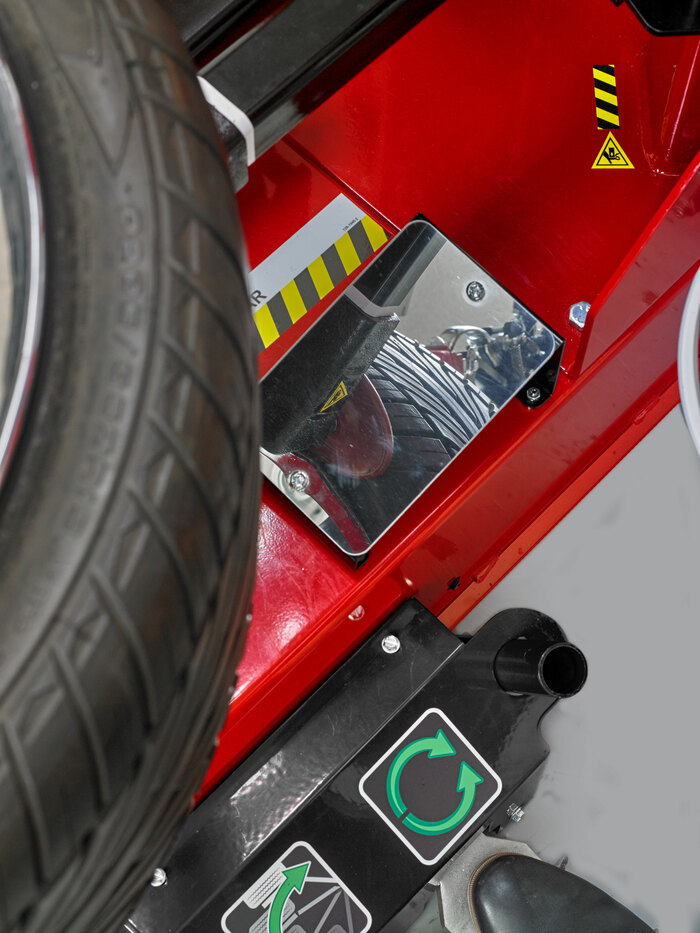 Underside mirror
Accessible viewing
Correctly position bottom roller
Fixed location never needs adjustment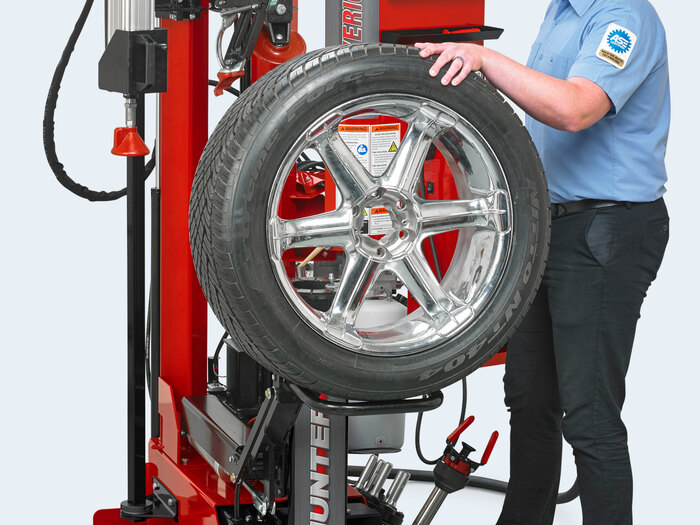 Lifts the heaviest assemblies with ease
Auto-lowering saves time and prevents damage
Configurable pedal operation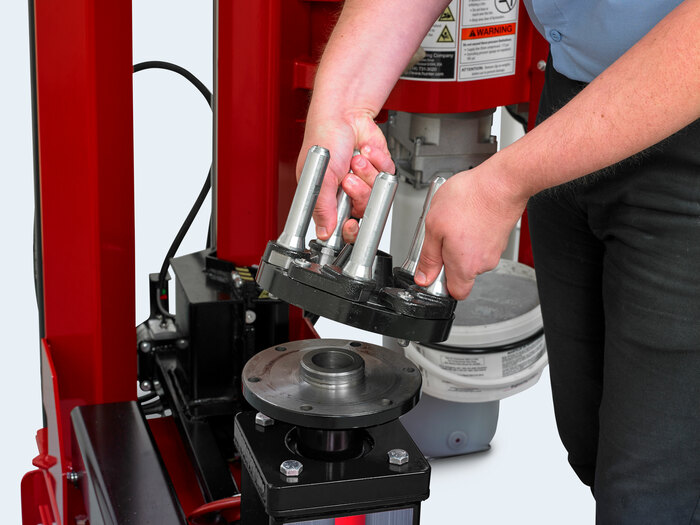 Flange plate kit
Optional
Ideal for plastic clad wheels or reverse wheels
Offers maximum protection
Send a message to your local Hunter business consultant to schedule a free on-site demo.
This contact form is intended for legitimate Hunter equipment and service inquiries. All other use is prohibited and will be discarded. See Full Terms of Use
InflationStation™
Inflate all tires to their correct pressure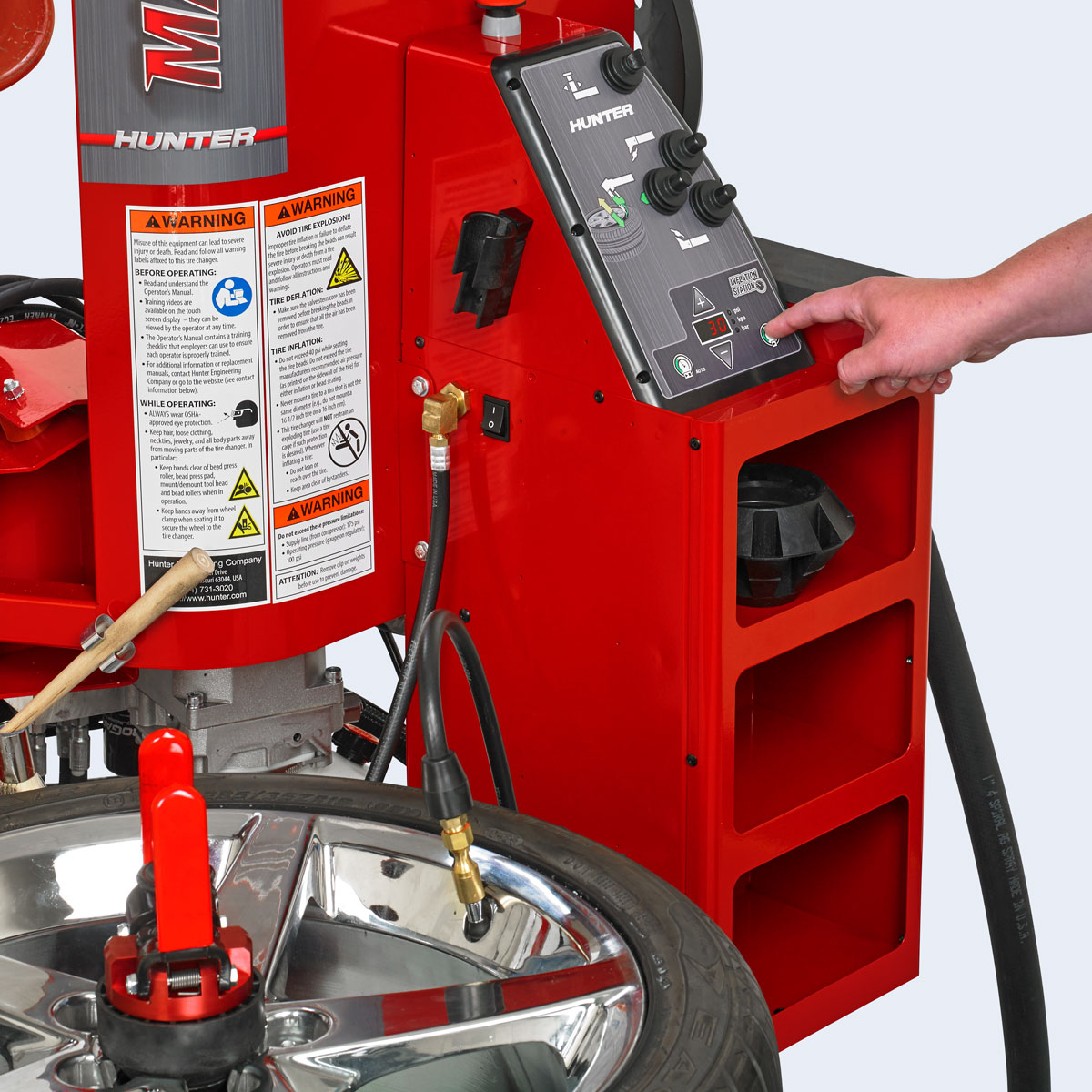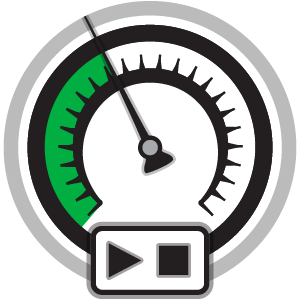 Automatic mode quickly fills tires to desired pressure, allowing technicians to walk away while inflating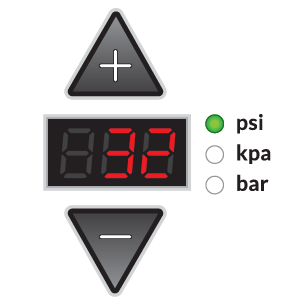 Adjust pressure settings to specify the correct air pressure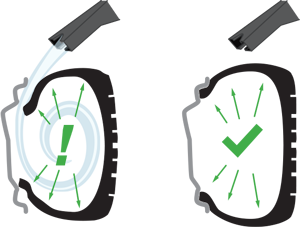 Blast inflation directs a large blast of air for tough bead seating
Match-mount tires when paired with a balancer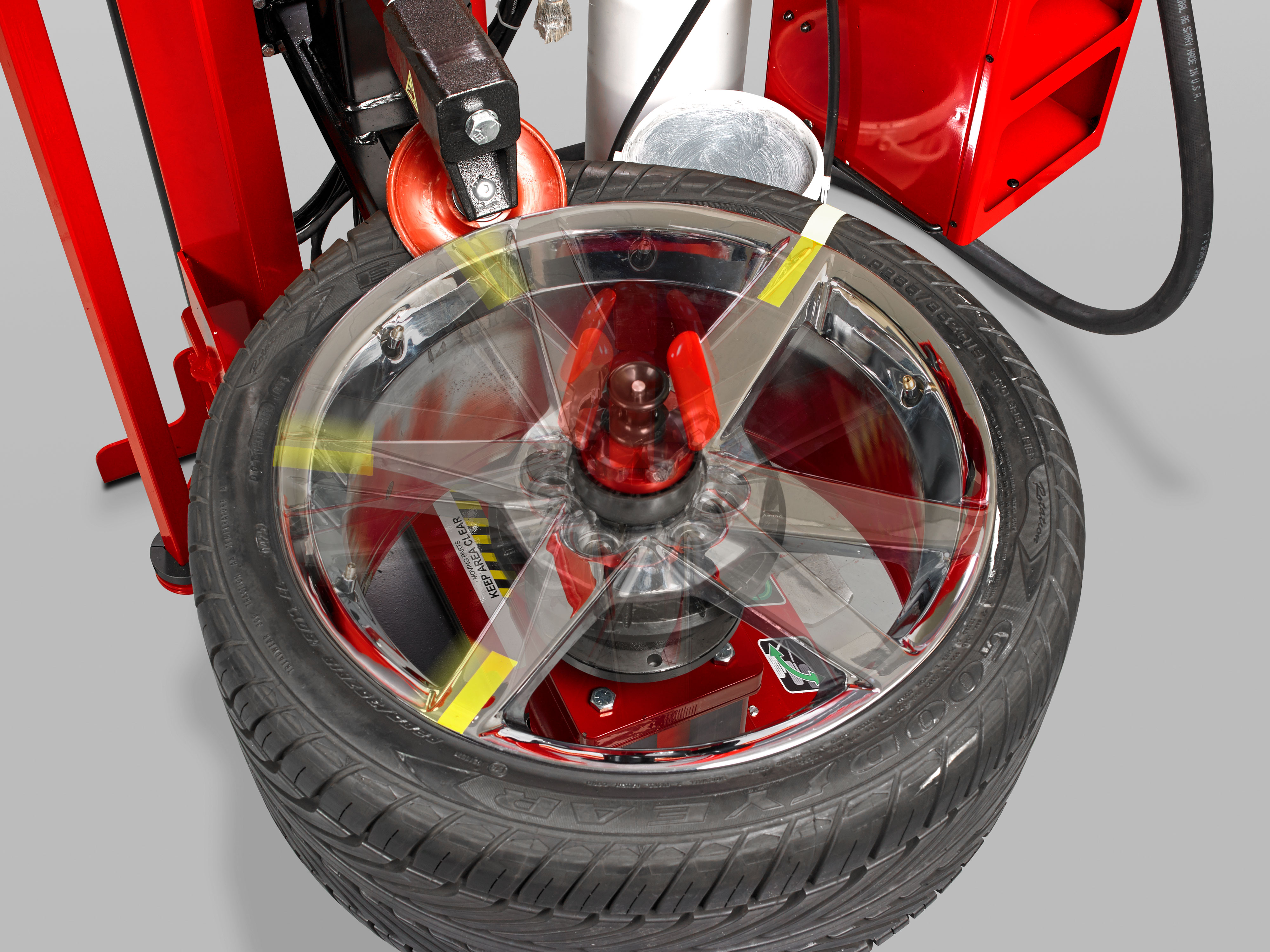 The Maverick® tire changer's bead rollers allow spinning of the tire on the rim, helping match-mount the stiffest point on the tire to the low spot on the rim.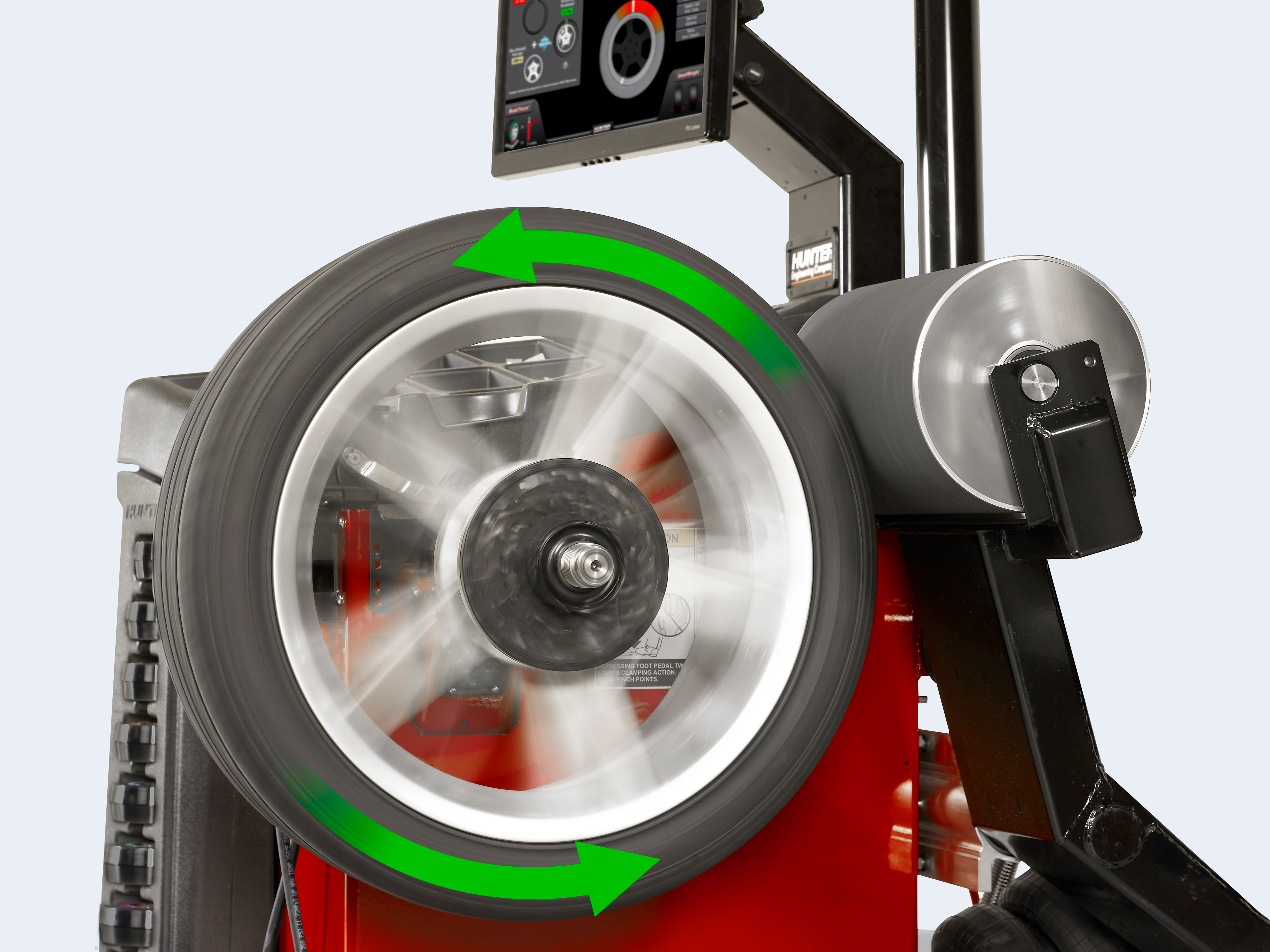 When used with Hunter's Road Force® Elite wheel balancer, the Maverick® quickly and easily helps eliminate vibration problems balancers alone can't fix.
Set the wheels in motion — schedule your free on-site demonstration today.
Optional

HunterNet® 2 Connectivity
Take control of your equipment, numbers, and profitability
Real-time business tool to manage your most profitable equipment
Maximize your shop's performance
Monitor your equipment ROI
Buy genuine Hunter consumables
Learn more about what HunterNet® 2 does for other Hunter equipment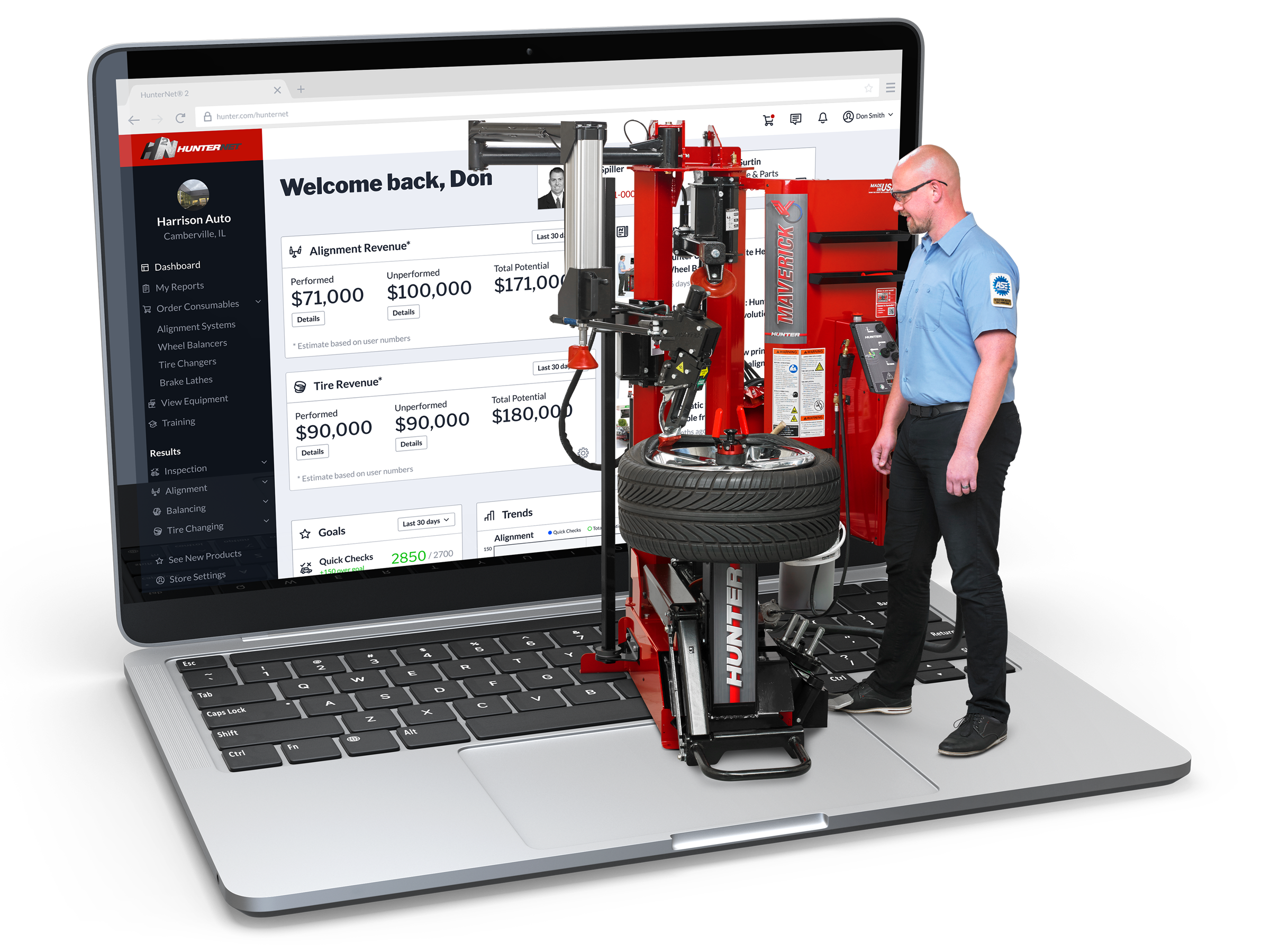 Easy consumable ordering
Replenish genuine Hunter consumable parts at your convenience.
Monitor your ROI
See your equipment payback in real time.
View your performance
Set goals and see how your business performs day-to-day.
Recall tire change results
Every tire change result is logged with service time, wheel dimensions, images, and tire pressure.
Receive daily reports
Setup to receive daily Push Reports to keep your goals and performance in check.
Track revenue
Track your profits and potential amount if all needed services were sold.
Send a message to your local Hunter business consultant to receive a free pricing quote or product demo.
This contact form is intended for legitimate Hunter equipment and service inquiries. All other use is prohibited and will be discarded. See Full Terms of Use
Your local Hunter service representative can answer questions, help with equipment operation and provide on-site training.
Purchase genuine Hunter replacement parts online
This contact form is intended for legitimate Hunter equipment and service inquiries. All other use is prohibited and will be discarded. See Full Terms of Use
See how other technicians take control of tire changing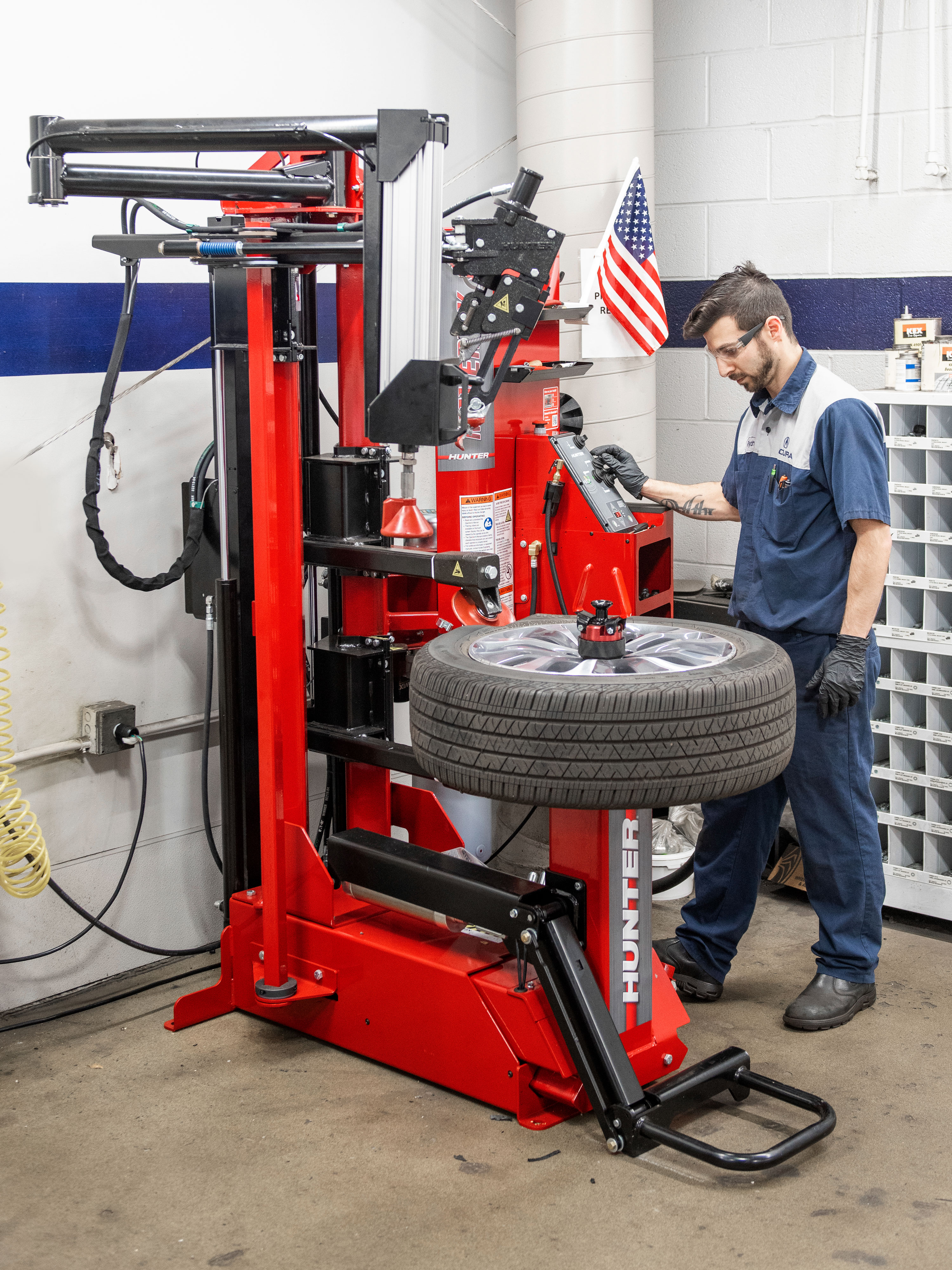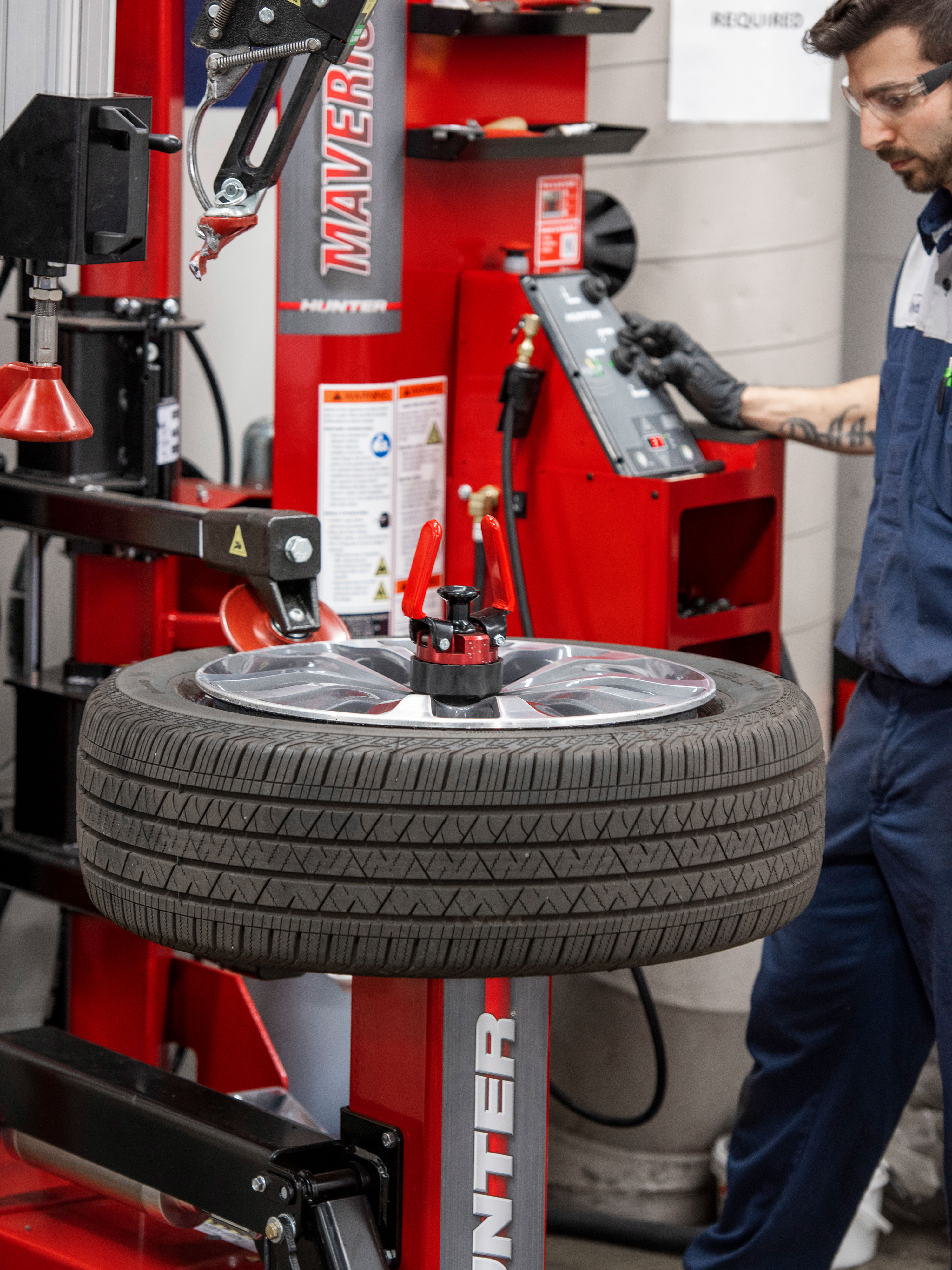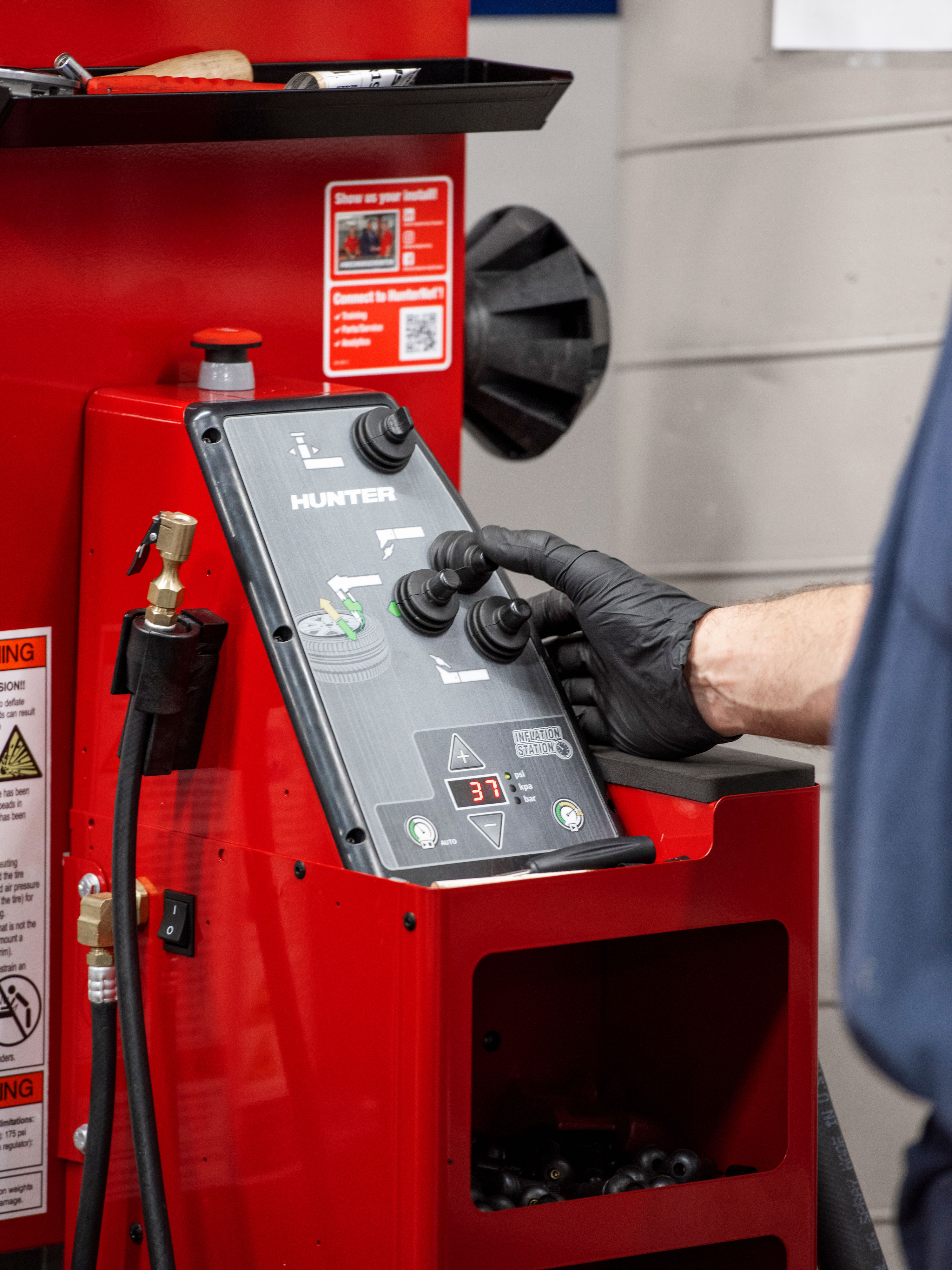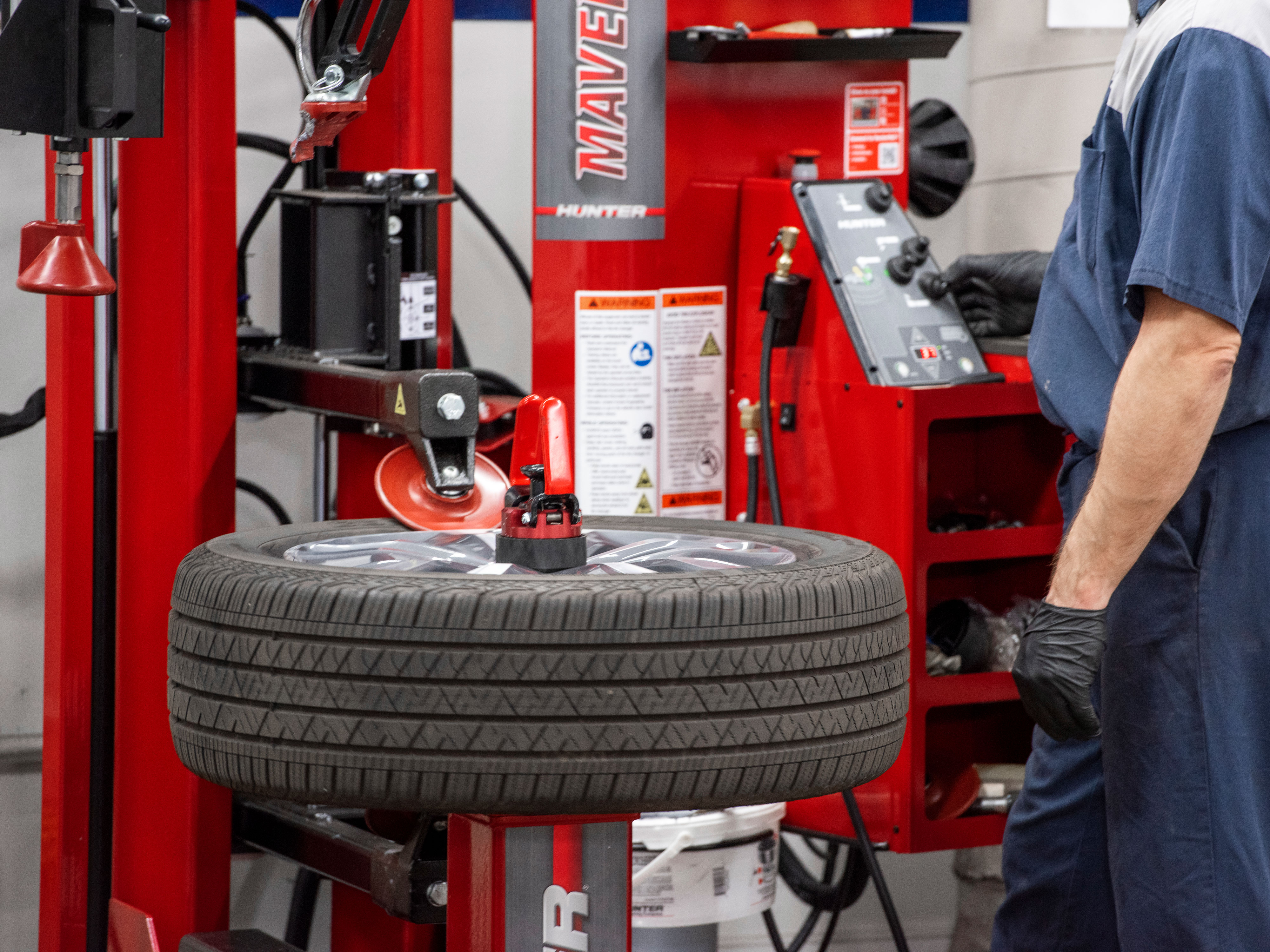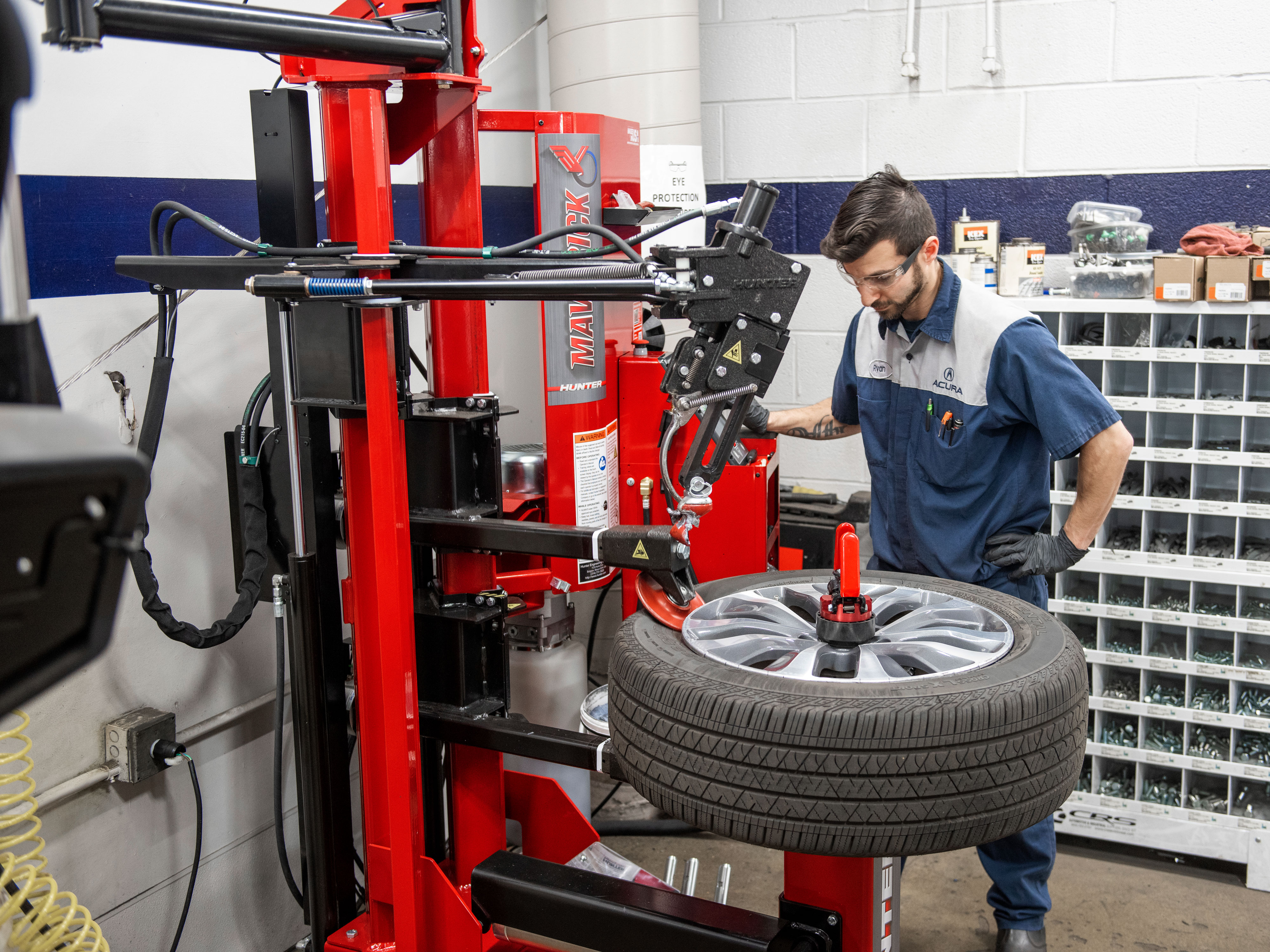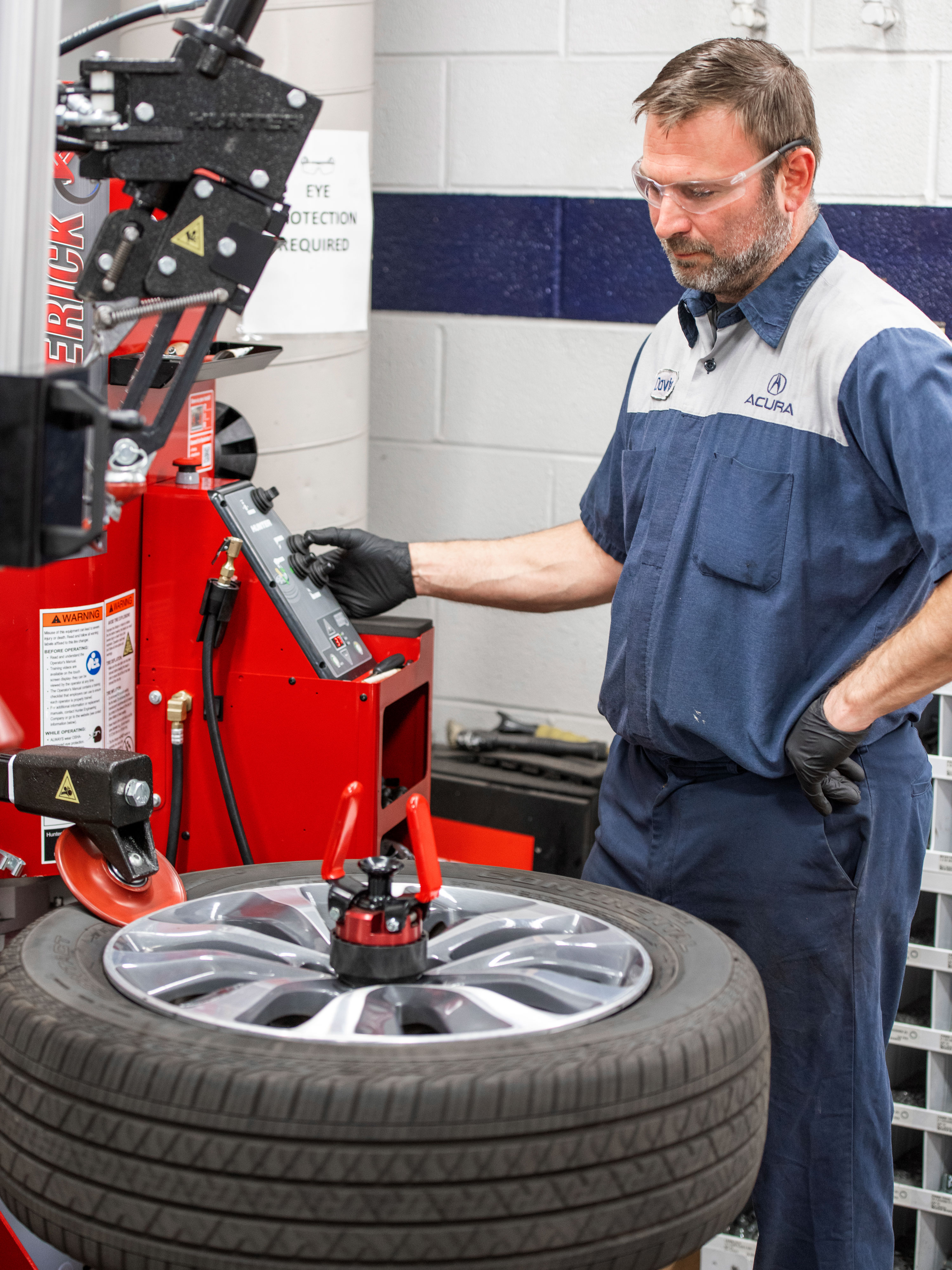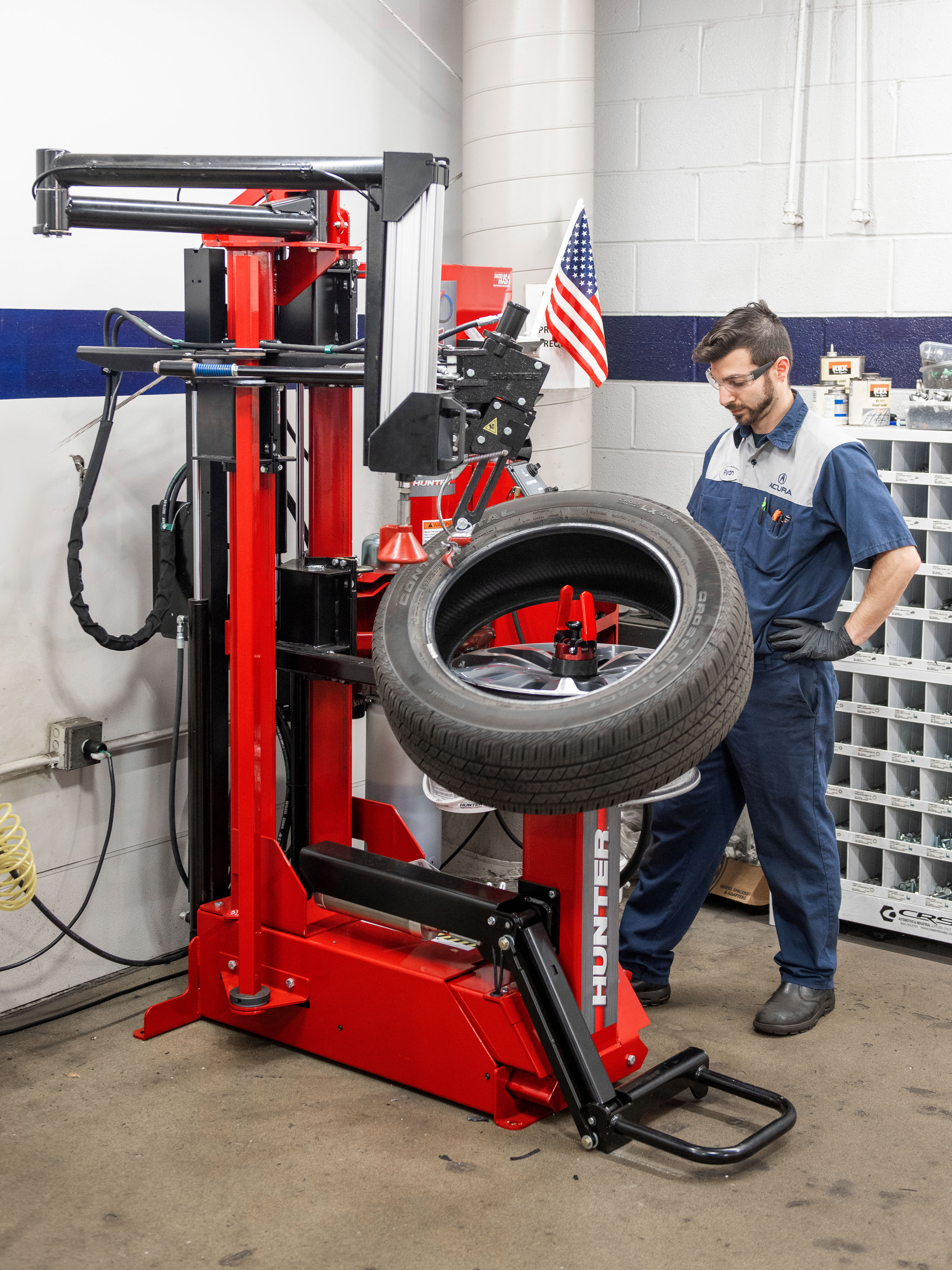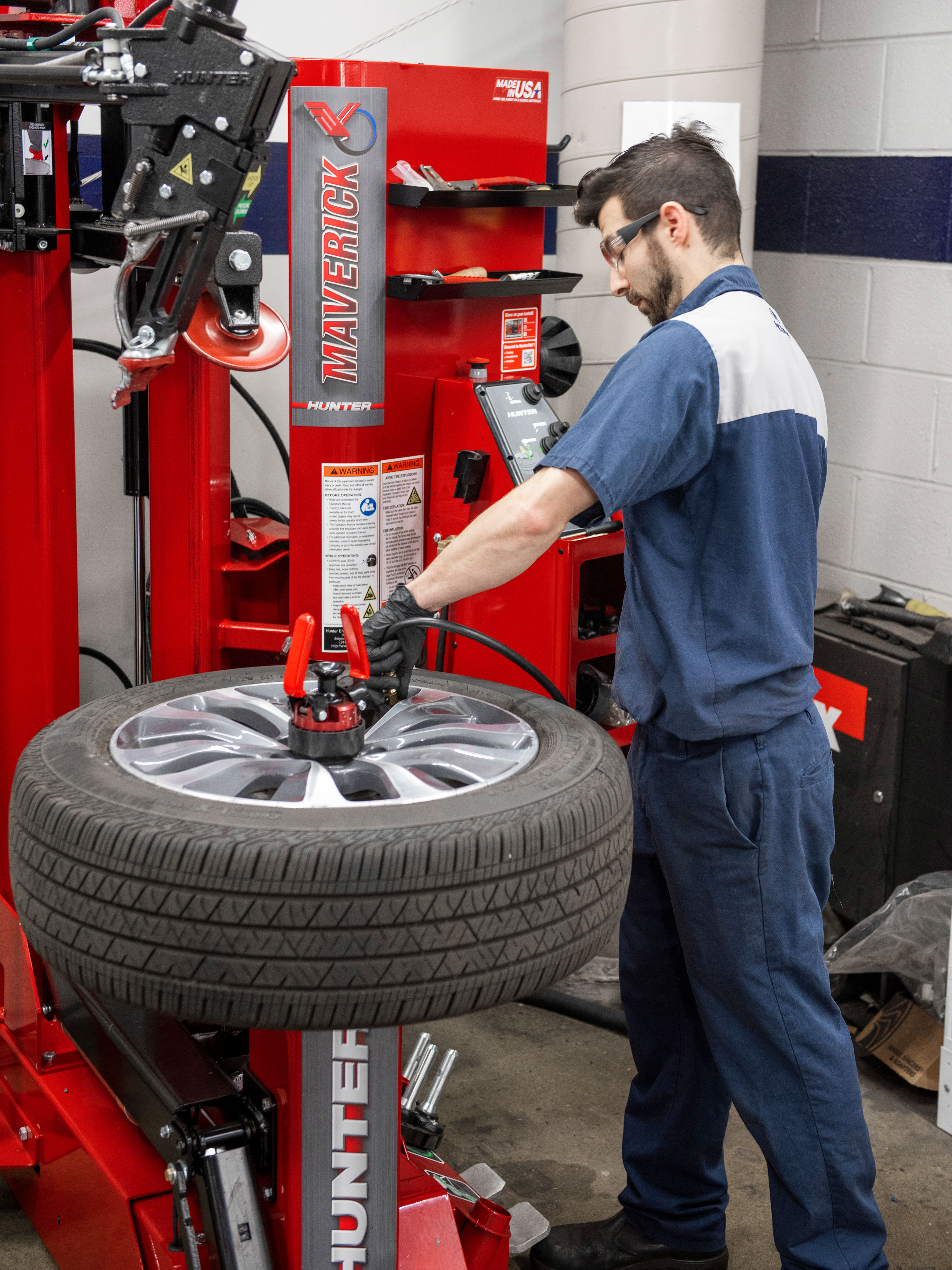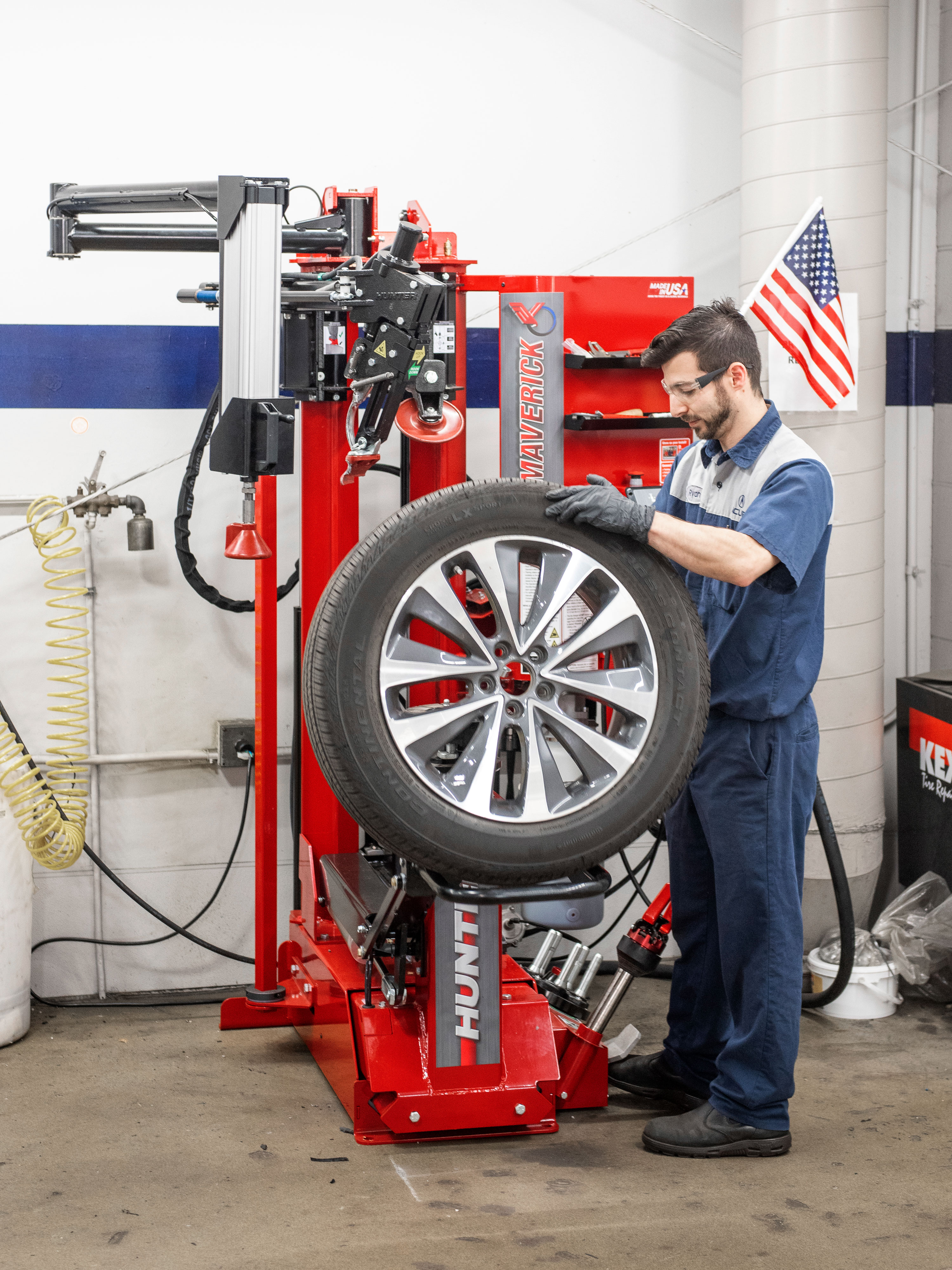 Sign up for local hands-on and classroom learning with a Hunter ASE-certified trainer to help you learn new skills or develop old ones. View course offerings near you
This contact form is intended for legitimate Hunter equipment and service inquiries. All other use is prohibited and will be discarded. See Full Terms of Use
Hunter's 3-Year Warranty
We stand beside our equipment and your purchase.
Hunter Engineering Company warrants new equipment replacement parts for three years and labor for six months.
Explore further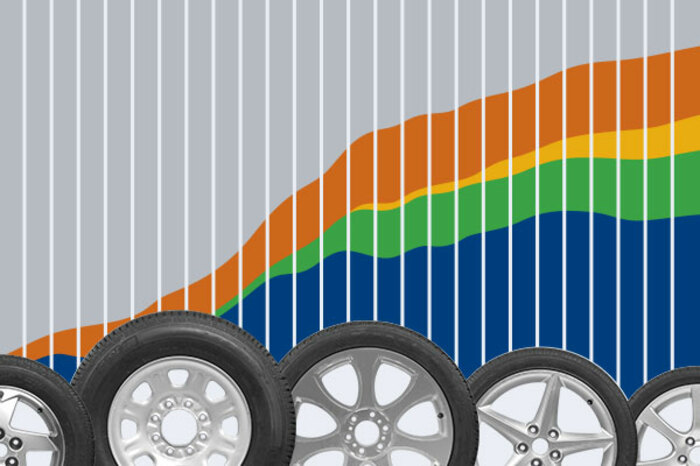 Growth of Difficult Tire and Wheel Fitments
Industry Insight
Expert assembly goes into each alignment system, alignment console, tire changer, balancer, brake lathe and other components.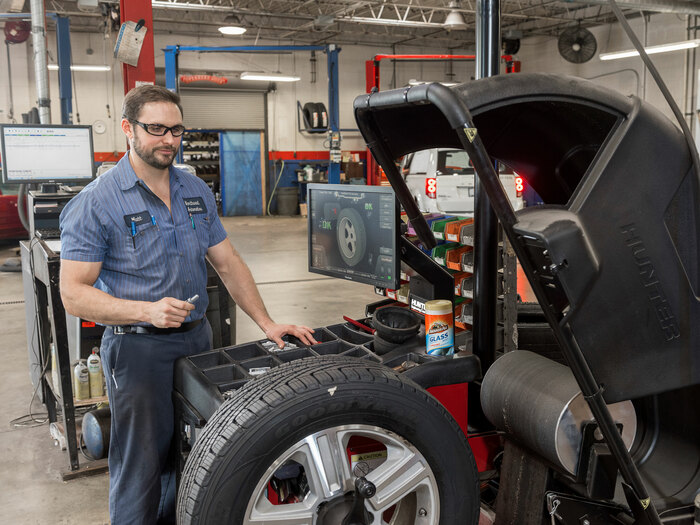 Road Force® Elite
Wheel Balancer
The world's fastest diagnostic wheel balancer; providing a faster balance than any traditional balancer.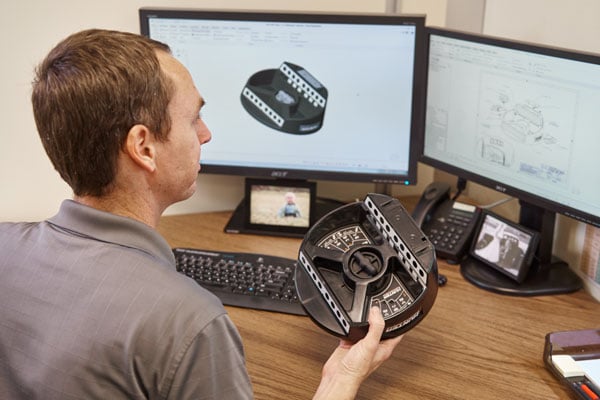 Innovation Team
Award-Winning
Hundreds of patented and exclusive features begin with the research and development team of mechanical, electrical and software engineers.