HawkEye® XL HD Alignment Machine
Big or small, align them all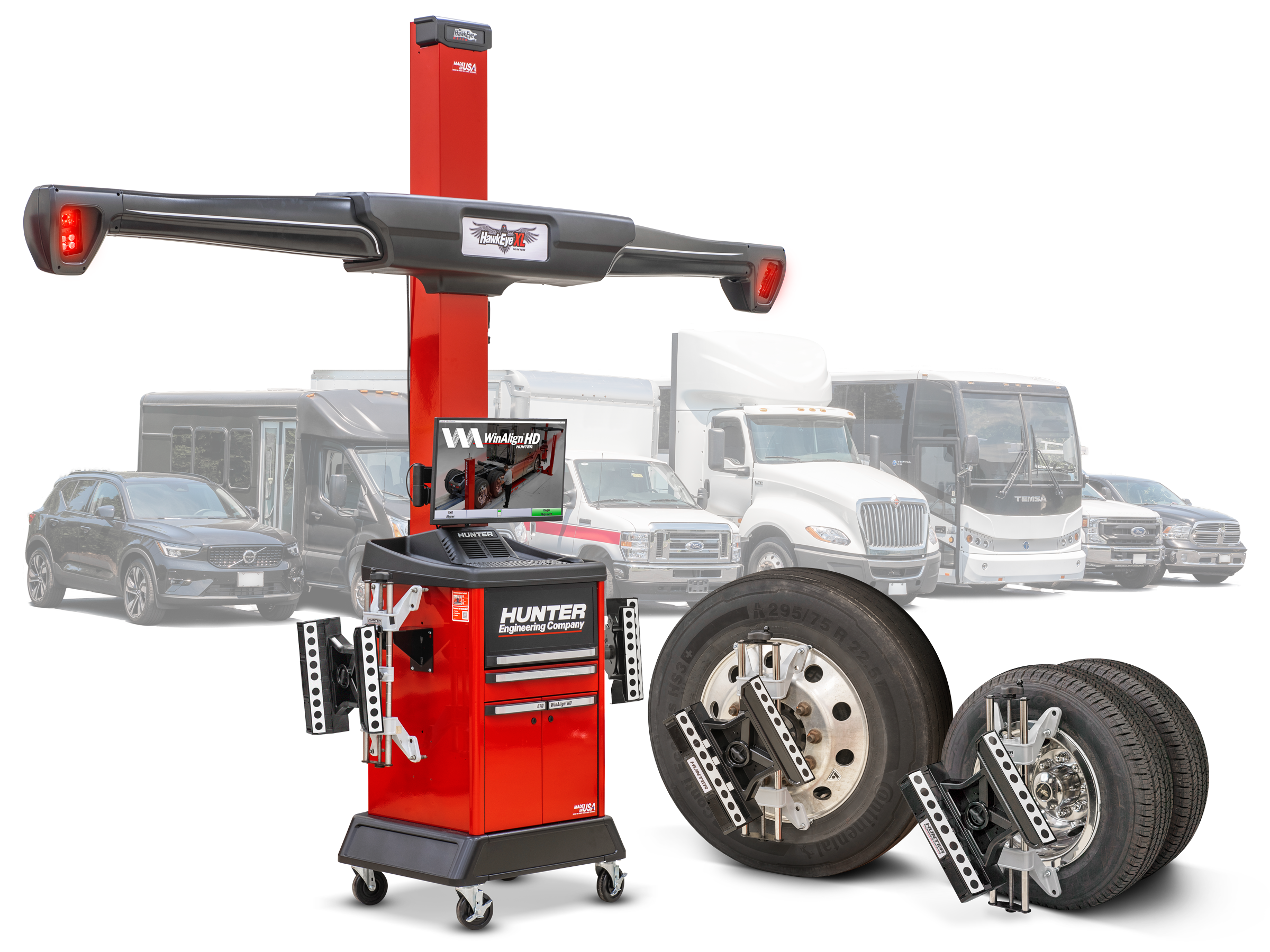 Fast and highly-capable heavy-duty alignment machine
Three-dimensional XL targets are durable, low maintenance, and non-electronic
High-definition cameras are accurate, precise, and offer extra-long-range sight
Cature all measurements in a single rolling compensation
See live alignment reading from three axles at once
Perform wheel alignments on any surface, in any bay
Fully Integrated Alignment rack integration streamlines processes
HunterNet® 2 connectivity to see and manage your performance
Big or small, align them all with HawkEye® XL
Supersize your alignment capabilites with the all-new HawkEye® XL alignment system from Hunter Engineering®.
Fast and highly-capable HawkEye® XL heavy-duty alignment machine
The all-new HawkEye® XL alignment system from Hunter Engineering® features three-dimensional XL targets, high-definition cameras, and three-axle live alignment readings from a single rolling compensation on any surface or any bay.
HawkEye XL® Alignment System: Beginner's Operation Guide
Field training manager Miles Dierker describes the proper techniques for the smoothest and most efficient operation of the Hawkeye XL®, powered by WinAlign® software. Demonstrations include vehicle positioning, mounting the wheel targets, forward roll compensation, measuring angles, and more.
Designed & Built in the USA
Hunter designs and manufactures industry-leading service equipment right here in the USA.
Send a message to your local Hunter business consultant to receive a free pricing quote or product demo.
Features
Hunter's industry-standard vision technology built for commercial vehicles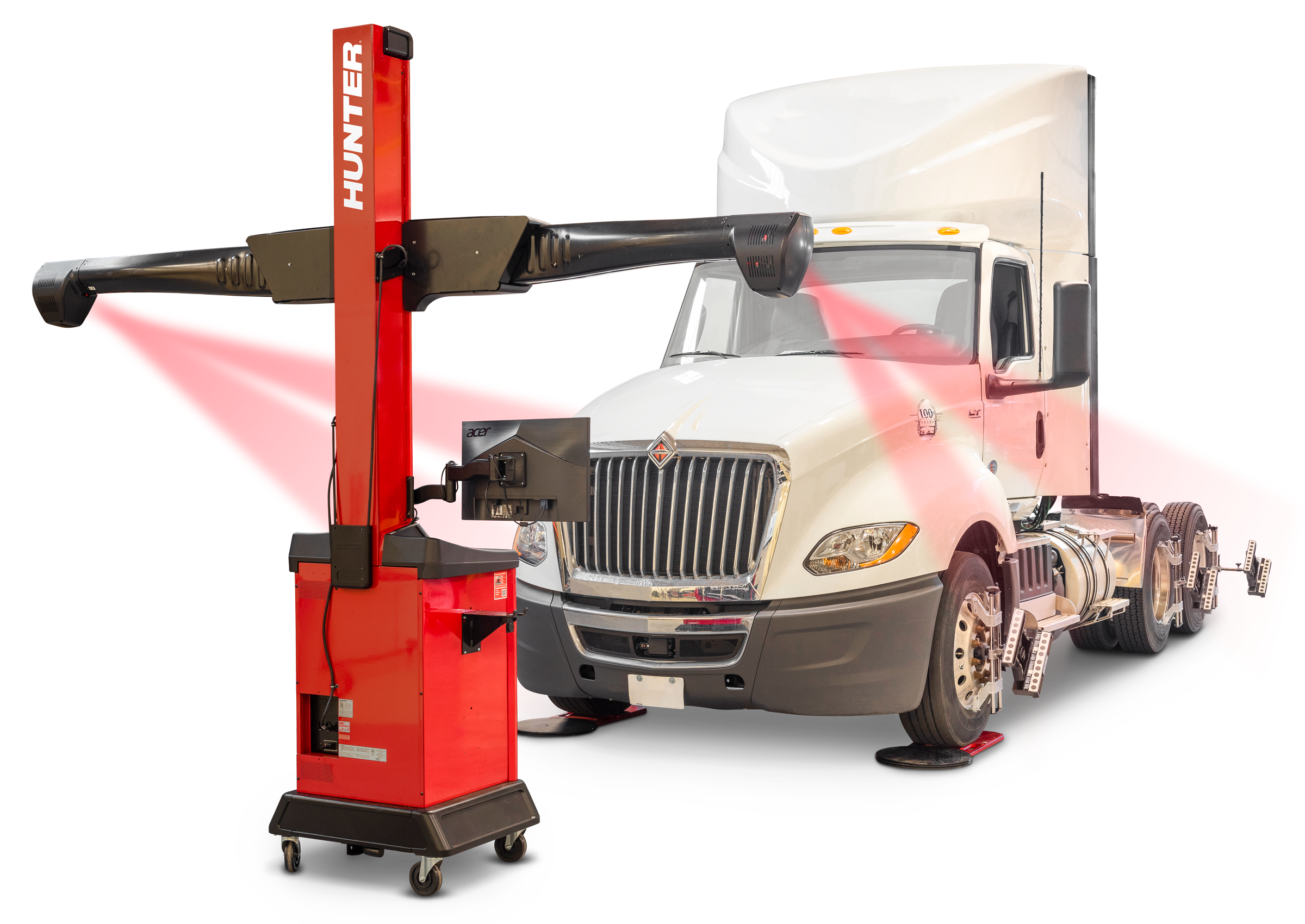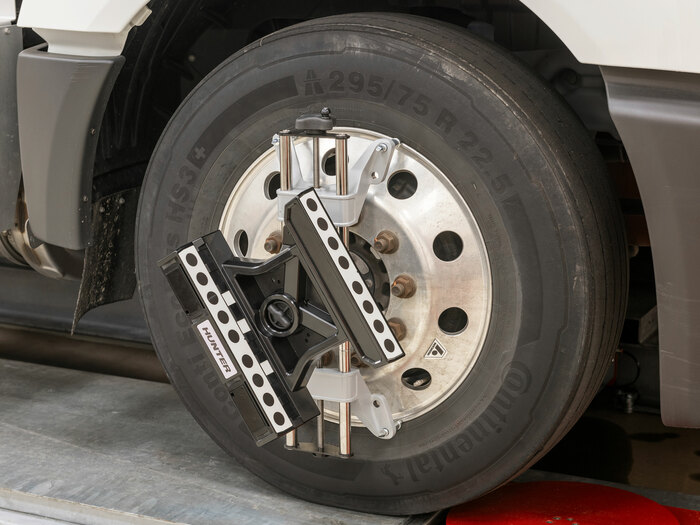 XL Targets
Hunter's patented 3D targets offer extreme durability, low maintenance, and no electronics at the wheel.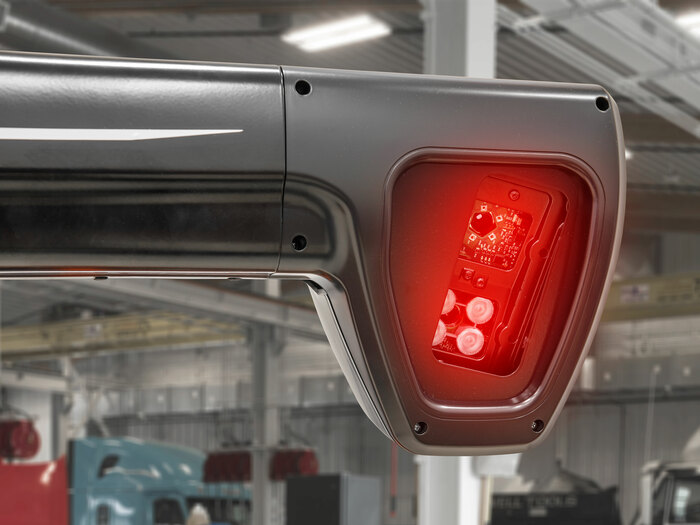 High-definition cameras
Extra-long range, high-resolution cameras precisely monitor each wheel in a 3D space to provide pinpoint accurate measurements.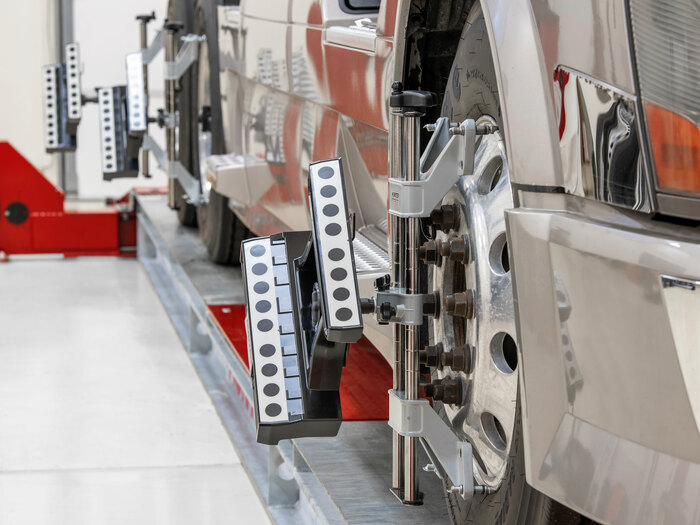 Multi-Axle Readings
See live alignment readings from three axles at one time with guided procedures.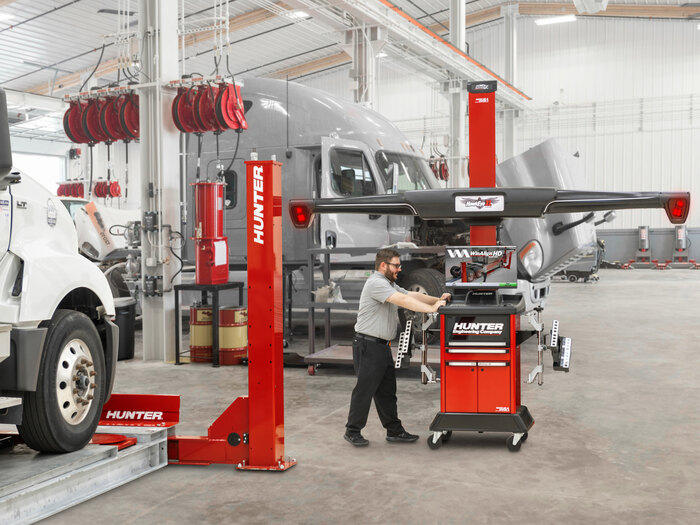 Alignments in any bay
Move the aligner for use in any bay, on the floor or a lift with adjustable camera beam.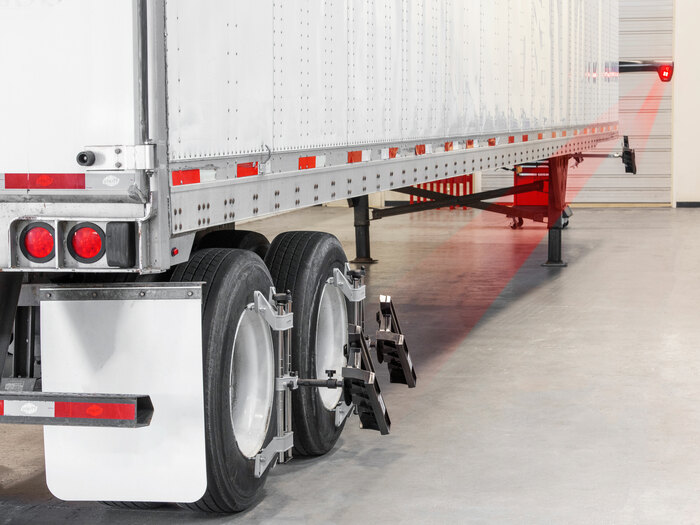 Trailer alignment
Long range cameras easily see targets on 53 foot trailers. Align using optional kingpin adaptor.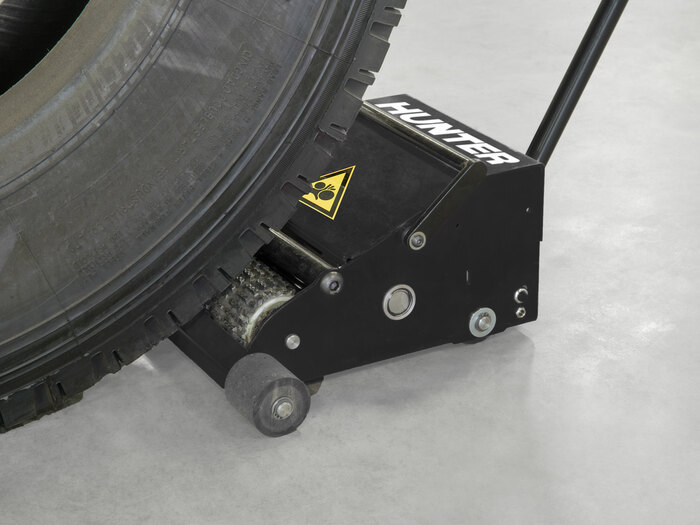 Truck Pusher
Effortlessly move vehicle for rolling comp with rechargeable battery-powered pusher.
Optional
Return on Investment
Calculate your payback and XL profits
Did you know?
Approximately 70% of trucks are out of alignment. Proper alignment can save fuel and prevent premature tire wear. Alignment can also reduce driver fatigue, which in turn improves road safety.
Information derived from www.truckinginfo.com
Alignment lift rack integration
Streamline the process with Fully Integrated Alignment (FIA)
1 trip
To the aligner console
0 jacking axles
Required
81 steps
Total in the process
4 minutes
To get alignment readings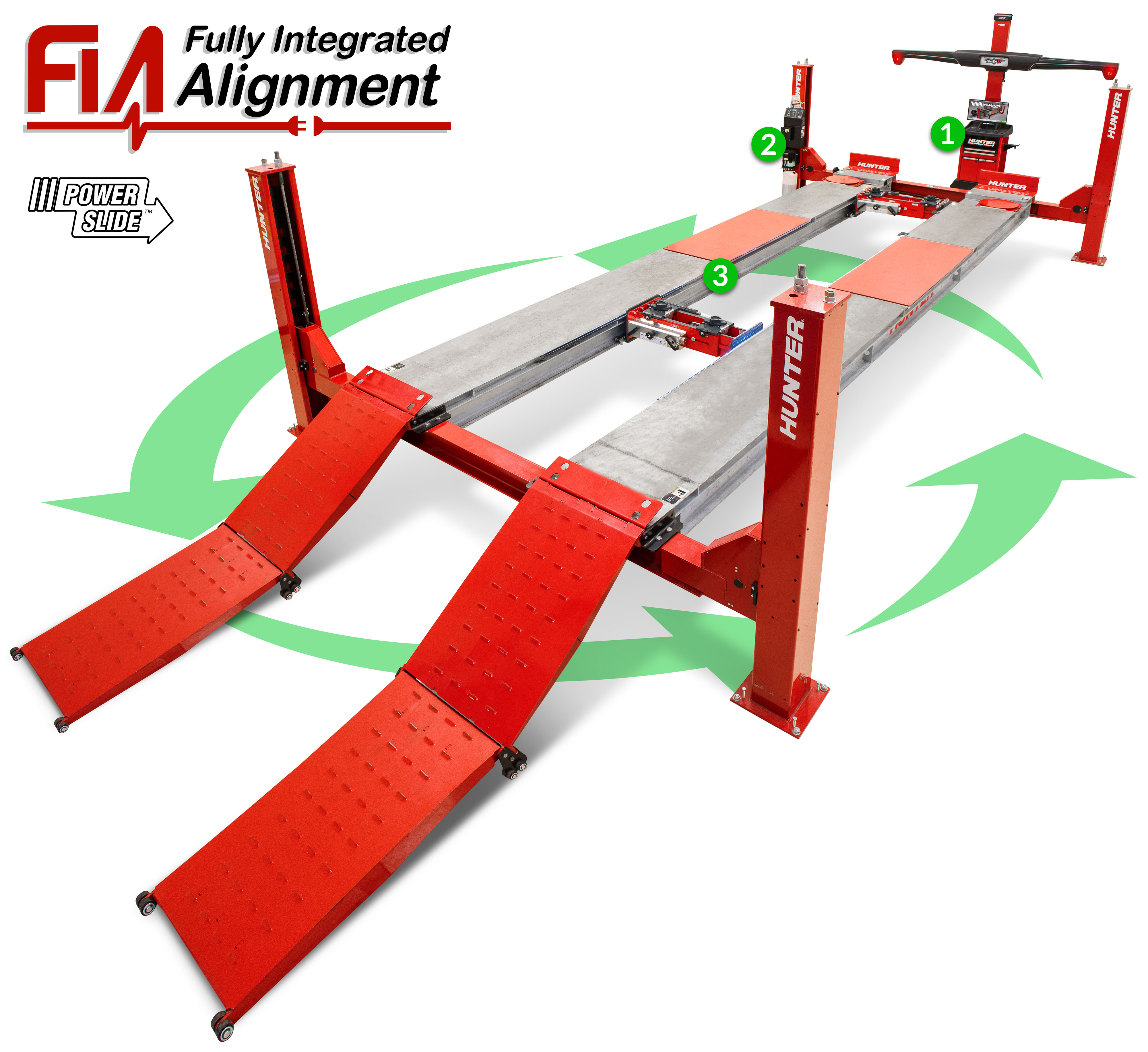 WinAlign® console Communicates directly with lift to automatically operate turnplates and slip plates.
Heavy-Duty Four-Post lift console Raising the vehicle triggers the sensors to look for wheel targets.
PowerSlide® system Slip plates and turnplates automatically lock and unlock at the appropriate times.
Requires FIA-capable Hunter lift or turnplates
Adaptability
Ready for your entire fleet or whatever comes through your door
Align a wide range of commercial vehicles from semi truck tractors, trailers, big rigs, buses, box trucks, and even passenger vehicles.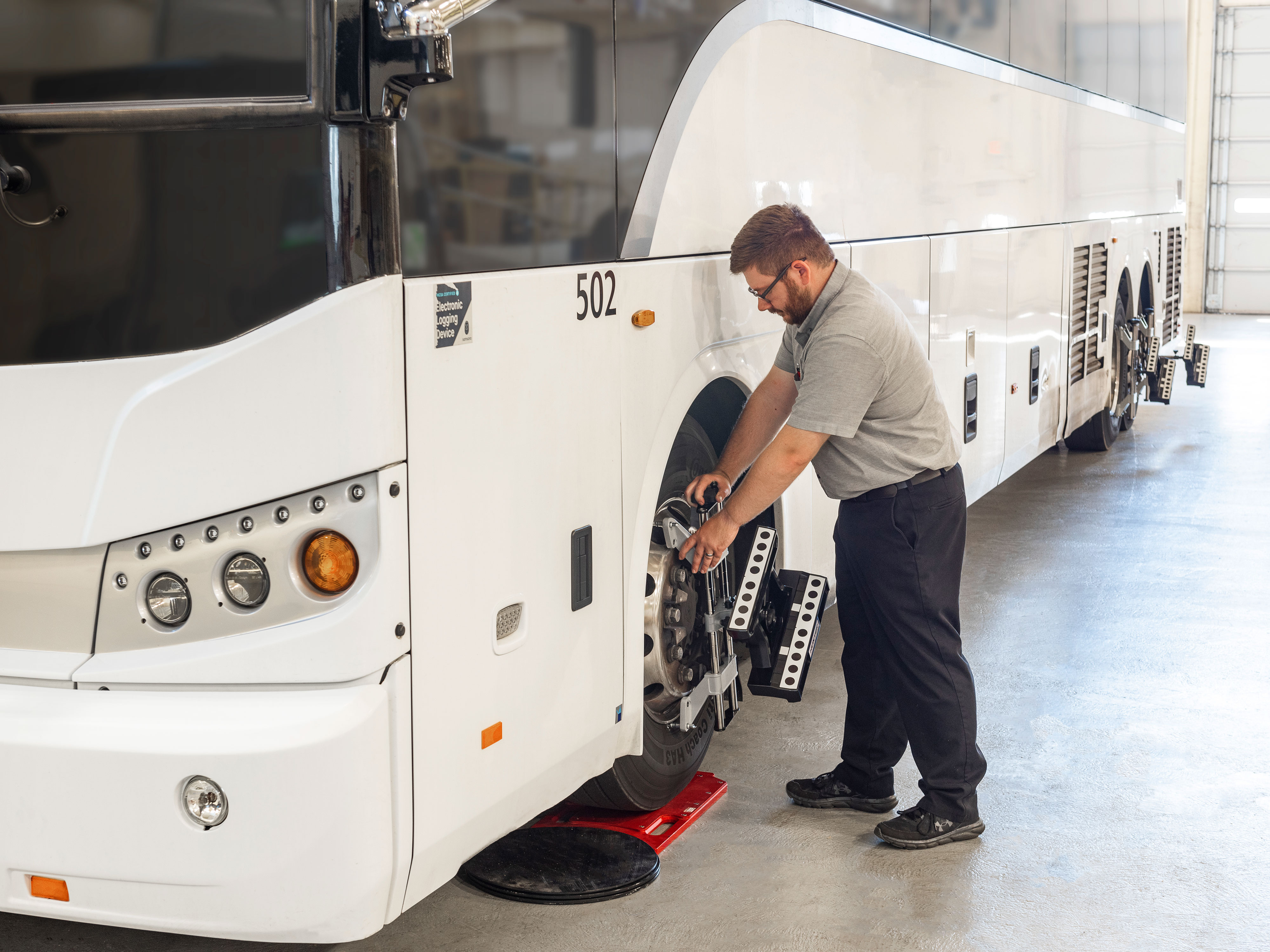 Truck and Bus alignments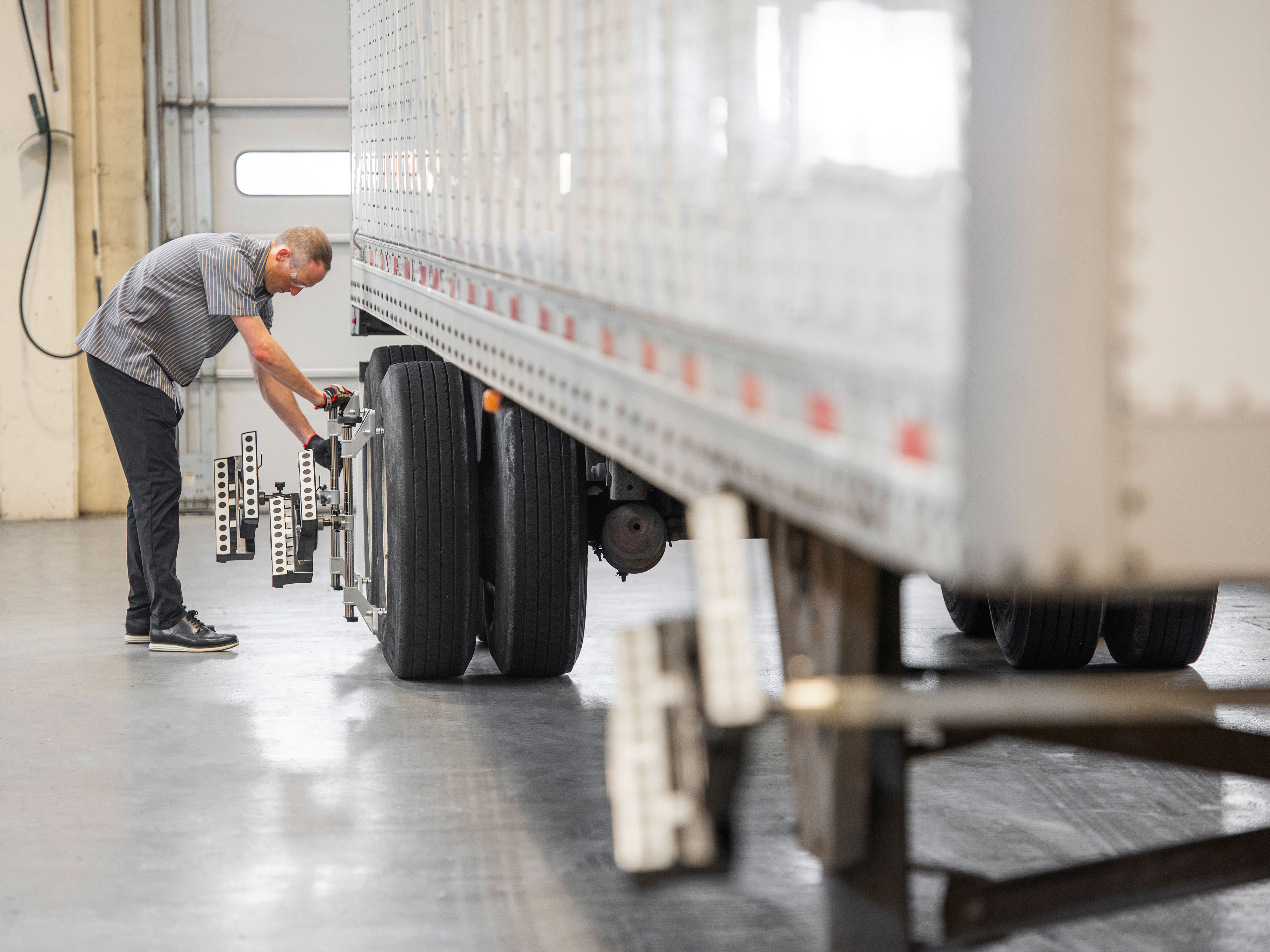 Trailer alignments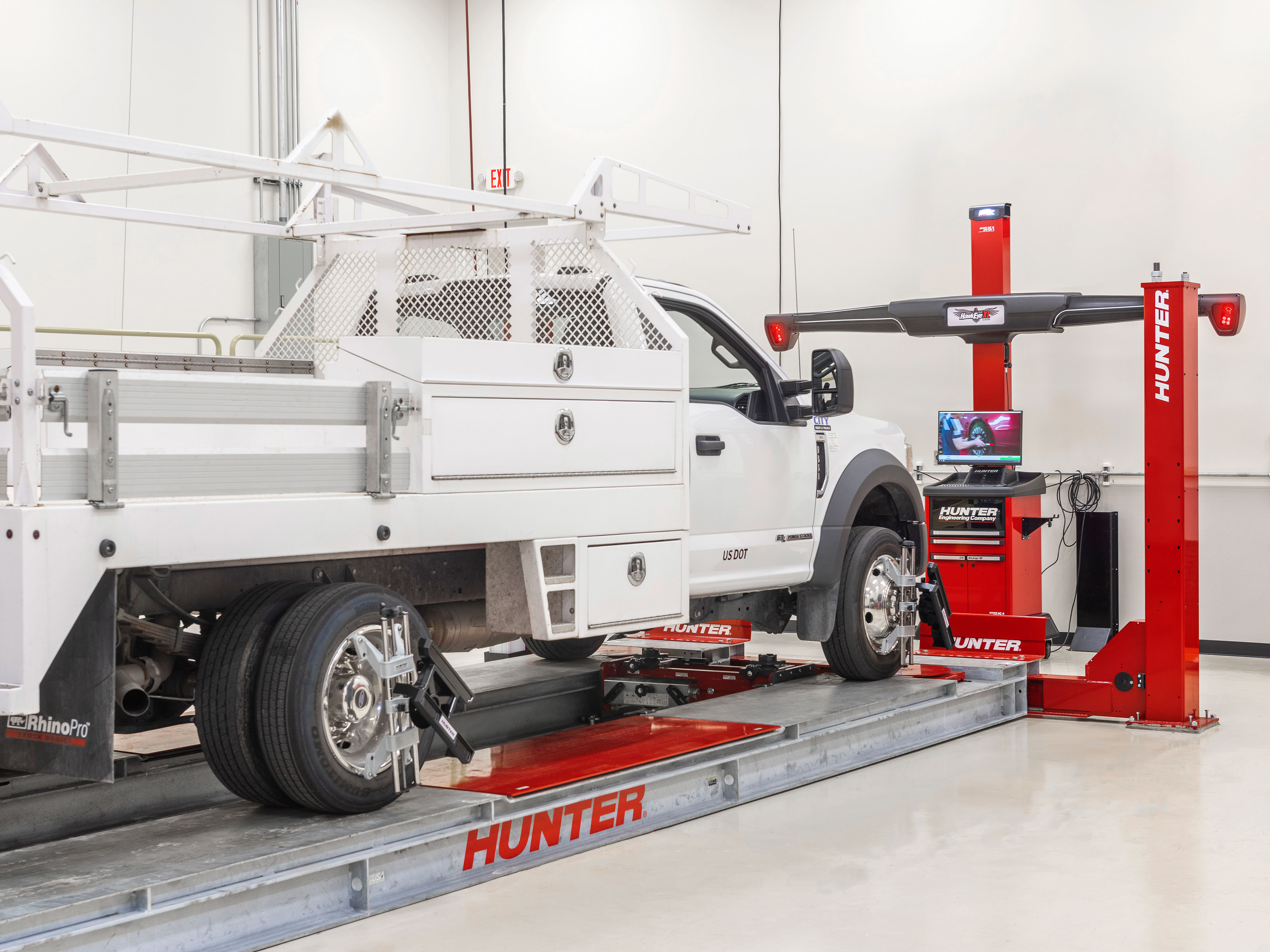 Medium-duty truck alignment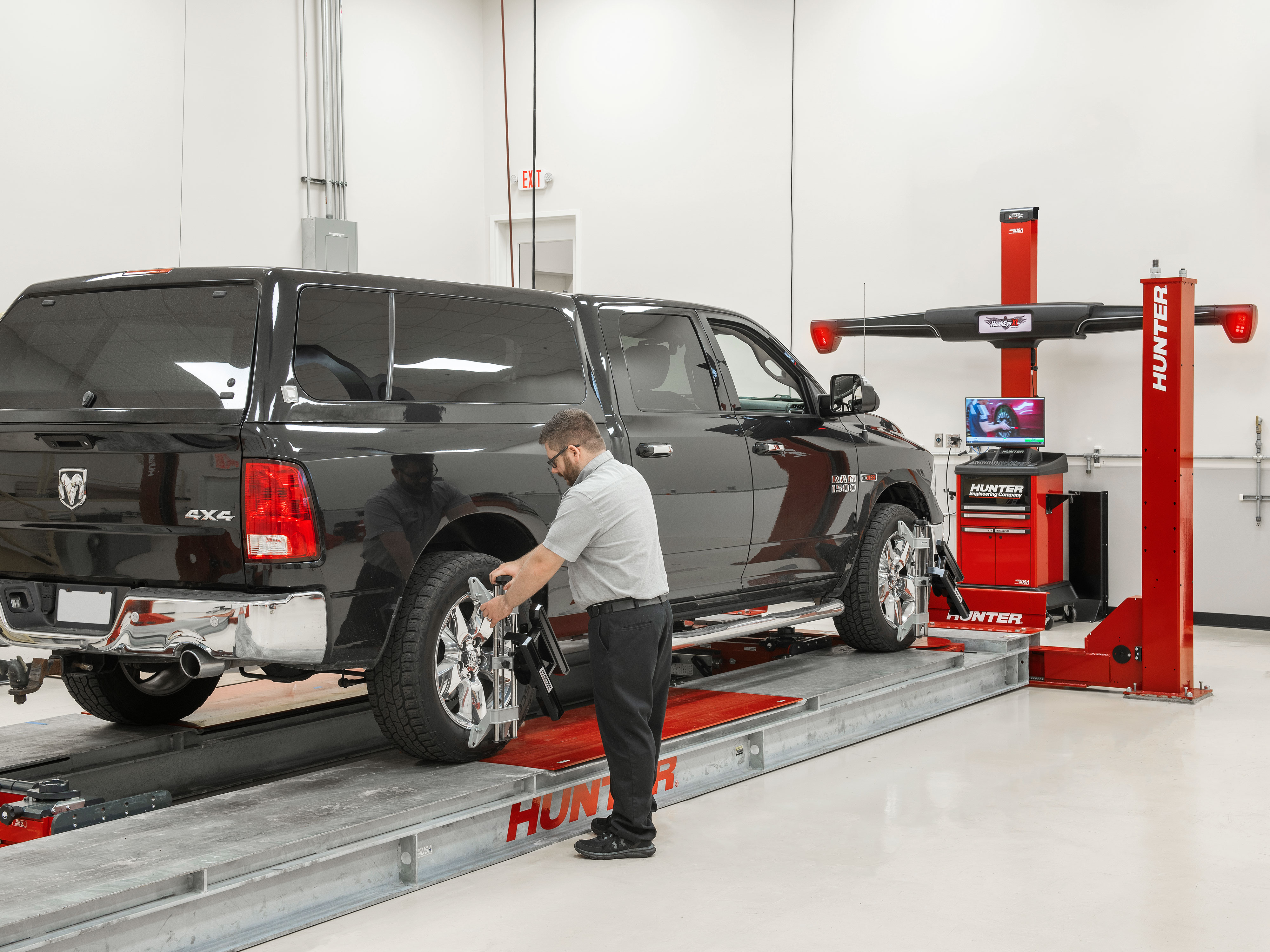 Light-duty vehicle alignment
Equip your shop to be ready for any vehicle.
Unmatched software
Patented technology maximizes productivity in your alignment bay
Guided procedures
Vehicle specific procedures guide the operator with step-by-step instructions.
Patented power tools
Procedures designed so you can complete the work accurately the first time, every time.
Light-duty vehicles
Additional features included for servicing light-duty vehicles.
Three Axles Live
See three axles live with all measurements at once. Reduce setup time through minimal target movement.
ExpressAlign®
Perform every alignment with a streamlined procedure. ExpressAlign® analyzes each job and presents the optimal action sequence with the minimum steps required.
60+ Axle Configurations Possible
Select from over 60 procedures to perform the fastest, easiest, step-by-step alignment process on virtually any vehicle.
WinToe®
Ensure a straight steering wheel every time without repeated adjustments or using a steering wheel holder. Works with all vehicles on the road today, from cars to Freightliners.
Rear Axle Adjustment
Cut adjustment times in half for rear axle corrections. Graphics let you get it right on the first try.
Patented
Automatic Bushing Calculator®
Calculate the proper bushing size and position adjustment without wasting time with a zero bushing. Eases the process of servicing Ford F-150-450's.
Patented
Adjustment Videos
Strengthen technician competency and extend profit opportunities with helpful adjustment videos.
Your local Hunter service representative can answer questions, help with equipment operation and provide on-site training.
Purchase genuine Hunter replacement parts online
This contact form is intended for legitimate Hunter equipment and service inquiries. All other use is prohibited and will be discarded. See Full Terms of Use
HunterNet® 2 Portal
Take control of your equipment, numbers, and profitability
Real-time business tool to manage your most profitable equipment
Maximize your shop's performance
Monitor your equipment ROI
Buy genuine Hunter consumables
Learn more about what HunterNet® 2 does for other Hunter equipment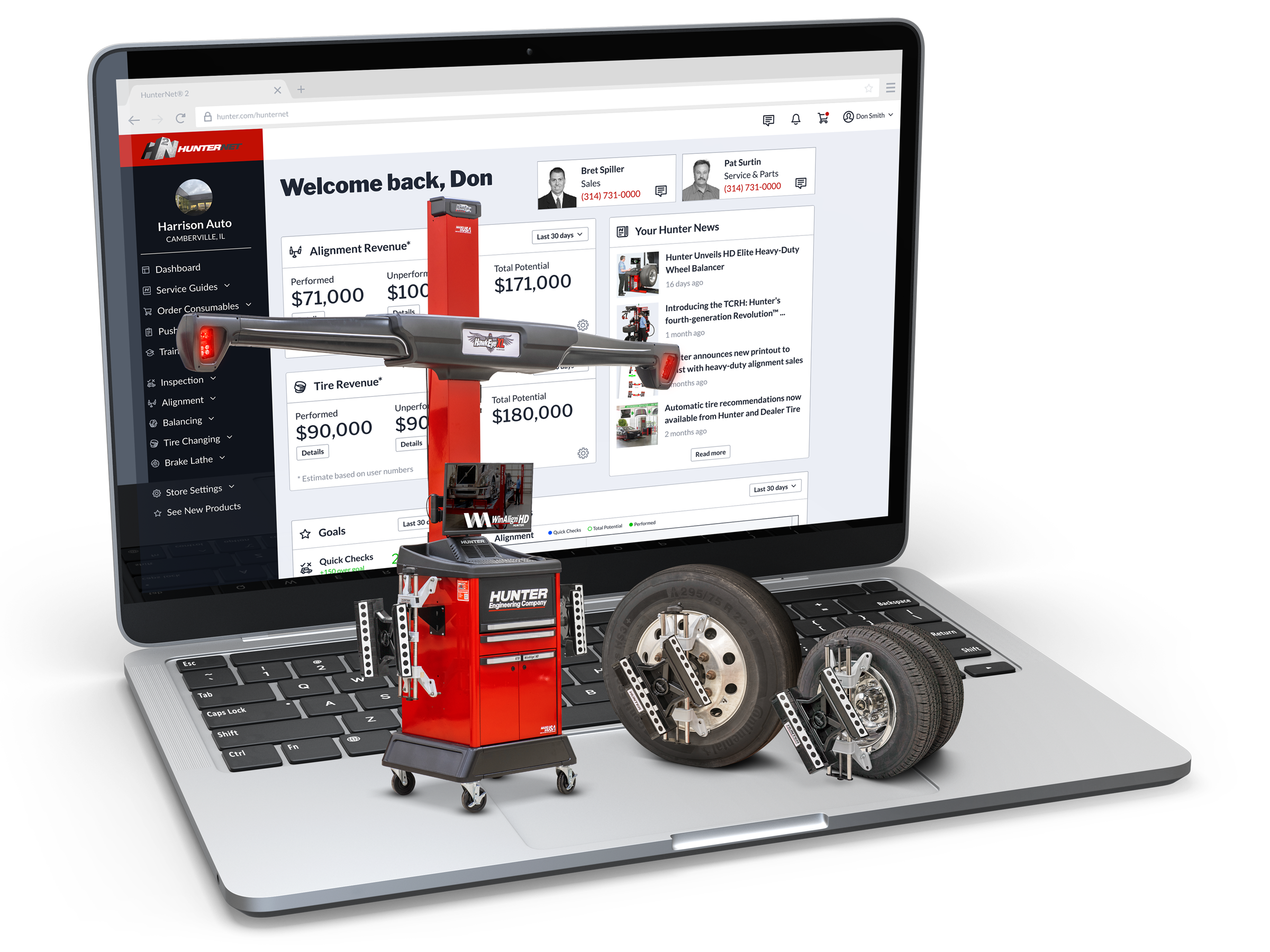 Turnplate options for floor or other racks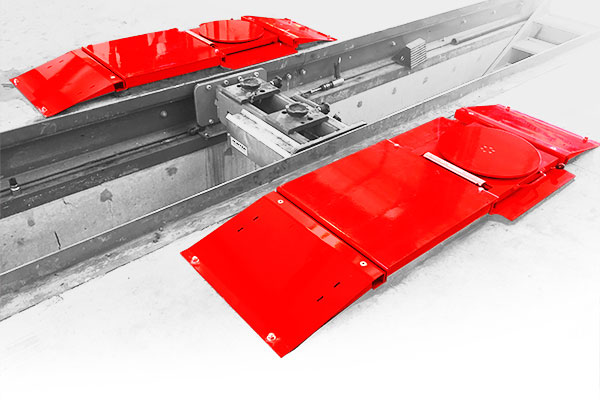 Surface-Mount
Utilize an existing pit
Permanent installation
Easily accomodates existing pits, no need for a rack
Adjustable track width — half-ton to Class 8
22,000 lbs. (10,000 kg) per axle
Built-in turnplate bridges for rolling compensation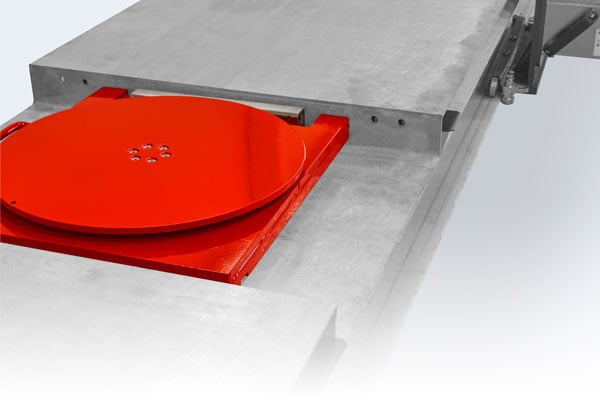 Rack-Mount
Enhance your rack
Compatible with Hunter HD alignment pit rack models
Perform Quick Check®s and alignments more easily
Adjustable track width — half-ton to Class 8
22,000 lbs. (10,000 kg) per axle
Built-in bridges for rolling compensation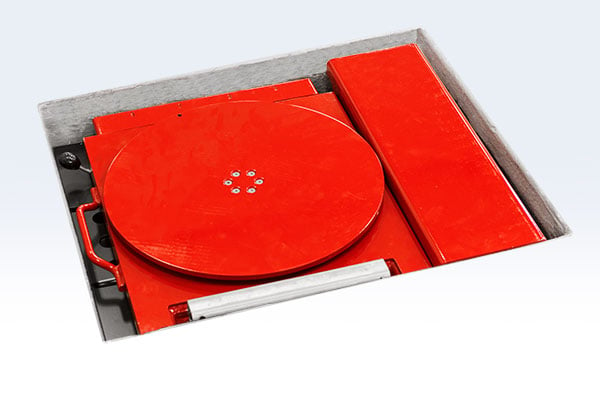 Flush-Mount
Great for new construction
Level profile — reduces tripping hazards
Provides clean installation and smooth approach
Adjustable track width — half-ton to Class 8
22,000 lbs. (10,000 kg) per axle
Built-in turnplate bridges for rolling compensation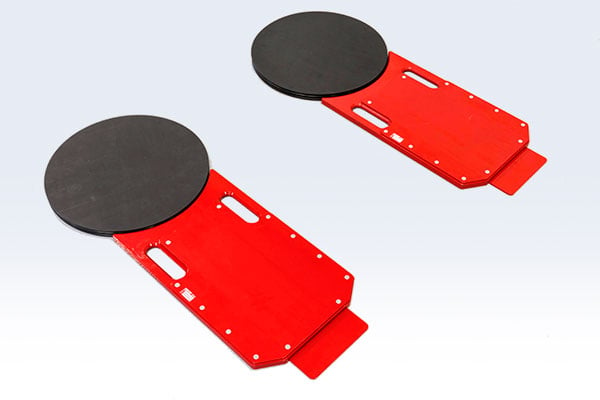 Portable
Ultimate versatility
Perfect for multiple bays or multiple steer axles (additional sets required)
Mobile alignment service
22,000 lbs. (10,000 kg) per axle
Other accessories
Convenient accessibility
Rolling Storage Cart - Hang targets for quick access.
Secondary Console Kit - Provide better visibility and control. Mounts to cart shown.
Mini Self-Centering Clamps
Mount to hub center of front rims. (set of 2)
Trailer Gauge
Mounts to the kingpin for trailer alignments.
Remote Indicator
Maintain control while making adjustments.
Wide-Angle Targets
Easily and accurately measure max steer.
Hunter Solutions
Get the most out of your alignment system
Unlock profit potential with Quick Check® Commercial unmanned inspection
Keep your equipment producing with a steady stream of high-margin alignments
Scan every truck, axle and tire that comes into your shop with no technician required
Inspects for camber, total toe, scrub and tire wear in less than 30 seconds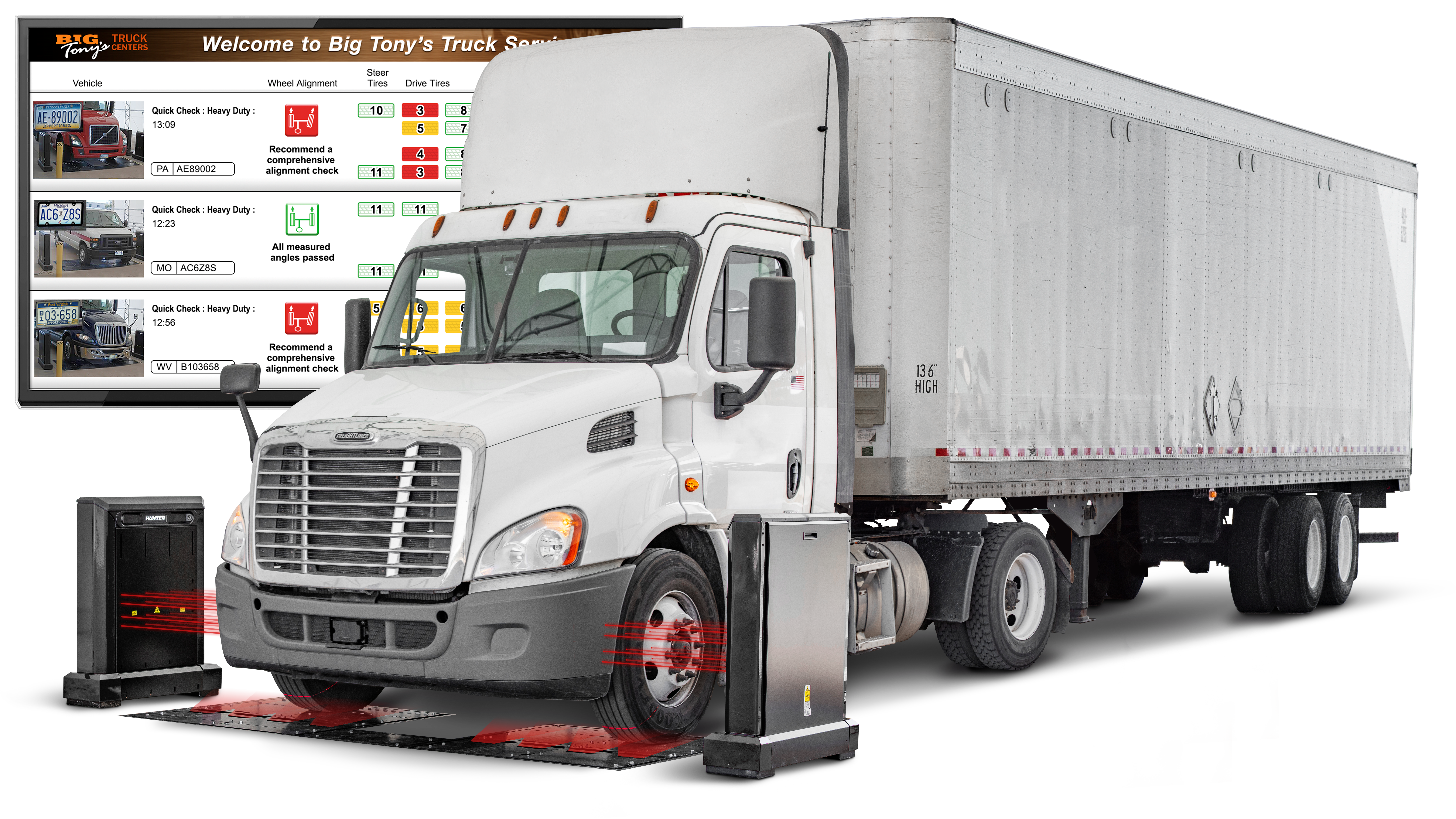 Did you know?
Over the course of 5 million miles, a fleet with properly aligned wheels will save approximately $60,000 in fuel and 18 million miles of tire life.
Figures derived from research by the American Trucking Association's Technology & Maintenance Council.
Advance your alignment business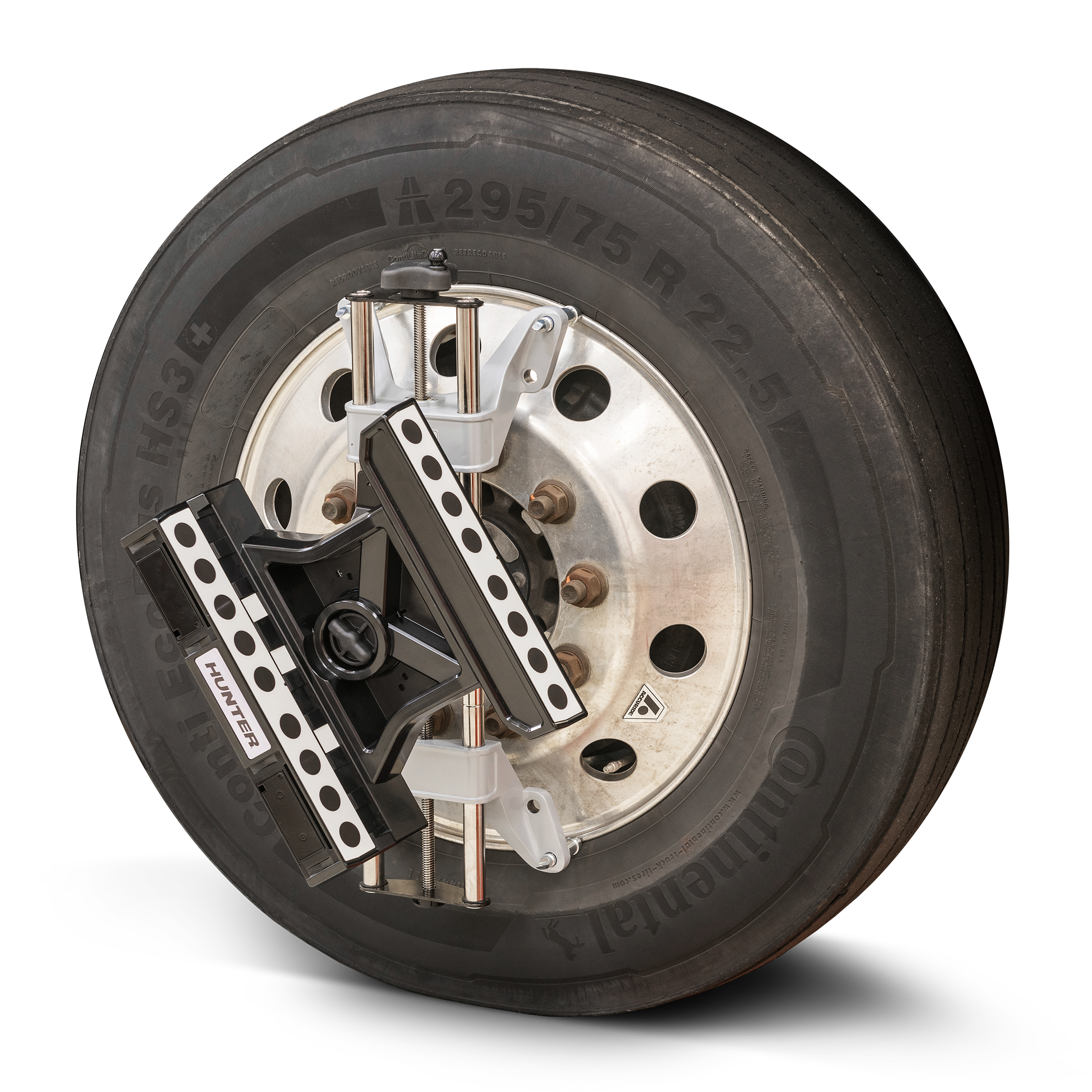 STANDARD
Self-Centering Adaptors
(Heavy Duty)
Fits 15-28" rim diameter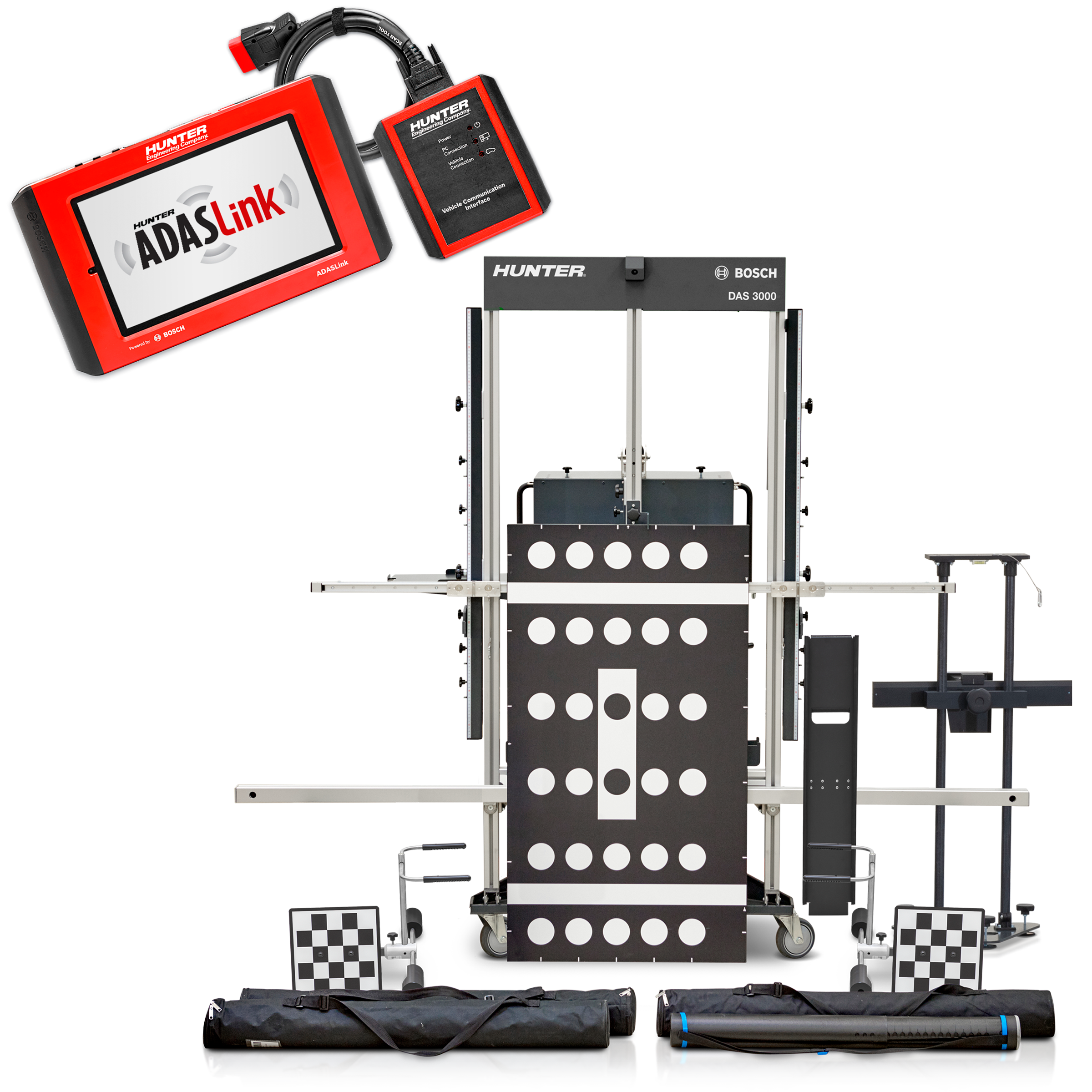 OPTIONAL
ADASLink® with DAS 3000
(Light and Medium Duty)
Steering angle resets
Dynamic calibration
Static calibration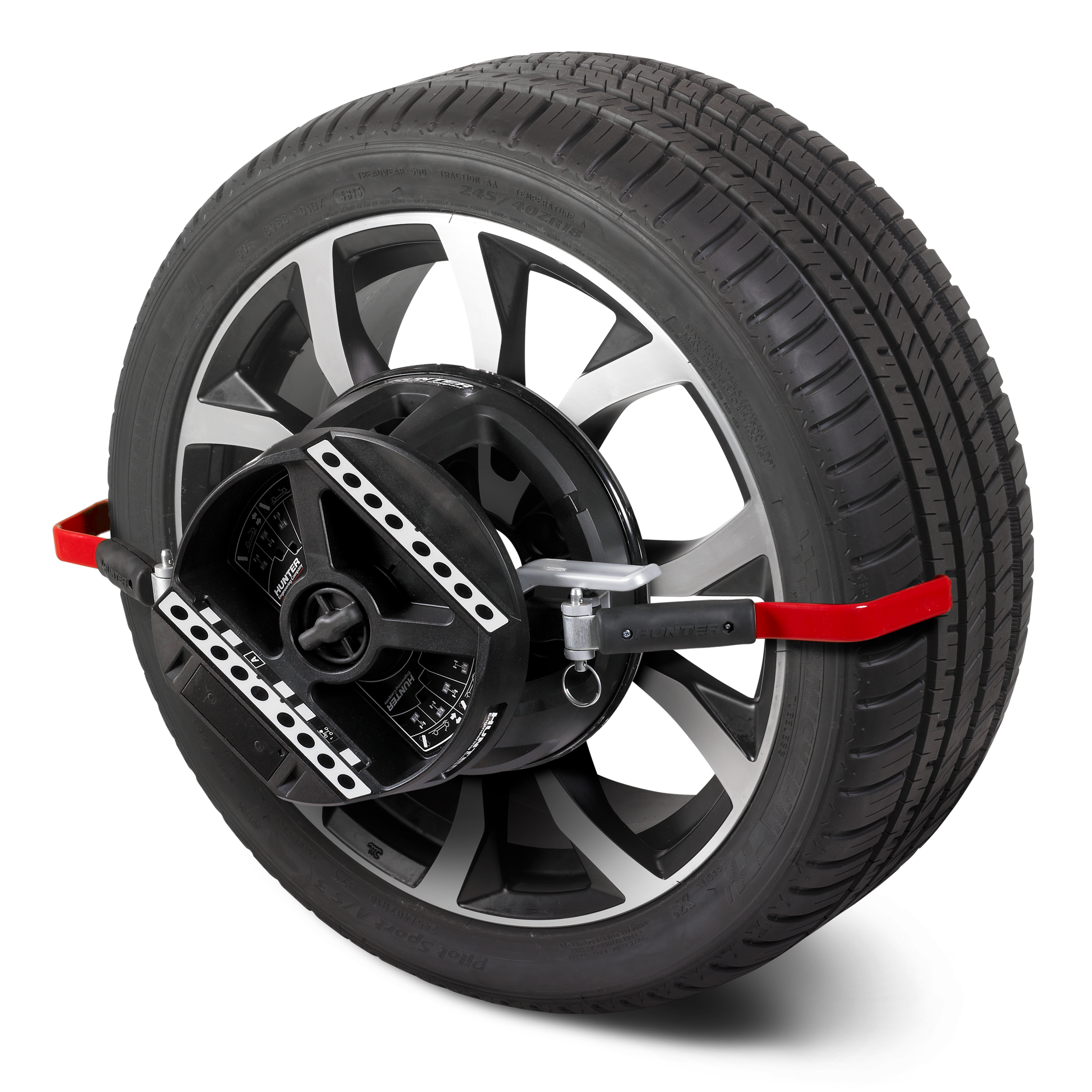 OPTIONAL
QuickGrip Adaptors
(Light Duty)
Two-axle vehicles
No metal-to-metal contact
Send a message to your local Hunter heavy-duty business consultant to schedule a free on-site demo.
This contact form is intended for legitimate Hunter equipment and service inquiries. All other use is prohibited and will be discarded. See Full Terms of Use
Hunter's 3-Year Warranty
We stand beside our equipment and your purchase.
Hunter Engineering Company warrants new equipment replacement parts for three years and labor for six months.
Sign up for local hands-on and classroom learning with a Hunter ASE-certified trainer to help you learn new skills or develop old ones. View course offerings near you
This contact form is intended for legitimate Hunter equipment and service inquiries. All other use is prohibited and will be discarded. See Full Terms of Use
Explore further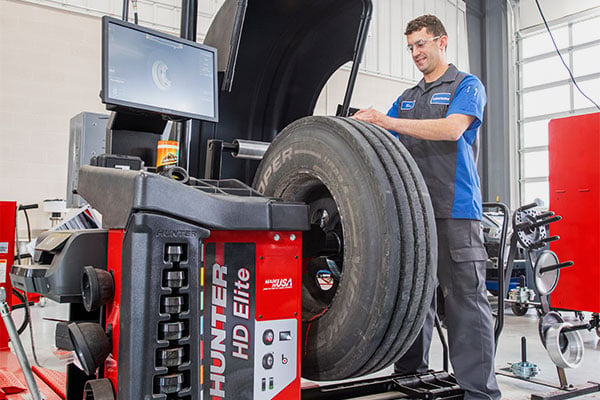 HD™ Elite
Heavy-duty wheel balancer
Eliminate wheel-related vibrations in heavy-duty assemblies using Hunter's proven and patented balancer features.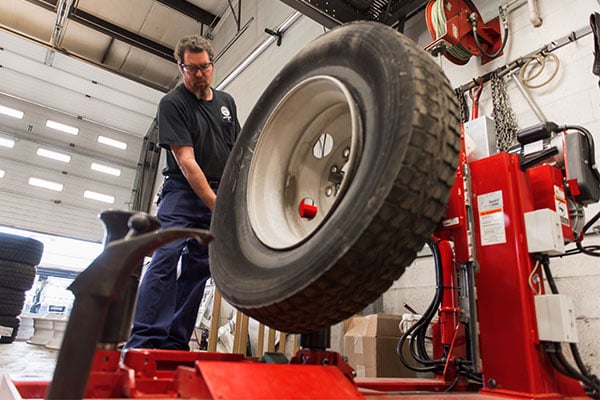 Heavy-Duty Tire Changers
Safe and fast for big tires
Service over-the-road wheel assemblies up to tractor assemblies safely and without breaking a sweat.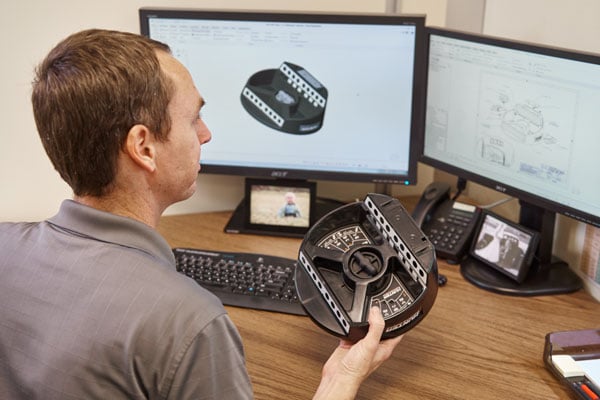 Innovation Team
Award-Winning
Hundreds of patented and exclusive features begin with the research and development team of mechanical, electrical and software engineers.