The world leader in alignment, wheel and tire service, inspection and ADAS calibration equipment
"It's either Hunter or I'm not getting one."
–Douglas Thompson, PA
"We invest in our equipment not only for our customers, but for our employees."
- Sally Thomas, NC
Featured Videos
ADASLink® and DAS 3000
ADASLink®, Hunter's premium, full-diagnostic scan tool, includes ADAS calibration and secure FCA gateway capabilities, enabling shops to take control of this challenging work by decreasing steps, increasing efficiency and cutting calibration time in half.
WalkAway™ - TCR + RFE | Hunter @ SEMA 2022
Explore the benefits of autonomous tire changing, including maximizing safety, eliminating the experience gap, reducing tech fatigue, increasing tech retention and lowering the risk of damaging wheels.
Full HD Product Line
Fuel and tires are among commercial operators' biggest expenses, and in today's economy this is even more true. Owners need to be sure they're investing in equipment that will yield a solid ROI. Hunter Engineering offers a complete line of HD products that meet this need.
ADAS Coverage Guide on HunterNet® 2
Hunter Engineering has taken another major step toward making ADAS calibration as available and accessible as possible. Previously, when needing ADAS calibration information, techs had to look it up manually on the scan tool. Now, Hunter's ADAS Coverage Guide is available online through the HunterNet® 2 customer portal, accessible from anywhere at any time.
Online Wheel Alignment Guide
Previously, techs needing to know which resets are required after a wheel alignment had to refer to a printed guide, updated every six months. No more. Now Hunter's Wheel Alignment Guide 1708-T is available online free of charge to Hunter customers via Hunter's online customer portal, HunterNet® 2.
Brake Lathe With Tablet and HunterNet® 2 Portal
Hunter's award-winning brake lathes, already a cut above the rest, raise the standard even higher with the addition of a tablet and HunterNet® 2 connectivity. The tablet, available earlier this year, conveniently brings a wide range of information to the technician's fingertips in an intuitive, user-friendly display.
TCX59 Pro Tire Changer with HunterNet® 2 Connectivity
Hunter Engineering's new TCX59 Pro tire changer offers a high degree of productivity and usability through a new polymer-based head, the reintroduction of the two-point press arm, and connectivity to the HunterNet® 2 online customer portal, opening a world of actionable data to set goals, track equipment usage, monitor ROI and more.
Medium-Duty Inspection Lane
Passenger cars, pickups and heavy-duty trucks have their appropriate inspection equipment. But what about those in-between medium-duty trucks, such as bucket trucks, that are too heavy or wide for the passenger tread system, but not tall enough for the full HD system? Thanks to a software upgrade, Hunter can now bridge the gap with a medium-duty inspection lane.
Mobile Service
The first challenge of providing mobile wheel and tire service is finding reliable equipment that will fit inside a van. Hunter Engineering answers with a compact tire changer and wheel balancer that don't sacrifice durability and productivity for a compact size.
New TCX51C Tire Changer
Hunter's new TCX51C tire changer pairs a swing arm column with a center clamp in a brand-new configuration. The 51C delivers the benefits of a center clamp model combined with the usability and familiarity of a traditional swing arm changer. The result is significantly enhanced wheel protection, eliminating slippage risk.
Designed & Built in the USA
Hunter designs and manufactures industry-leading service equipment right here in the USA.
Receive same- or next-day service
Get a free quote or on-site demo
Register for ASE-certified training
General information & questions
This contact form is intended for legitimate Hunter equipment and service inquiries. All other use is prohibited and will be discarded. See Full Terms of Use
What Hunter users are saying
Thomas Tire relies on Hunter to maintain trust with HD and commercial customers
Sally Thomas, Co-Owner of J.P. Thomas & Co., Inc., relies on Hunter heavy-duty equipment at all of their Thomas Tire locations to meet any service challenge that comes their way. Building and maintaining customer trust as well as technician retention are key benefits.
Learn more
Bergey's doing a "crazy amount" of alignments with Hunter Quick Check® Commercial
Not wasting days putting trucks on racks and searching for alignment issues is easy evidence of ROI, Ford says. Quick Check® Commercial's immediate results save time, money and demonstrates Bergey's is looking out for its customers' interests.
Complete Collision Center keeps their ADAS calibration profits in-house
Jim Smith, Owner of Complete Collision Center in St. Robert, MO, speaks about how investing in Hunter ADAS equipment allowed them to keep calibration services in-house and control the profits and cycle time of the repair process.
Learn more
NEXTGEN Autoshop seeks, and finds, best-in-class service and equipment
Giridharan, President of NEXTGEN Autoshop in Coimbatore, India was looking for a way better serve its high-performance car client base. Seeking to be the best, they went after the best equipment and found it in Hunter's HawkEye Elite® alignment system and the Road Force® Elite wheel balancer, distributed by Madhus Garage Equipment.
Santa Maria Dealerships turn inspection 180 degrees with Hunter unmanned inspection
Part of the mission statement at the Honda and Toyota Santa Maria dealerships in Santa Maria, CA is to consistently exceed their customers' expectations. With top-quality Hunter equipment, alignment and tire sales have increased substantially since making the change from older equipment.
Learn more
Autotronica "Loves" their Revolution
Anthony Ramirez, owner of Autotronica in Anaheim, CA, loves using the WalkAway™ feature on his Revolution™ tire changer, because he can balance a wheel while the tire changer does the work, increasing productivity and efficiency.
Learn more
Morgan Auto Group Quadruples Tire and Alignment Sales
Joe Schlueter, Morgan Auto Group's VP of Fixed Operations, talks about the technological advantages and increased sales generated by Hunter's Quick Check Drive® and Quick Tread Edge® at Jerry Ulm Chrysler Dodge Jeep Ram.
Learn more
Hunter's AutoComp Elite® Brake Lathe at Laura Ford
Mike Wehrle, Service Manager at Laura Ford in Sullivan, MO talks about the superior surface finish and fast automatic compensation on rotor cuts they get from using the AutoComp Elite® brake lathe.
Learn more
Plaza Tire® "Adds Gross Profit and Revenue" with Quick Check Drive®
Mark Rhodes, President of Plaza Tire Service®, has invested in Quick Check Drive® and Quick Tread Edge® systems at all of the new Plaza Tire locations being built and has the goal of putting the inspection system in each of Plaza's 67 locations.
Learn more
Thompson's Service Center thrives on a foundation of Hunter equipment
Doug Thompson, owner of Thompson's Service Center in Wiconisco, PA, speaks about his investment in Hunter equipment from aligners, tire changers and balancers to state-of-the-art inspection equipment and HunterNet® 2 portal.
Learn more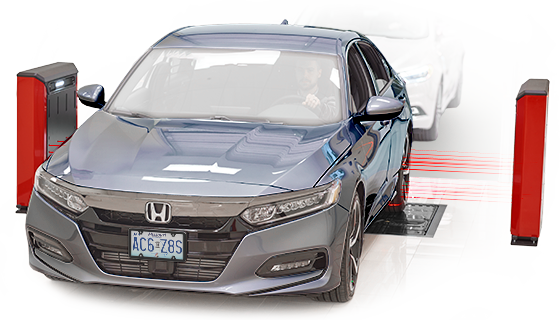 Quick Check Drive® is driven towards profits
---
Generate more opportunities and greater profits through autonomous inspection technology.
View your profit potential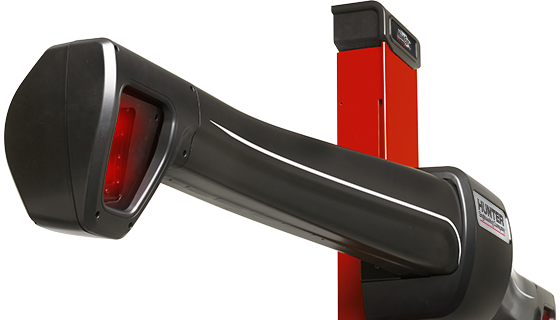 The eyes of your shop
---
HawkEye Elite®'s high-resolution cameras see each individual wheel target in a 3D space for the most accurate alignment measurements in the industry.
Increase your alignment productivity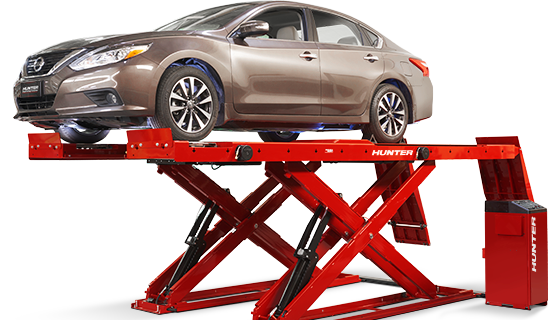 Take your service to new levels
---
Hunter's RX Scissor Alignment Lifts have the best-in-class drive-on and raise heights.
See how it fits in your shop