Hunter Engineering wins six PTEN People's Choice Awards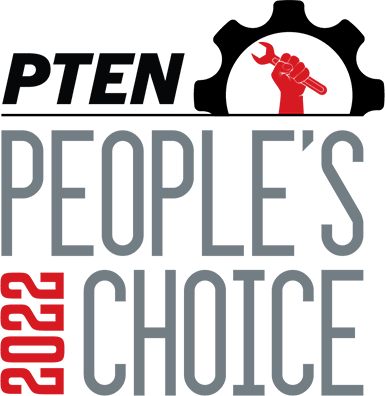 Hunter Engineering is proud to announce that six Hunter products were recently named winners in the 2022 PTEN People's Choice Awards.
The People's Choice Awards are voted on by readers of PTEN Magazine, following the selections made by an expert panel of judges from the PTEN Innovation Awards earlier this summer. Hunter products won four of those awards as well.
The 2022 contests included 121 submissions across 23 categories.
Hunter's 2022 PTEN People's Choice winners are:
HunterNet® 2 Multi-Store View. HunterNet® 2 is a free customer portal developed for undercar service operators with multiple rooftops, allowing operators to access actionable performance data for all their Hunter-connected equipment.
Collision Alignment System. The blueprint system goes beyond typical alignment measurements by guiding the technician through specific collision procedures for uncovering hidden damage right away.
BL Brake Lathe Tablet. The BL Series of bench lathes now features a new tablet, bringing a wide range of useful information instantly to the technician's fingertips in an intuitive, user-friendly display.
ADASLink® Diagnostic Scan Tool. ADASLink® is a premium, full-diagnostic scan tool that includes ADAS calibration and secure FCA gateway capabilities, enabling shops to take control of this challenging work by decreasing steps, increasing efficiency and cutting calibration time in half.
Quick Check® Commercial Autonomous Inspection System. Hunter is the first global provider to introduce a touchless commercial inspection solution for measuring camber, total toe, tandem axle scrub and tread depth on all tires, on all axles.
Smart Weight® Elite Wheel Balancer. The SmartWeight® Elite replaces typical dataset arms with diagnostic lasers that automatically scan the entire inner rim, providing precise locations for weight placement, including anywhere along the wheel, rather than only the left or right planes.
For more information, visit www.hunter.com.
Hunter Engineering Company® is the global leader in state-of-the-art wheel alignment systems, wheel balancers, brake lathes, tire changers, lift racks, autonomous alignment and tire inspection equipment, diagnostic scan tools and ADAS recalibration equipment. Hunter equipment is approved and used by vehicle manufacturers, automobile and truck dealers, tire dealers and service facilities around the world.
For more information, visit www.hunter.com or contact Tommy Maitz, director of marketing, Hunter Engineering Company®, at contact.hunter@hunter.com. For additional information, please contact your local Hunter business consultant at https://www.hunter.com/contact.
Follow Hunter Engineering Company® on YouTube, Facebook, Instagram and LinkedIn.