Hunter Engineering's Quick Tread Edge® now integrates with U.S. AutoForce's online Tire Quote solution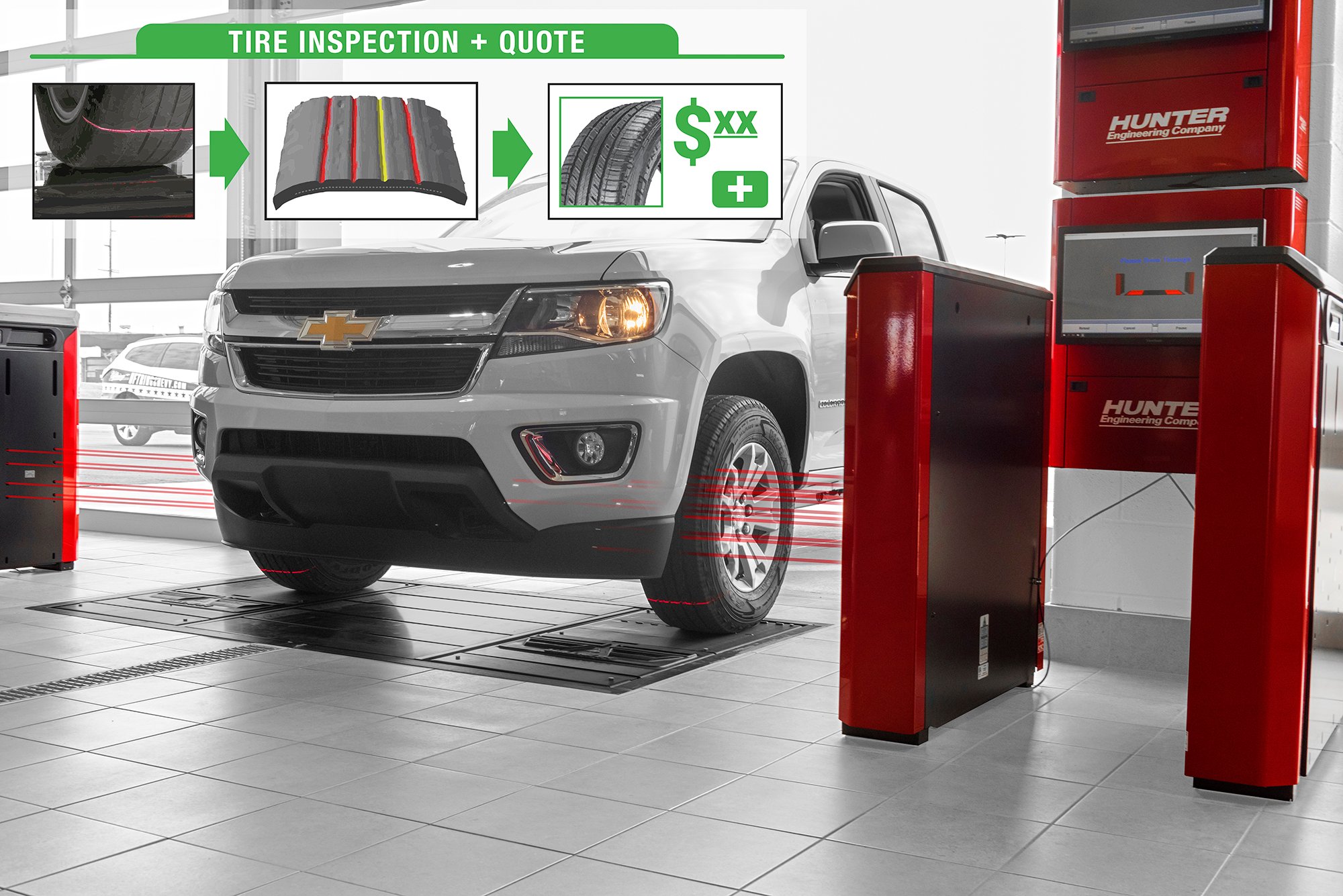 ST. LOUIS – Hunter Engineering Company® and U.S. AutoForce® are pleased to offer an integrated tire inspection + quoting solution to our mutual auto dealer customers.
With the new partnership, service advisors can easily click to quote the tire replacement opportunities identified by Hunter's Quick Tread Edge® unmanned inspection system, providing superior customer service and increasing tire and alignment sales.
Hunter will preview this new integration in booth #43017 at SEMA in Las Vegas, Nov. 2-5.
"Auto dealers continue to grow their share of the near-$36 billion tire replacement market, making speed and convenience key to selling more tires," said Alan Hagerty, Hunter product manager. "Hundreds of tires roll through the typical dealership every day. We know approximately 15 percent need immediate replacement, or replacement soon. With Hunter and U.S. AutoForce, auto dealers can quickly pinpoint those tire needs and easily present replacement options," he said.
U.S. AutoForce's Tire Quote solution, available online through its website, allows users to search for and order tires by size, make of vehicle and VIN. Hunter's Quick Tread Edge® uses lasers to automatically scan each tire edge to edge and provide 3-D models to illustrate the complete extent of tread wear.
U.S. AutoForce joins a group of more than 20 Hunter integration partners whose integrations are available at no additional cost from Hunter.
For more information, visit https://www.hunter.com/connected-equipment/integration-partners.
About Hunter Engineering
Hunter Engineering Company® is the global leader in state-of-the-art wheel alignment systems, wheel balancers, brake lathes, tire changers, lift racks, diagnostic scan tools and ADAS recalibration equipment. Hunter equipment is approved and used by vehicle manufacturers, automobile and truck dealers, tire dealers and service facilities around the world.
For more information, visit www.hunter.com or contact Tommy Maitz, director of marketing, Hunter Engineering Company®, at contact.hunter@hunter.com. For additional information, please contact your local Hunter business consultant at https://www.hunter.com/contact.
Follow Hunter Engineering Company® on YouTube, Facebook, Instagram and LinkedIn.
About U.S. AutoForce
U.S. AutoForce, a division of U.S. Venture, is a leading distributor of tires, undercar parts and lubricants providing unmatched knowledge and support to the automotive aftermarket, giving its customers "Your Power to Win." U.S. AutoForce operates 50 distribution centers servicing 32 states, including Corona, California-based Tire's Warehouse and Atlanta, Georgia-based Treadmaxx Tire Distributors.
Sources
$36 billion tire replacement market cited in 2021 AASA Automotive Aftermarket Study
15 percent of tires needing replacement based on millions of Hunter tire tread depth inspections across thousands of shops in North America