Hunter's Quick Check Drive® named a MOTOR Magazine Top 20 Tool!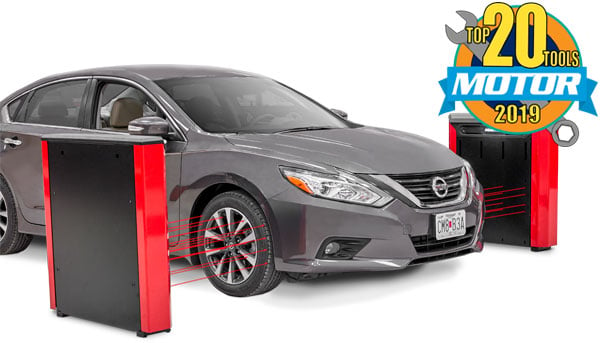 ST. LOUIS - Hunter Engineering's autonomous alignment inspection system, Quick Check Drive® has been picked as one of MOTOR Magazine's Top 20 Tools for 2019.
Introduced in July 2018, Quick Check Drive® has made an incredible impact for service providers nationwide by supercharging their alignment business. The system is equipped with eight sensors and 32 lasers which scan a vehicle as it drives past, eliminating operator labor and stopping of the vehicle. The system can scan passenger-vehicle tires every 3-5 seconds.
"We see 160 customers per day and roughly 4,000 per month. Prior to implementing the Quick Check Drive® system, we sold an average of 205 alignments each month," noted Service Director of North Park Lexus of San Antonio, Dewayne Sanders. "However, during our first month of using the Quick Check Drive® system we sold 711 alignments. That's an incredible 247% increase in alignment sales."
In addition to providing total toe and camber readings, Quick Check Drive® incorporates a vehicle identification system to capture front and rear license plates on each vehicle. This identification system automatically provides a license plate-to-VIN conversion while simultaneously determining OEM specifications on most vehicles.
Quick Check Drive® features optional body damage image viewing through HunterNet®, Hunter's online business intelligence tool. With this feature, service providers can capture 40 or more images per vehicle without a time penalty and protect themselves against questionable damage claims.
Data suggests that approximately 50 percent of vehicles on the road are in need of alignment, and wheel alignment is the most profitable service in dealerships and service facilities. With Hunter's Quick Check Drive®, service providers can realize unprecedented profits and revenue, and vehicle owners can maximize tire life by correcting misalignment.
Learn more about Quick Check Drive®.
See MOTOR Magazine's 2019 Top 20 Tools.
Hunter Engineering Company® is the global leader in alignment systems, wheel and tire service, brake service and inspection lane equipment. Hunter® equipment is approved and used by vehicle manufacturers, automobile and truck dealers, tire dealers and service facilities around the world.
For additional information, visit our website at www.hunter.com or contact Maddie Laviolette, Marketing Analyst and Communications Specialist, Hunter Engineering Company®, 314-716-0380
For more information, please contact your local Hunter® representative at www.hunter.com/demos.