Hunter Engineering introduces TCX59 Pro tire changer with new leverless head and full bead press system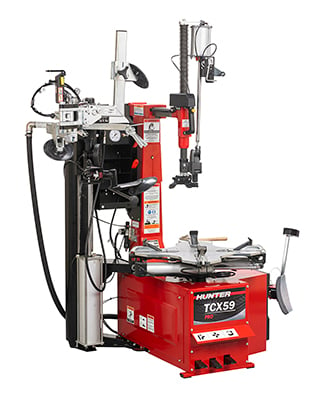 Hunter Engineering is adding a new configuration to its TCX58/59 line of tire changers with the introduction of the TCX59 Pro.
The 59 Pro's two new primary capabilities offer a high degree of productivity and useability. The first is a new polymer-based head, eliminating the need for inserts and providing unmatched rim protection. This technology has traditionally been found only on premium center-clamp machines.
The second is the reintroduction of the two-point press arm. Last used on Hunter's popular TCX57 model, the two-point rotating press arm excels with aftermarket wheels and thick-bead truck and trailer tires alike.
The hook-based leverless head is reconfigured with greater travel and hook profile, increasing the 59 Pro's suitability for all types of tires.
"It's easier to use, and more effective in more cases," said Jim Hudson, product manager for tire changers. "Everyone loves the polymer winged head, and the tilting bead lip has more travel to catch lower-hanging beads and keep large, thick beads on the hook better."
The full bead press system allows for two points of press at the top to keep traditionally difficult tires in the drop center during mounting. The second upper press point is particularly effective with performance vehicle tires, such as skid steer, 19.5s, low-profile and run flat. The locking lower disc can lift tires and demount even difficult bottom beads easily.
The 59 Pro also includes standard features of the series, such as the hands-free FastBlast inflation system, a powerful two-speed chassis and 10-to-26-inch external clamping.
The new tire changer will be on display for the first time at SEMA in Las Vegas next month in booth #42017 in South Hall Lower.
For more information, visit https://www.hunter.com/tire-changers/table-top.
Hunter Engineering Company® is the global leader in state-of-the-art wheel alignment systems, wheel balancers, brake lathes, tire changers, lift racks, autonomous inspection equipment, diagnostic scan tools and ADAS recalibration equipment. Hunter equipment is approved and used by vehicle manufacturers, automobile and truck dealers, tire dealers and service facilities around the world.
For more information, visit www.hunter.com or contact Tommy Maitz, director of marketing, Hunter Engineering Company®, at contact.hunter@hunter.com. For additional information, please contact your local Hunter business consultant at https://www.hunter.com/contact.
Follow Hunter Engineering Company® on YouTube, Facebook, Instagram and LinkedIn.