Powerful and durable table-top tire changers for every need
Hunter Table-Top Tire Changers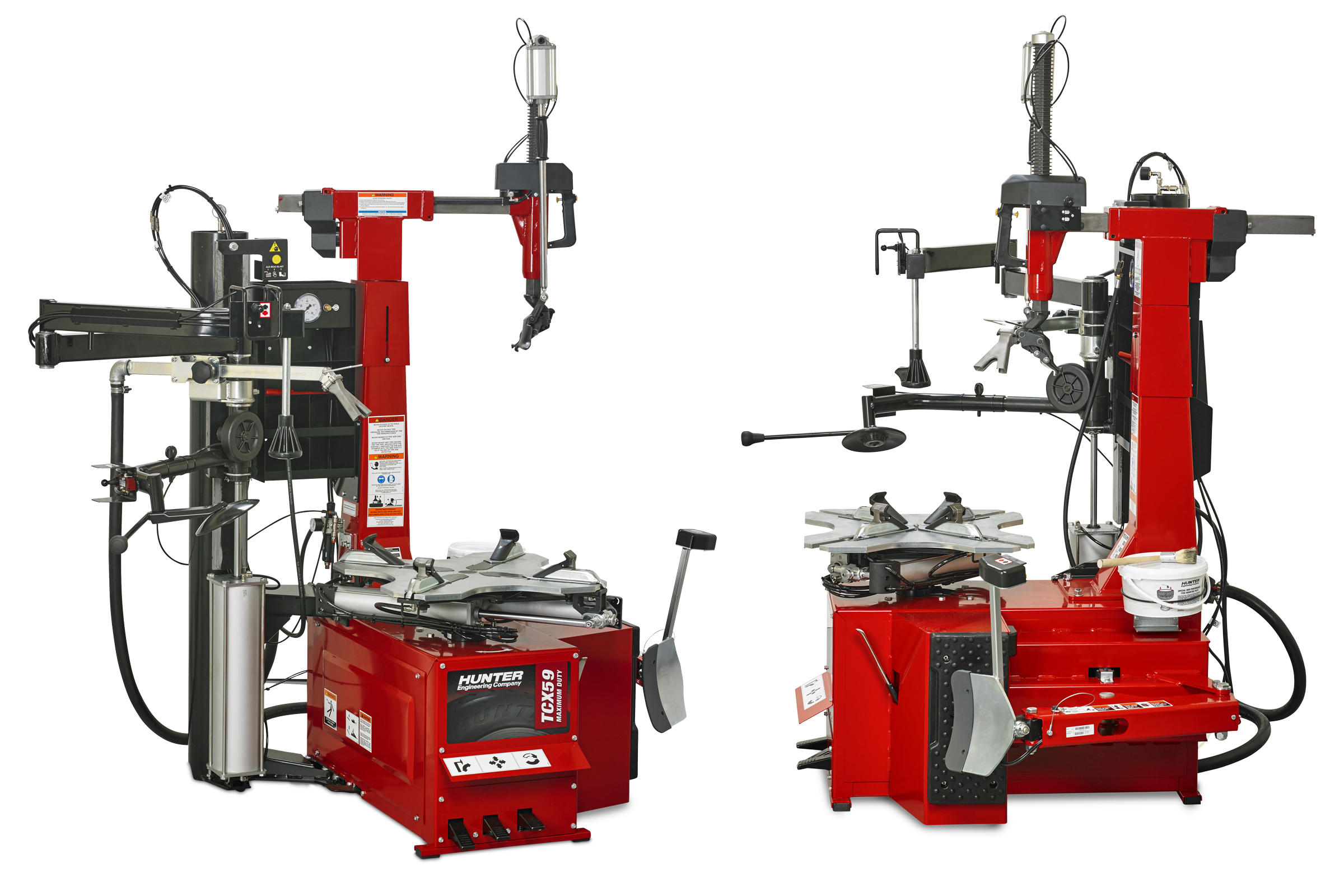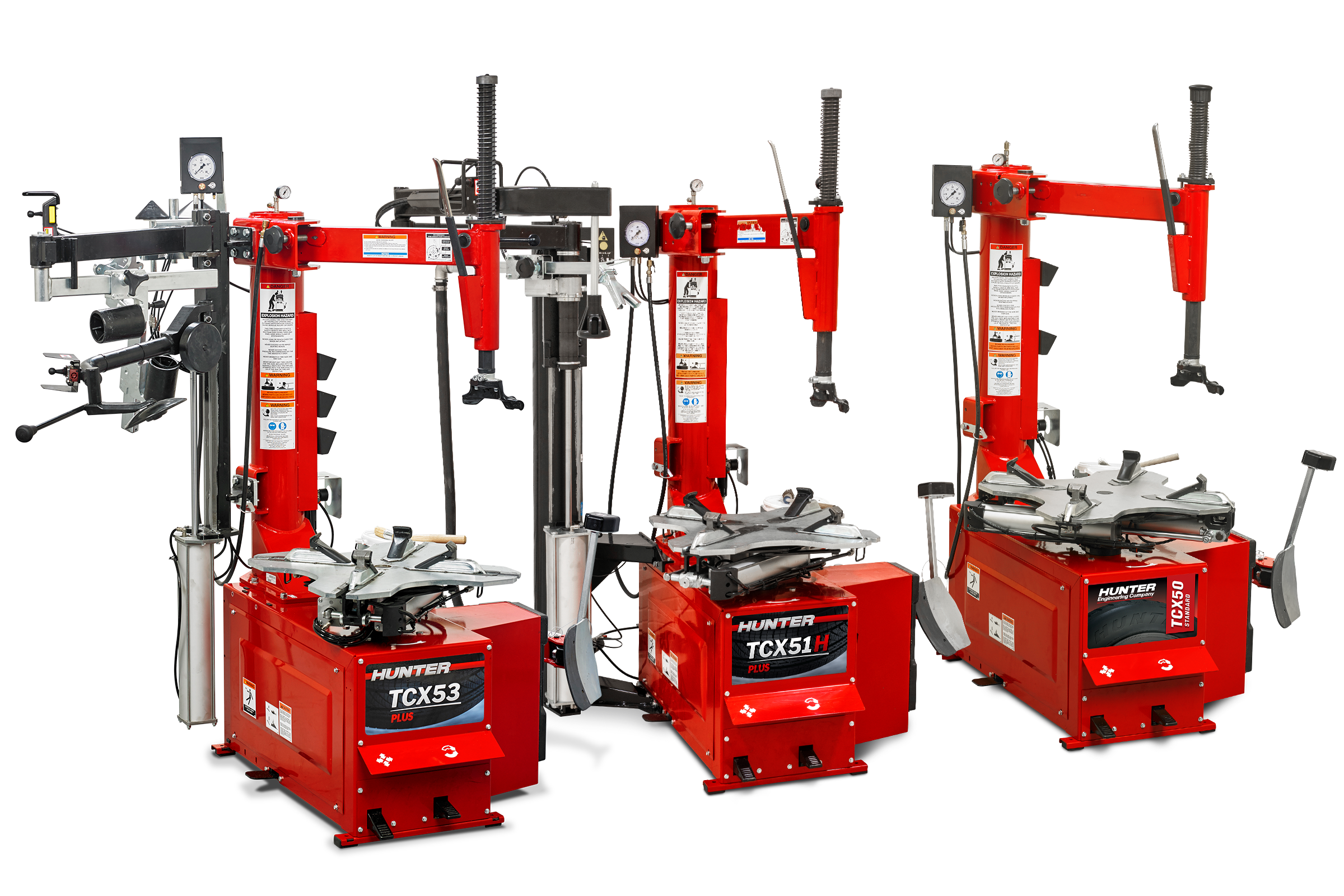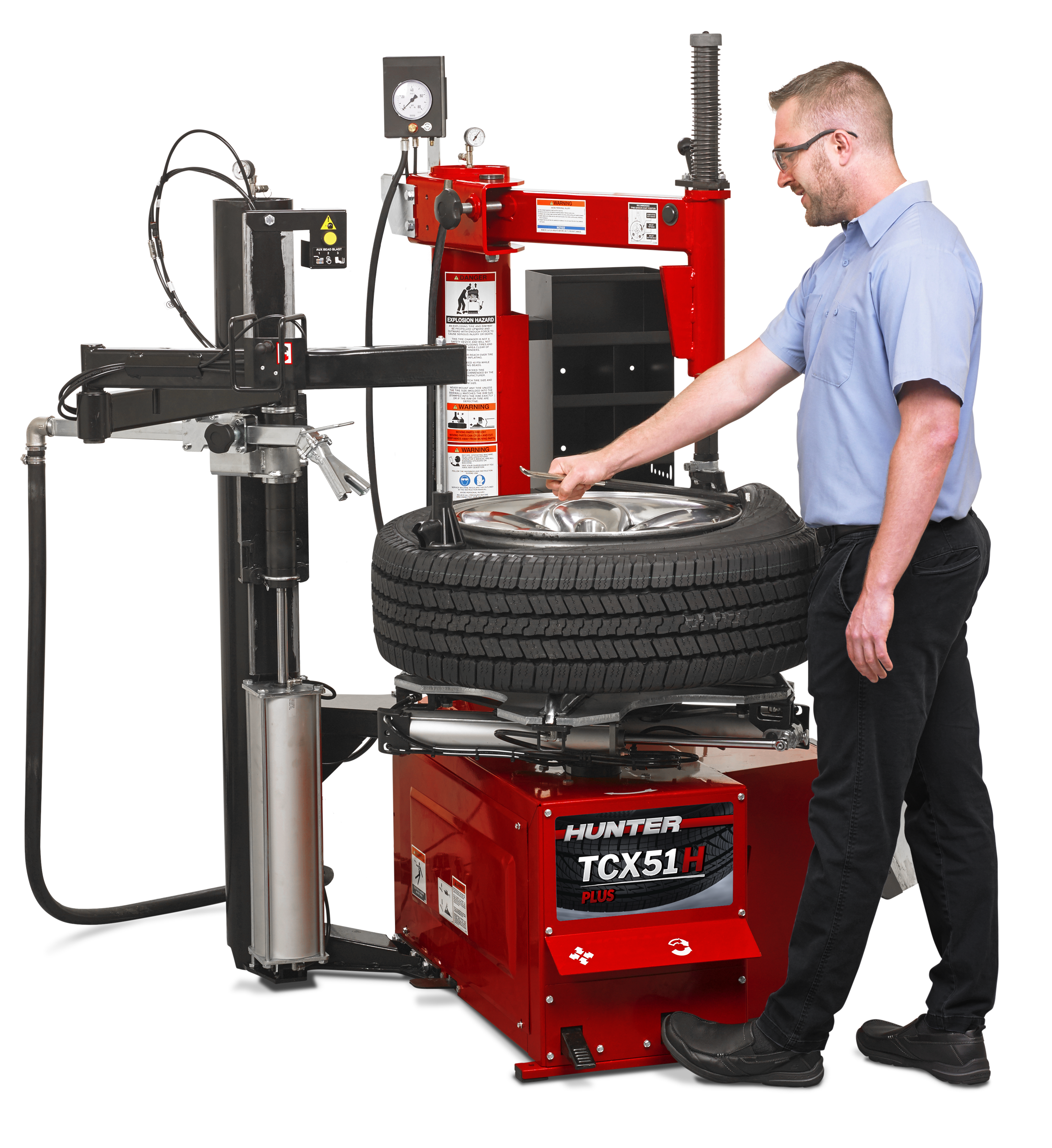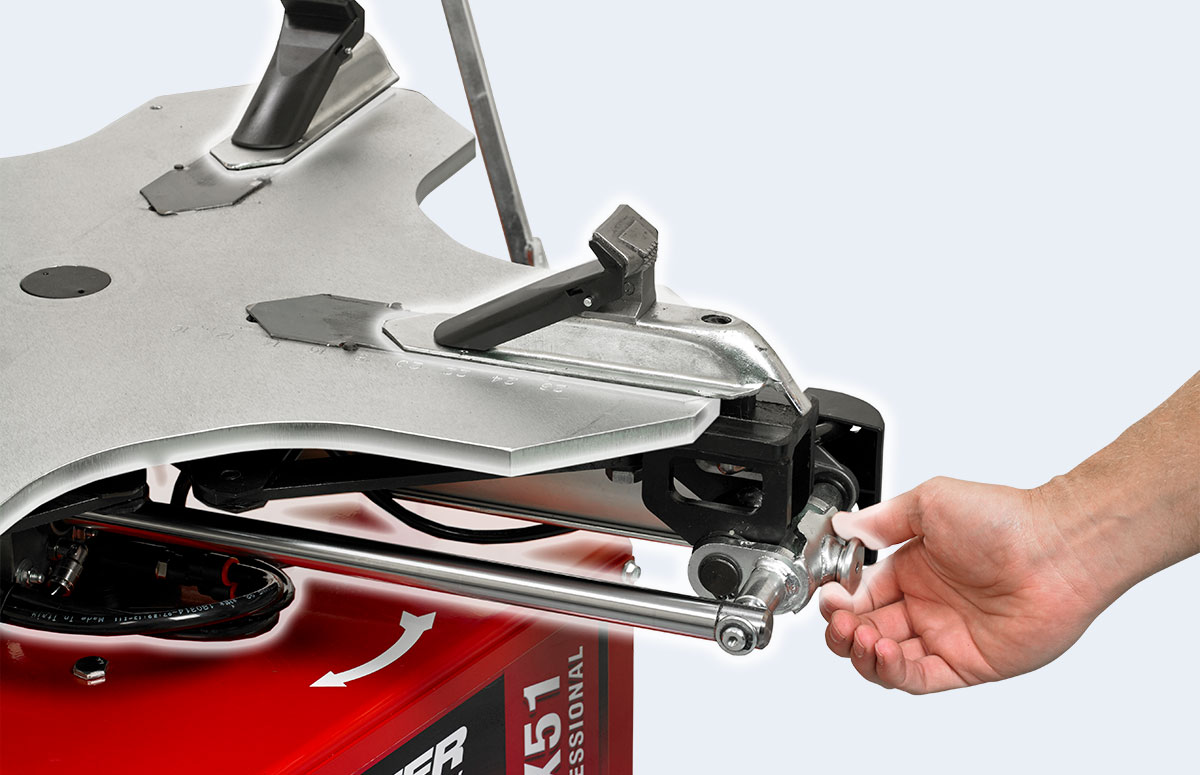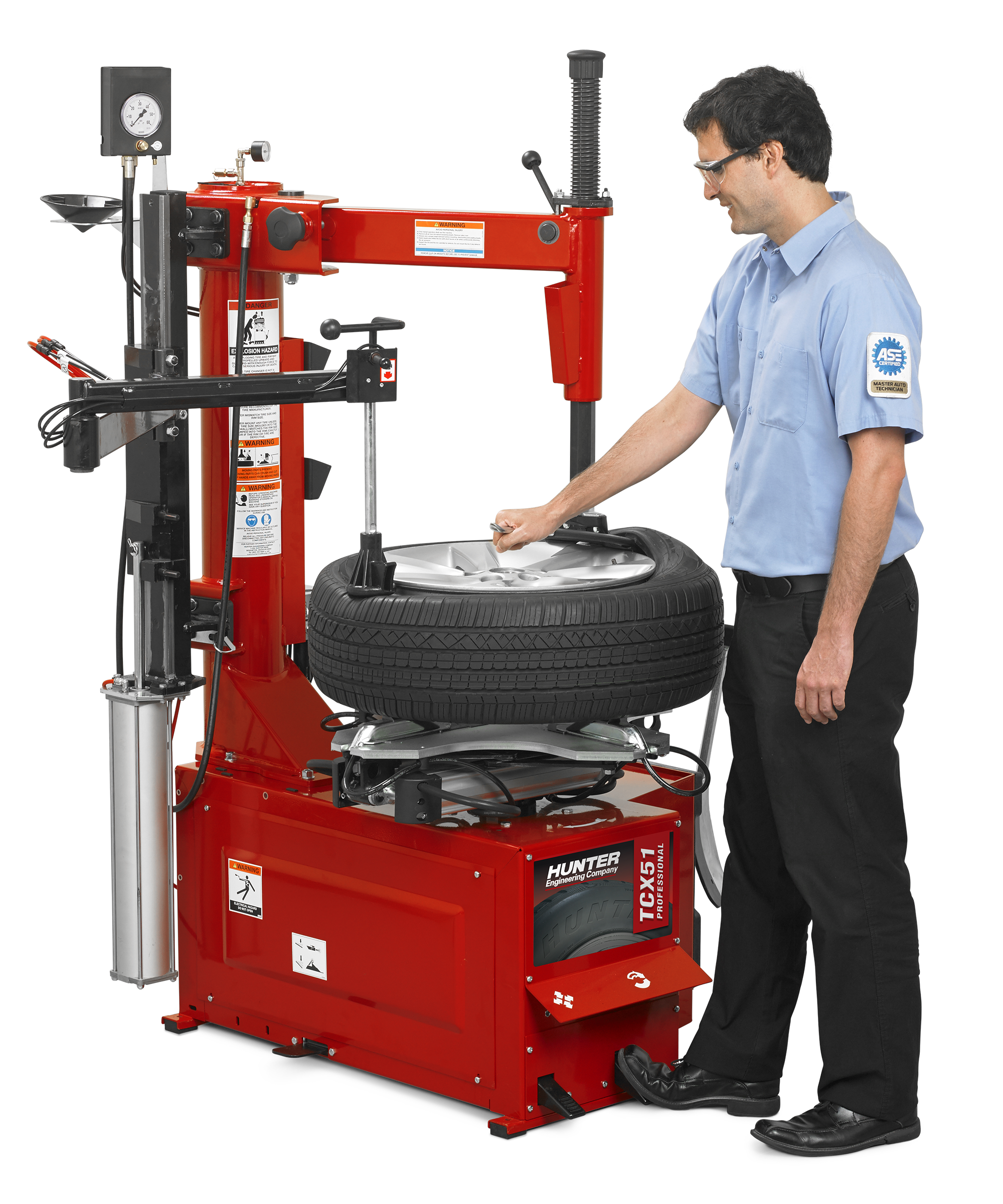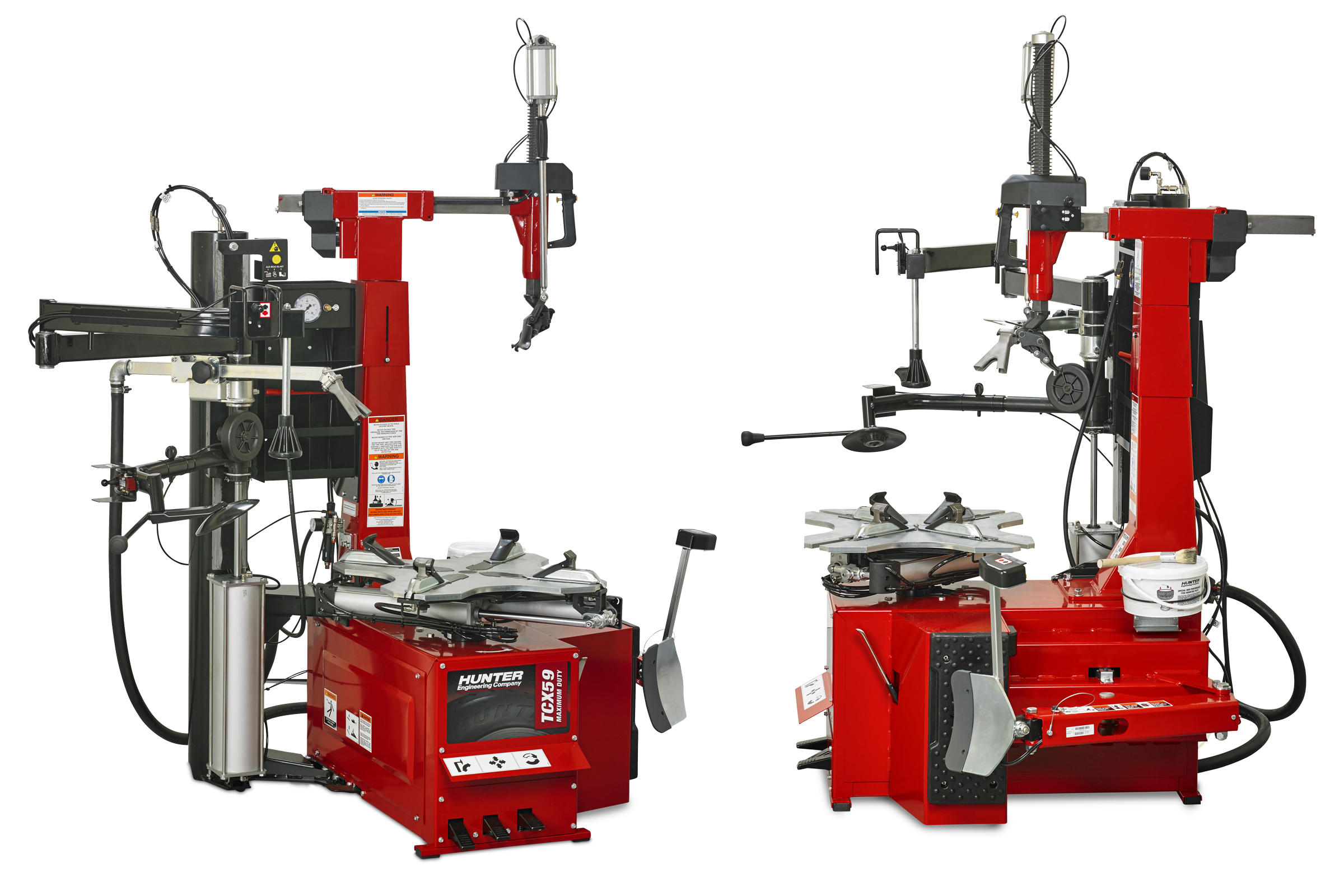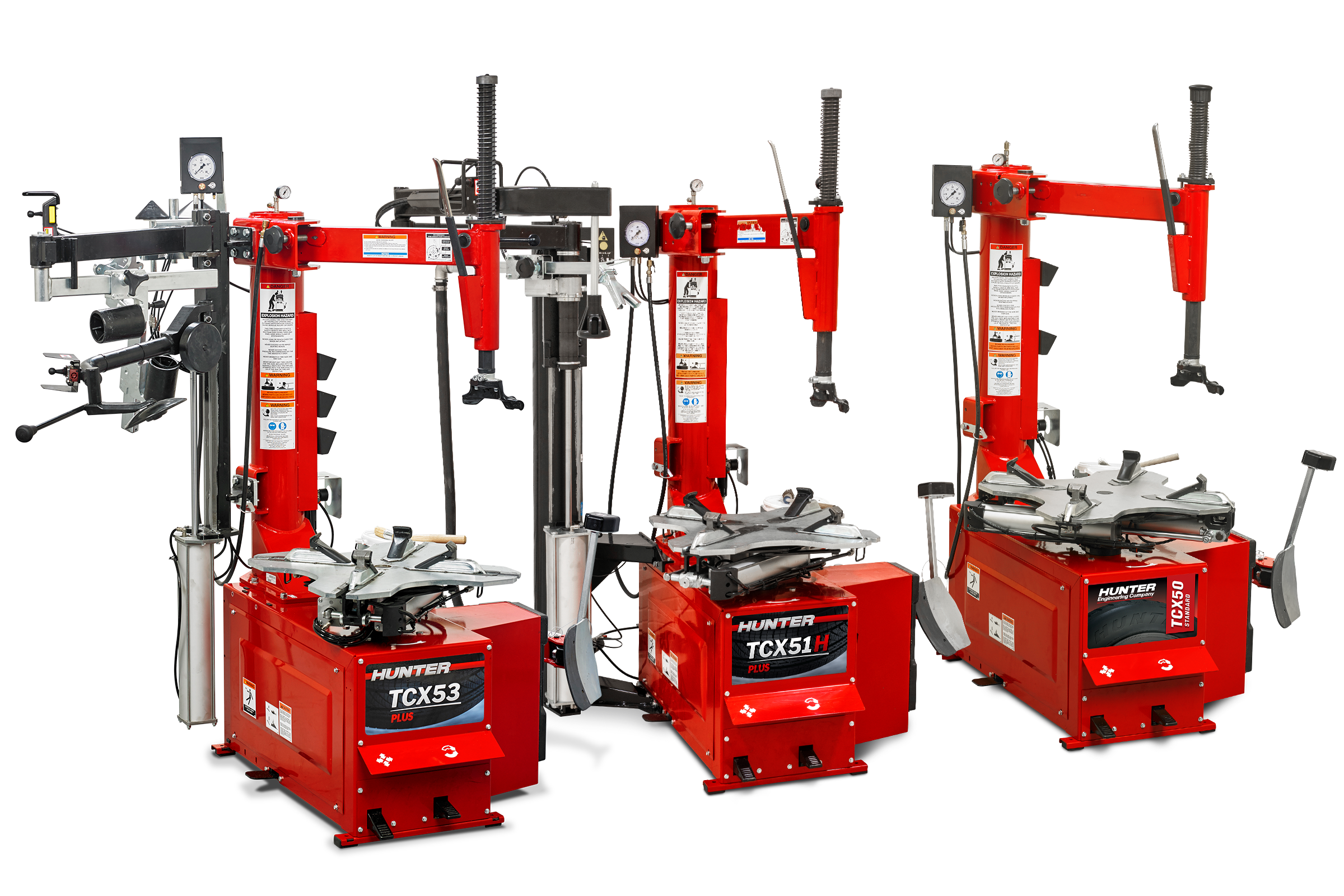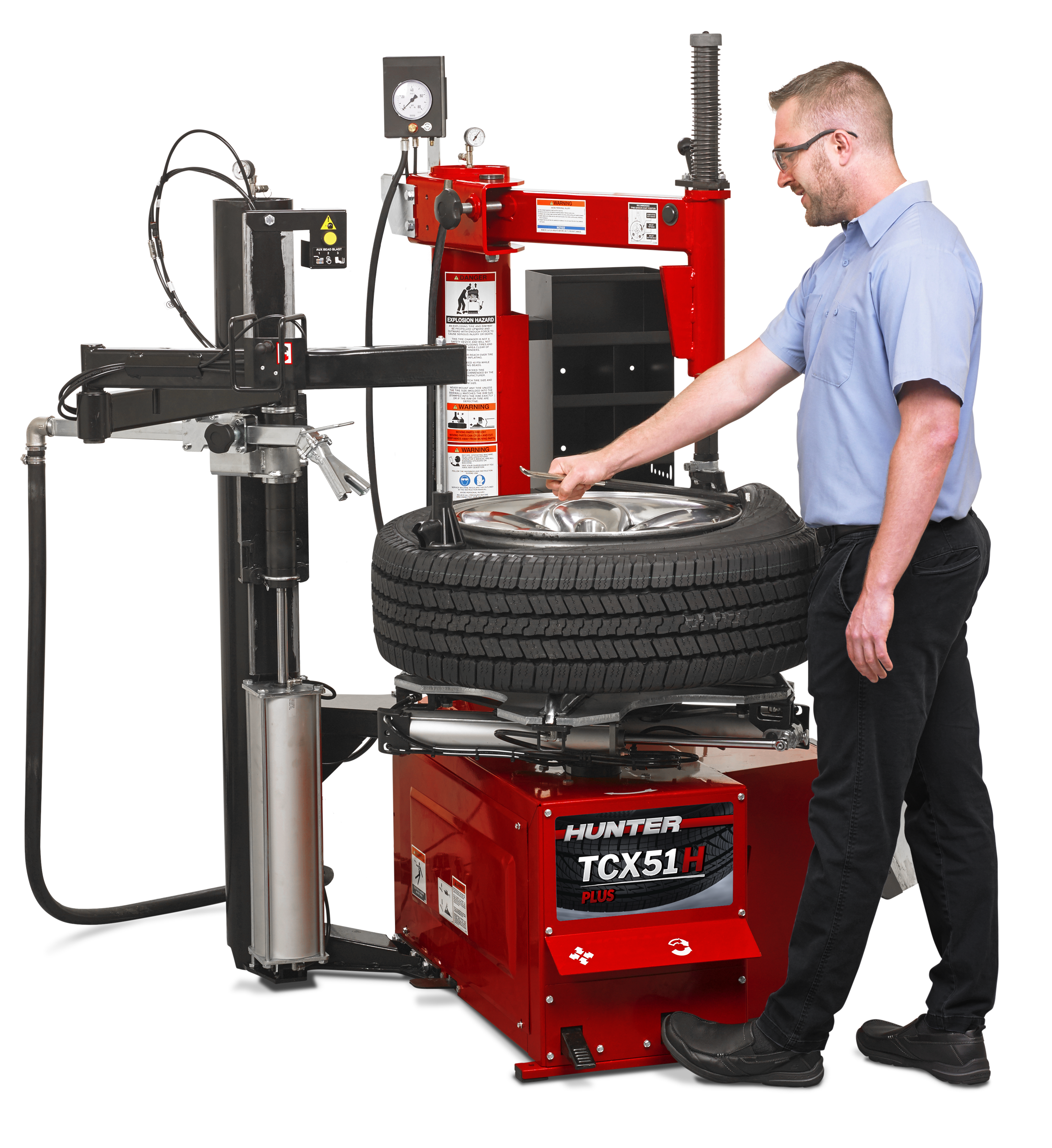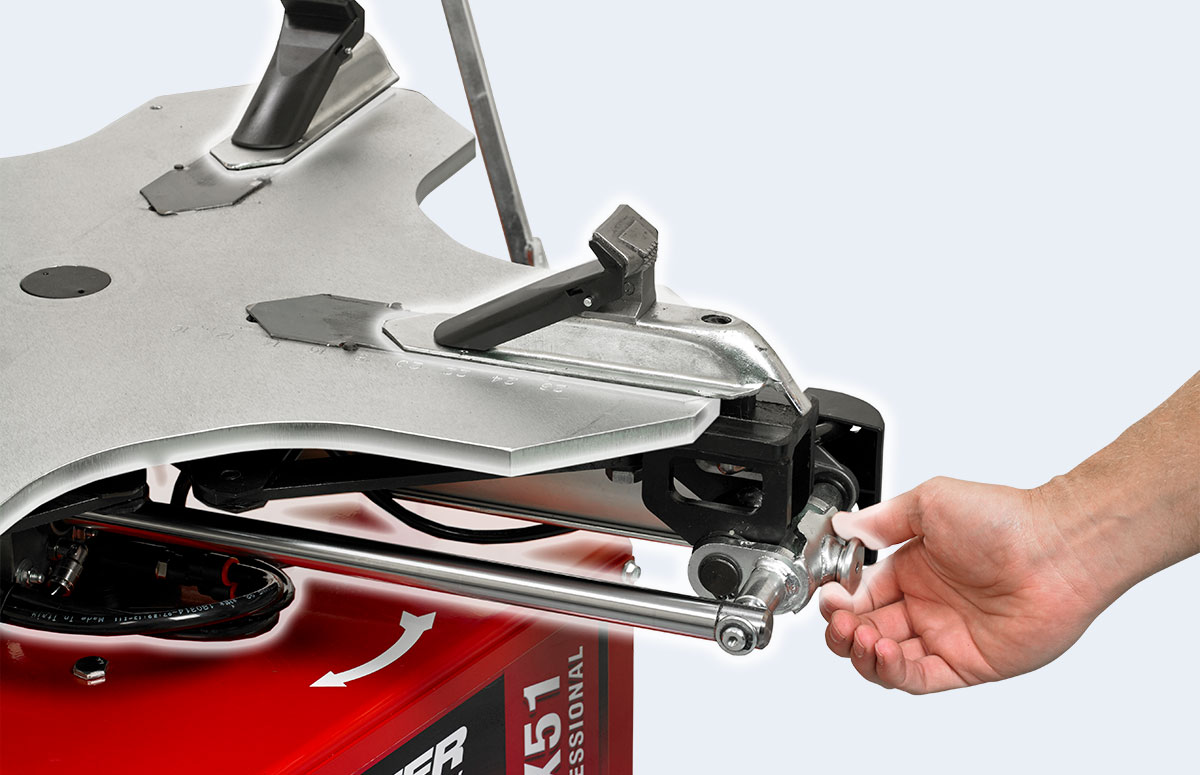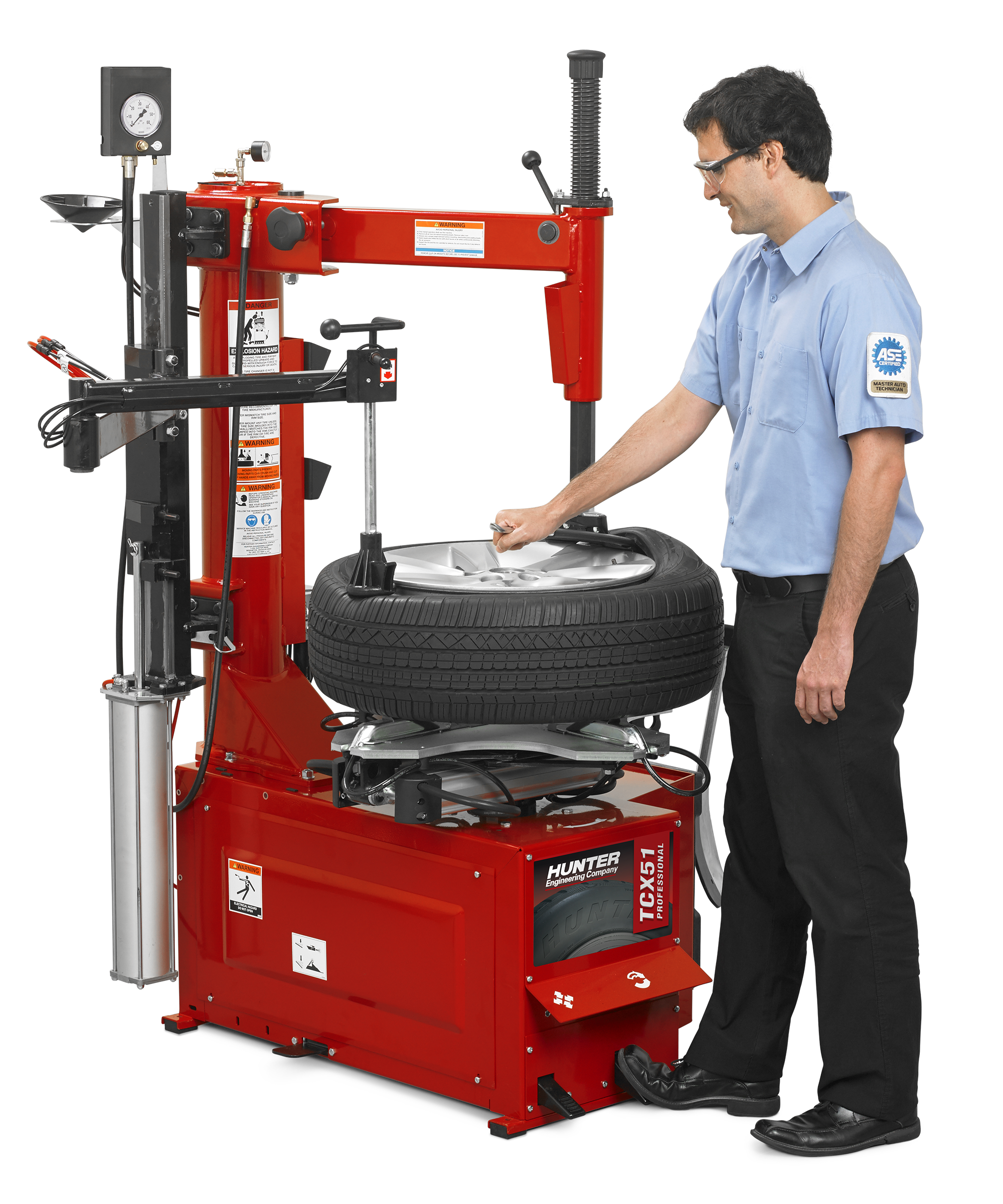 Table-Top Tire Changers
Powerful and durable table-top tire changers for every need
Hunter tire machines are the industry leader in power and speed. Durable enough for the toughest tire work, Hunter TCX table-top changers come in many configurations to meet any need.
Available in 220V 2-speed, 110V single speed, or compressed air power choices
Features at-a-glance
PowerOut bead breaker

Hi-grip jaws

Quick adjust jaws

Patented "Winged" mount head
Specifications at-a-glance
Standard Clamp Range

Shovel Width

Max Tire Diameter

Power Supply
Product family at-a-glance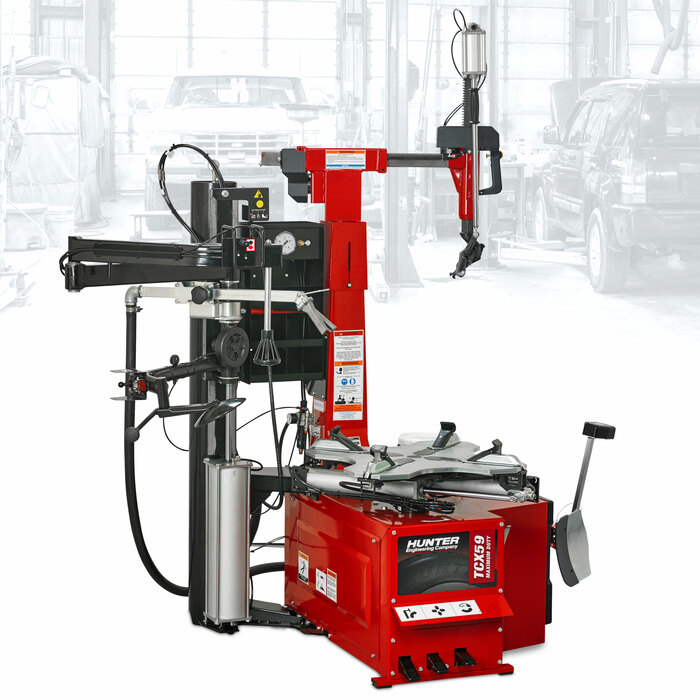 TCX59 and TCX58
Automatic swing arm
FastBlast™ inflation system
Hybrid leverless head (TCX59 Pro)
Levelerless head (TCX59)
Automatic swing arm
Heavyweight chassis
10-26 in. External clamping
PowerOut™ bead breaker
Full dual-disc bead press system (TCX59 Pro)
Locking lower demounting disk
220V 2-Speed Power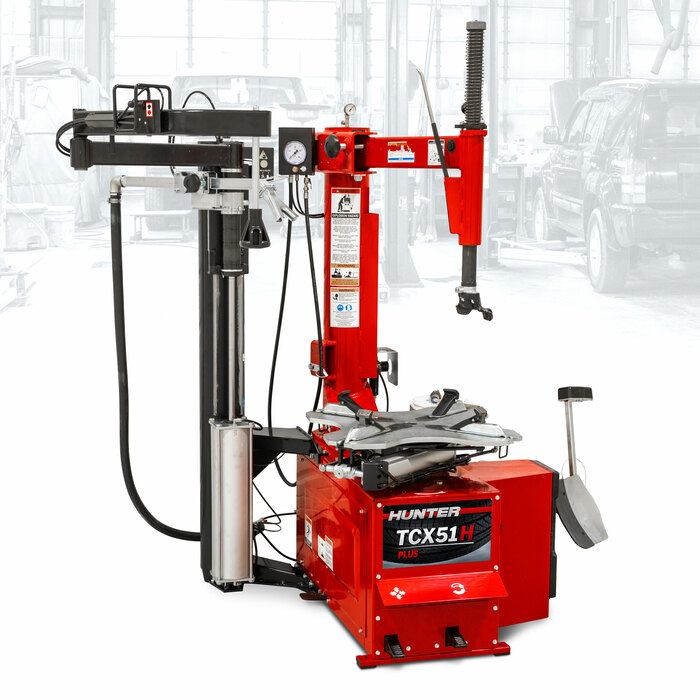 TCX51H Plus
Built for truck and SUV tires
FastBlast™ inflation system
Conventional mount head
Manual swing arm
Heavyweight chassis
10-26 in. External clamping
PowerOut™ bead breaker
Powerful bead press arm
220V 2-speed power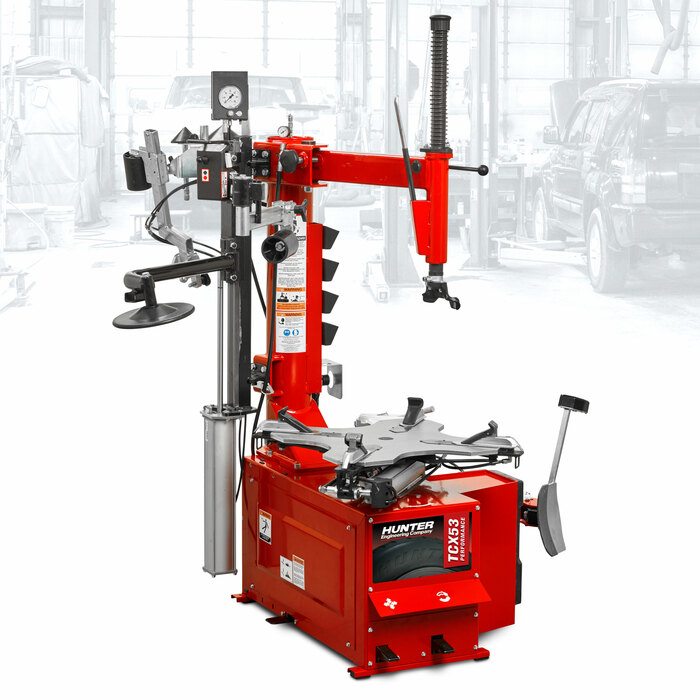 TCX5x "H" models
Heavyweight & powerful
Conventional mount head
Manual swing arm
Heavyweight chassis
10-26 in. External clamping
PowerOut™ bead breaker
Bead press options to suit your needs
220V 2-speed power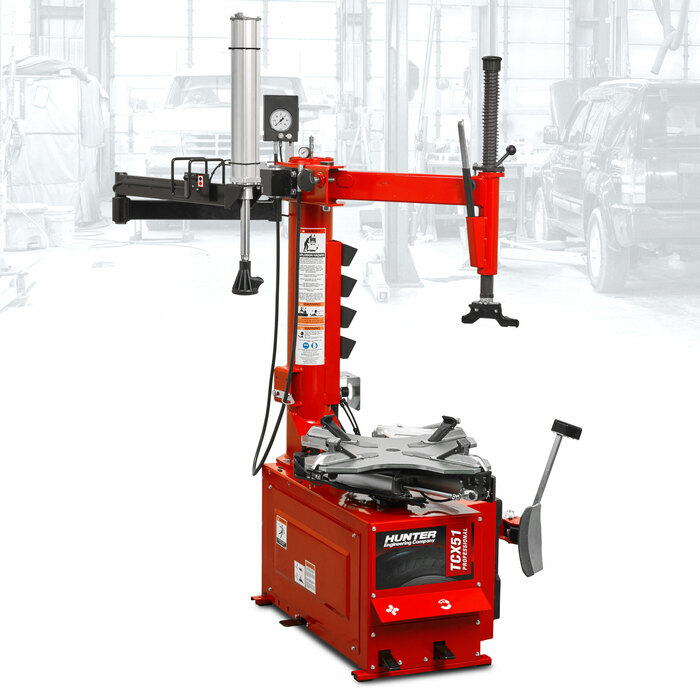 TCX5x "E" models
Efficient & accommodating
Conventional mount head
Manual swing arm
10-26 in. External clamping
PowerOut™ bead breaker
Bead press options to suit your needs
220V or 110V Single-speed motor (Air models available)
See them in action
TCX59 Pro Tire Changer delivers productivity and usability
The TCX59 Pro combines the best of Hunter's levered and leverless tire changer technologies into one powerful platform. Easily handle challenging assemblies with the new leverless polymer head, two-point rotating press arm, lower locking disc, and the exclusive hands-free FastBlast™ inflation system.
TCX59 Pro Tire Changer: Standard Operation
Watch a demonstration of the TCX59 Pro making quick work of the most challenging tires, while providing the ultimate wheel and tire protection.
TCX58 & TCX59 Tire Changers
See how Hunter's TCX58 and TCX59 are purpose built for the growing truck and SUV market.
The Hunter TCX59 Tire Changer Detailed operations video
Watch how to get the most efficient performance from your TCX59, with detailed, hands-on demonstrations of standard and alternate mounting and demounting, servicing challenging assemblies, and inflation methods.
TCX53 Performance Tire Changer
Hunter's TCX53 performance tire changer with bread press system is the heaviest tire changer in its class and offers a long service life.
The Hunter TCX53 Tire Changer: Detailed operations video
See a demonstration of the range of time-saving features such as the powerful three-way adjustable side shovel, preset jaws, winged mount head to keep the tire tracking properly, a cone to press stiff sidewalls down, and effective use of the bead press.
Tire Changer TKO: Part 1
Don't miss this head-to-head battle to discover, once and for all, which tire changer is worthy of being called "Heavy Weight Champion".
Tire Changer TKO: Part 2
Watch our Tire Changer Scientists put these competing tire changers to the test with eight rounds of demonstrations directly comparing the mass, power, speed and torque.
Tire Changer TKO: Part 3
Ready to find out who wins the Tire Changer "Heavy Weight Champion" title? Hunter's TCX Table-Top Tire Changer series has more mass, more power, more speed and more torque to help you service even the toughest wheel and tire assemblies with ease and speed.
Servicing 19.5 in. wheels
TCX51 Professional Tire Changer
Hunter's TCX51 professional tire changer is the heaviest model in its class and offers a long service life.
FastBlast™ Blast Inflation
Service difficult wheel assemblies with built-in blast inflation
Models: TCX51H Plus, TCX58, TCX59, TCX59 Pro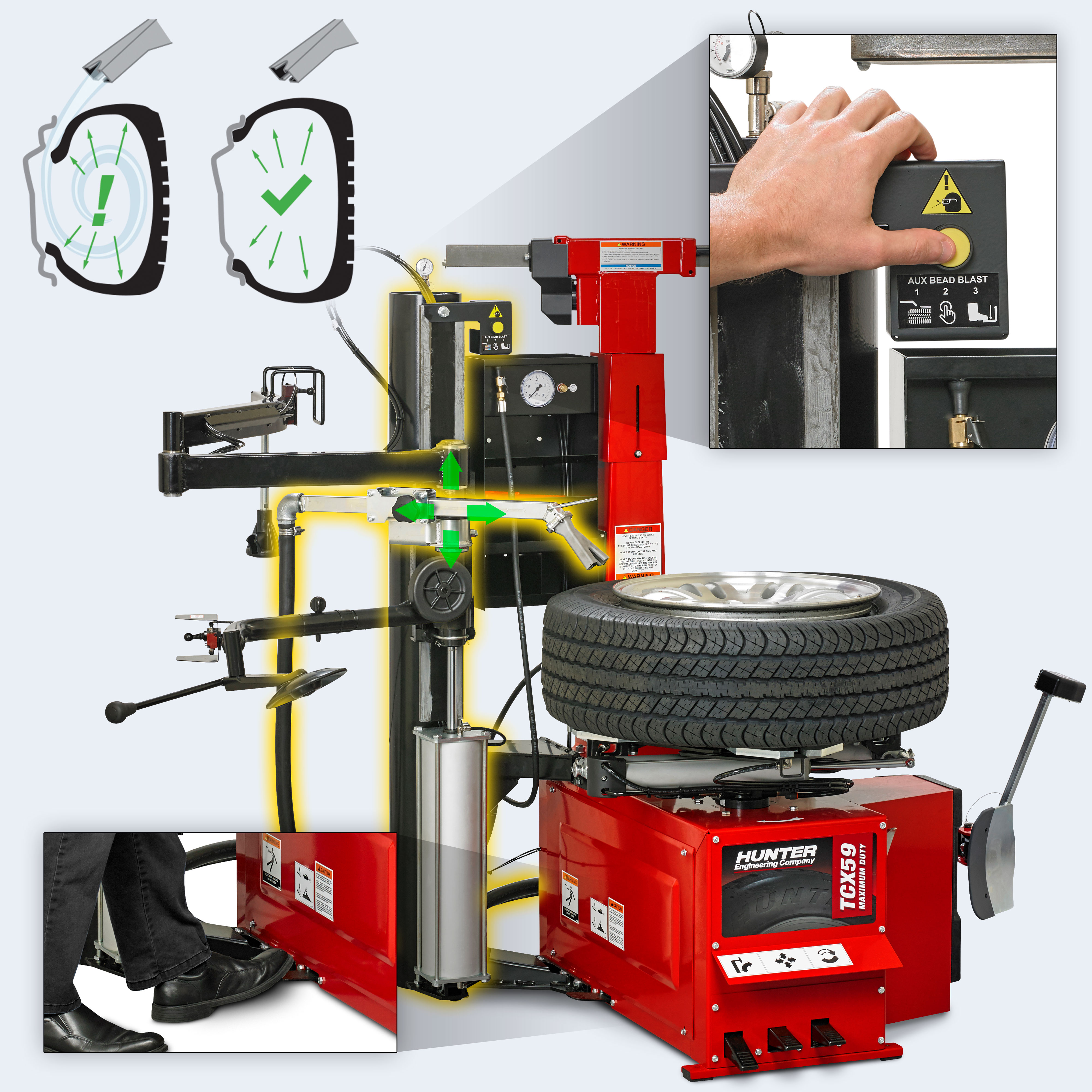 FastBlast™ Inflation System
Designed with truck and SUV service in mind, the new top-side blast inflation system is optimized to seat even the most difficult tires.
Set the position, select inflation mode then press the inflation pedal
6.5 gallon air tank is larger than most portable inflation devices
Traditional jaw blast inflation is still standard and effective for most tires
Safely inflate the most stubborn tires, with one technician, hands free
Bead Press Systems
Configure your tire changer to the wheels you service
Basic Tires
Service basic tire and wheel assemblies efficiently.
Models: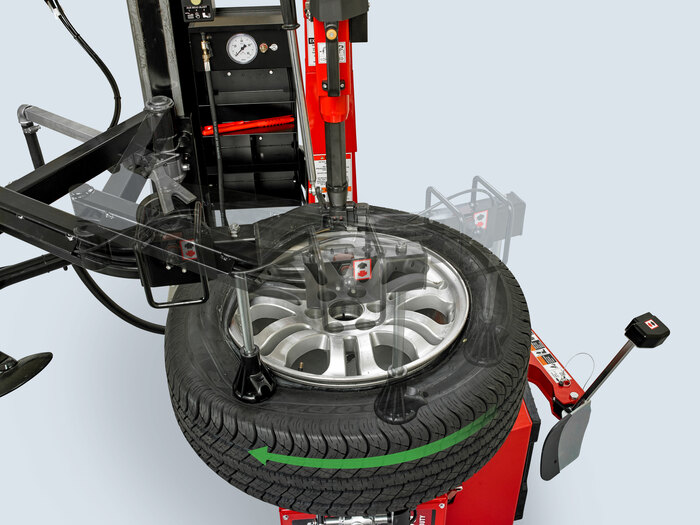 Fastest and most powerful available single press head assists with tough tires. Lifting hook helps with lifting the tire off of the rim.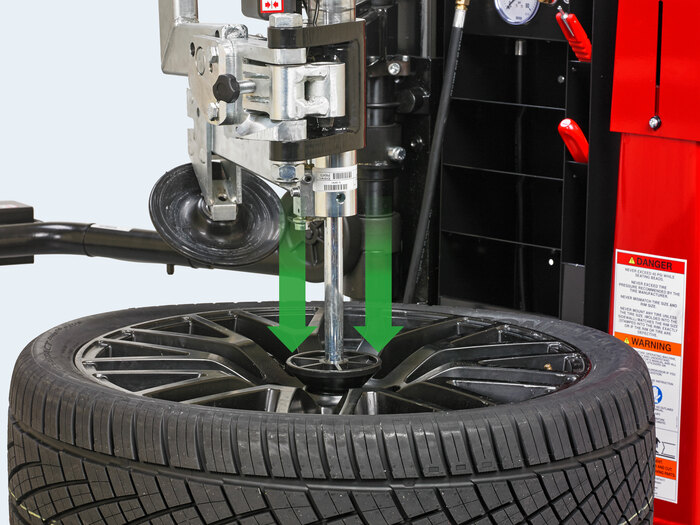 Wheel press cones and extension arm simplify external clamping when servicing low-profile tires.
Advanced Tires
Change advanced tire and wheel assemblies with ease.
Performance OE car
Truck
SUV
Models: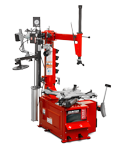 TCX53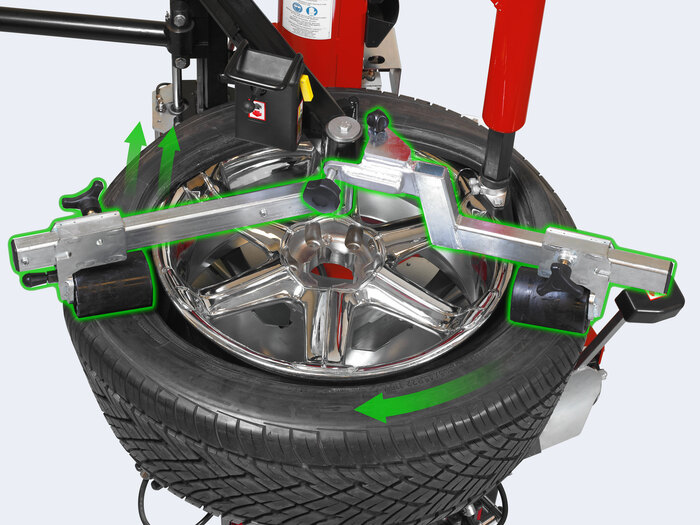 Two mounting rollers offer assistance for tough assemblies. Secondary roller arm is removable when not in use.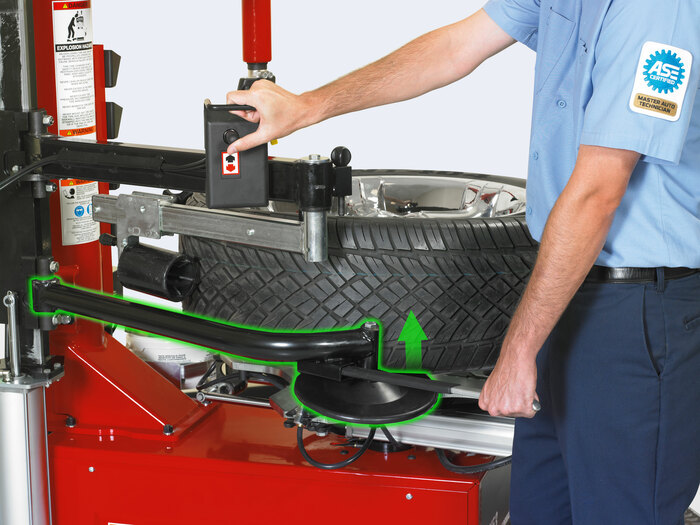 Lifting and rebreaking disc
The bottom roller disc can be used for heavy tire lifting and bottom bead reloosening.
Extreme Tires
Handle extreme tire and wheel assemblies effortlessly.
Aftermarket
Low profile
Run flat
Medium-duty truck
Models: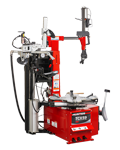 TCX59 Pro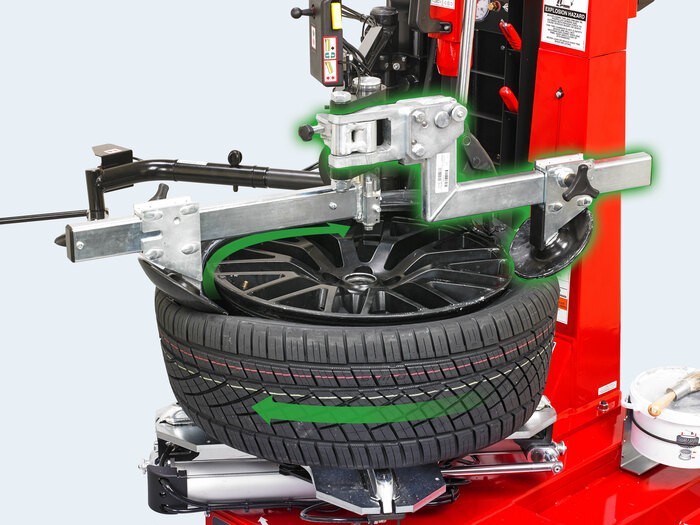 Service stiff sidewall tires, while also allowing easy bead lubrication. Rising cam action reduces bead stress. A secondary flip down, fixed roller arm adds additional contact for extreme low-profile tires and deep drop-center wheels.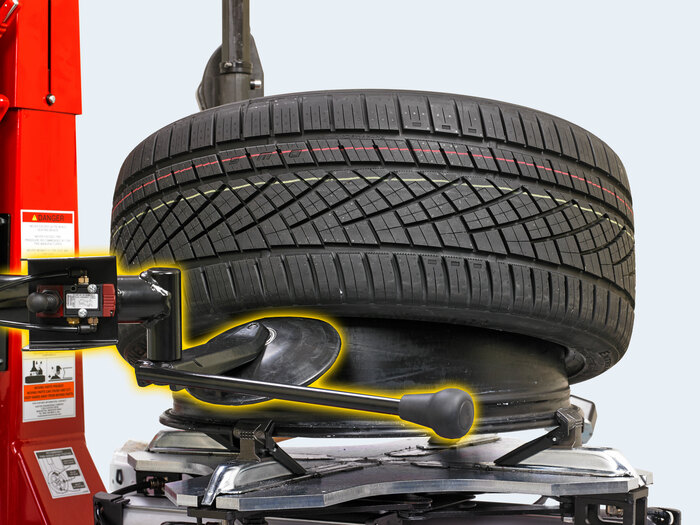 The bottom roller disc can be used for bottom bead reloosening, demounting or match mounting.
Table-top surface
Polished table-top makes cleanup easy. High torque and speed provide power to tough wheels.
Measurement marks
Hi-grip jaw covers protect wheels and don't slip. Diameter marks aid external clamping.
Adjustments
Clamps adjust from 10-26". All jaws adjust simultaneously for mistake free clamping.
Hybrid Leverless Head
(TCX59 Pro)
Extended downward stroke to catch low beads
Tilting lip keeps beads in position for demount
Polymer "winged" head does not require inserts
Leverless tool head
(TCX59)
Eliminate technician strain on tough assemblies
Prevent bead and rim damage from manual levers
Easy-to-operate variable speed controls
Conventional mount head
(TCX58, 53, 51, 50)
Patented polymer "wing and knob" design guides the tire with maximum wheel protection. Raised spoke and clad wheel friendly.
Automatic swing arm
(TCX59, 58)
Swing arm clears and returns to rim edge with the push of a pedal with one button locking in rim diameter and width settings. 30% Smaller than tilt back designs.
PowerOut™ Bead Loosener
The most power bead-breaker in its class uses fingertip control and three-way adjustable shovel for best rim fit. Shovel protectors are standard.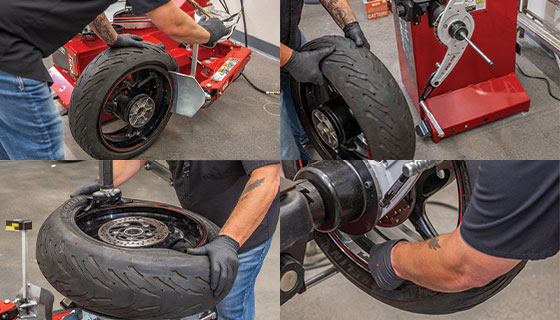 Class-leading structure
Heavier chassis than other brands featuring rubber feet to prevent movement. More rigid design ensures long service life.
Wheel lift option
Remove risk of injury by easily lifting heavier truck and SUV wheels
The number of heavy tires have multiplied
Stores flat when not in use
Class-leading power options
Two speed - 220V electric motor available on all models
Powerful 220V/110V single speed model is an easy replacement choice
Compressed air motor models available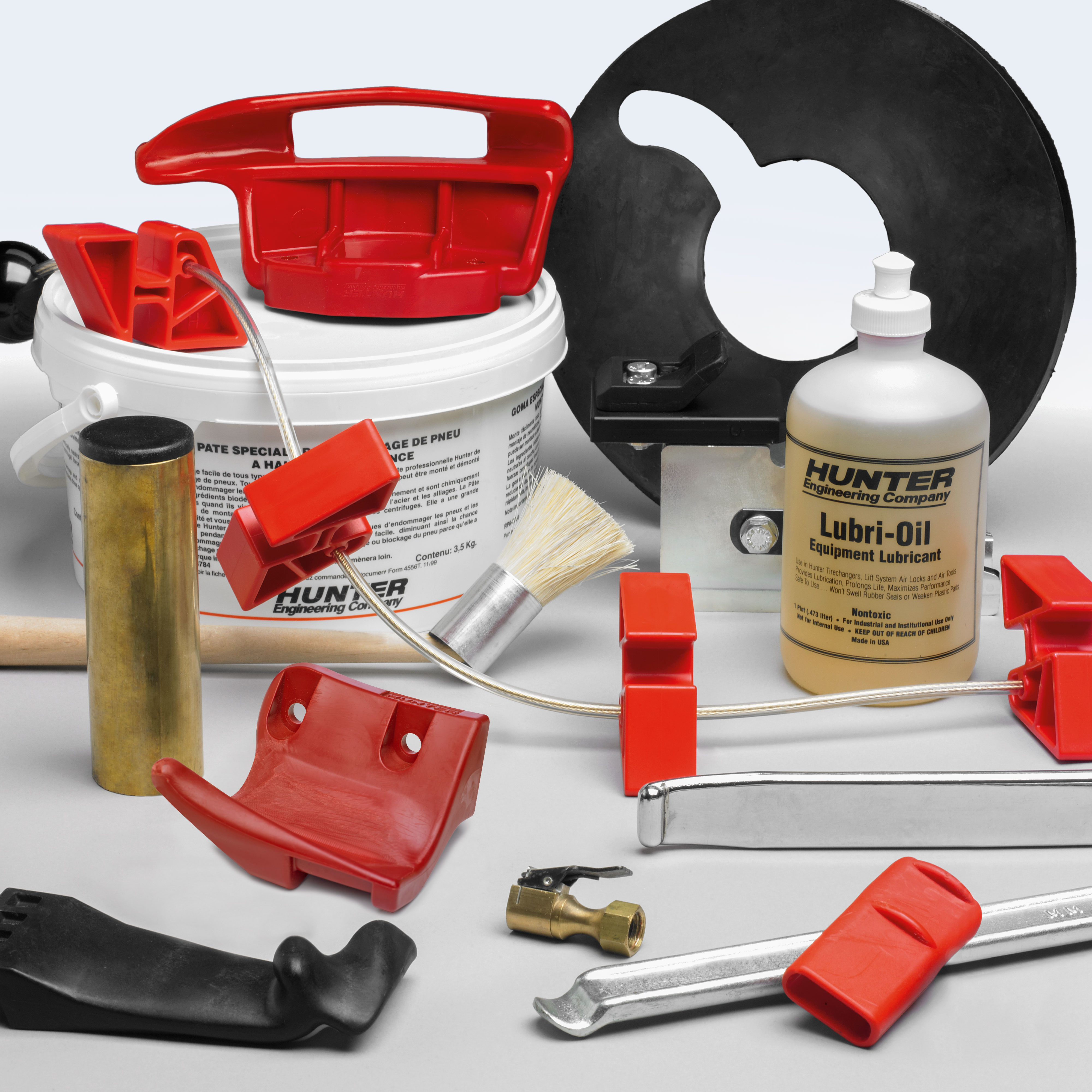 Order Hunter tire changer accessories online
---
Order standard tire changer consumables 24/7 for the industry's leading tire changing machines at Shop Hunter!
Shop Hunter
Are you ready to invest in durability?
Up to 50% higher torque & speed than other models
Rigid components for minimal flexing
HunterNet® 2 Portal
Take control of your equipment, numbers, and profitability
Equipment intelligence tools help you manage your business and profits in real time
Maximize your shop's performance
Monitor your equipment ROI
Buy genuine Hunter consumables
View real-time equipment activity
Learn more about what HunterNet® 2 does for other Hunter equipment
Upgrade kit for select TCX models
Available only for TCX56, TCX57, TCX58, TCX59 and TCX5xH models
Connect your table-top tire changer wired or wirelessly to HunterNet® 2 portal with this simple add-on kit.
Recall tire change results
Every tire change result is logged with service time and tire pressure.
Easy consumable ordering
Replenish genuine Hunter consumable parts at your convenience.
Monitor your ROI
See your equipment payback in real time.
View your performance
Set goals and see how your business performs day-to-day.
Receive daily reports
Setup to receive daily Push Reports to keep your goals and performance in check.
Track revenue
Track your profits and potential amount if all needed services were sold.
Send a message to your local Hunter business consultant to receive a free pricing quote or product demo.
This contact form is intended for legitimate Hunter equipment and service inquiries. All other use is prohibited and will be discarded. See Full Terms of Use
Your local Hunter service representative can answer questions, help with equipment operation and provide on-site training.
Purchase genuine Hunter replacement parts online
This contact form is intended for legitimate Hunter equipment and service inquiries. All other use is prohibited and will be discarded. See Full Terms of Use
Having trouble deciding?
Here are some tips
We have listed some things to consider when choosing a tire machine.
See other shops using them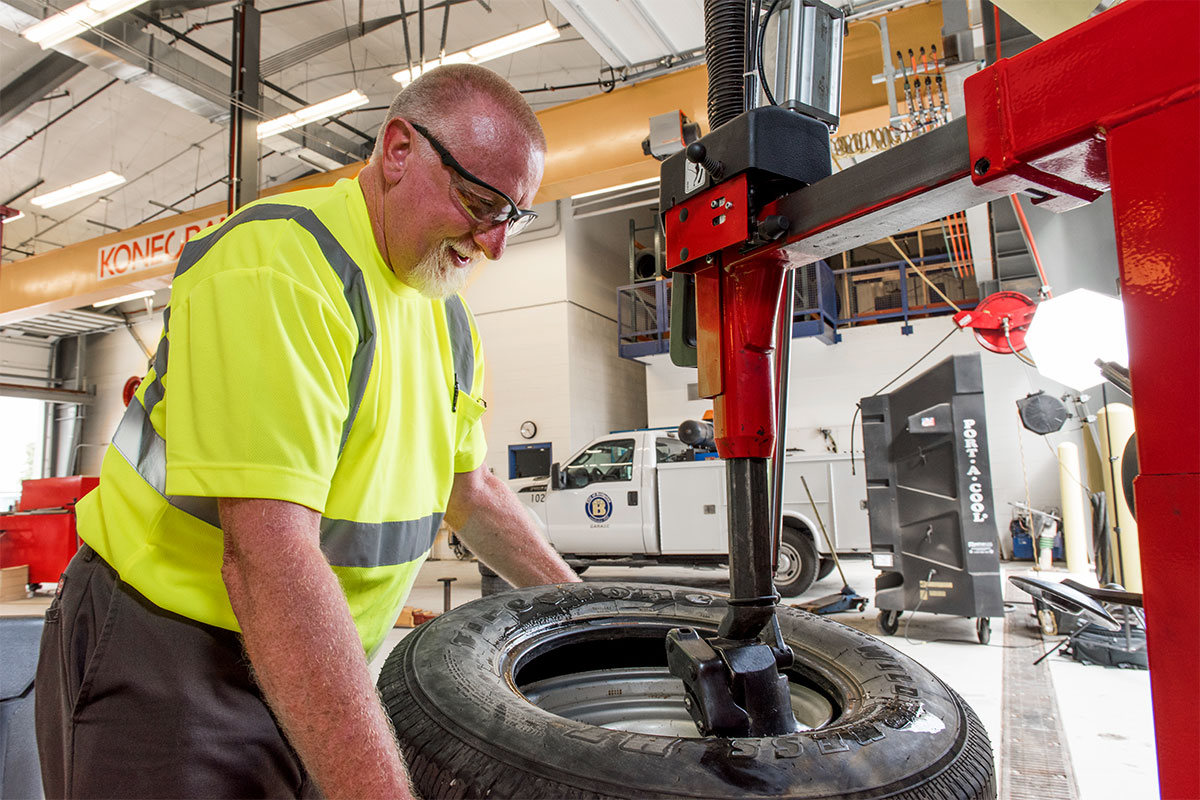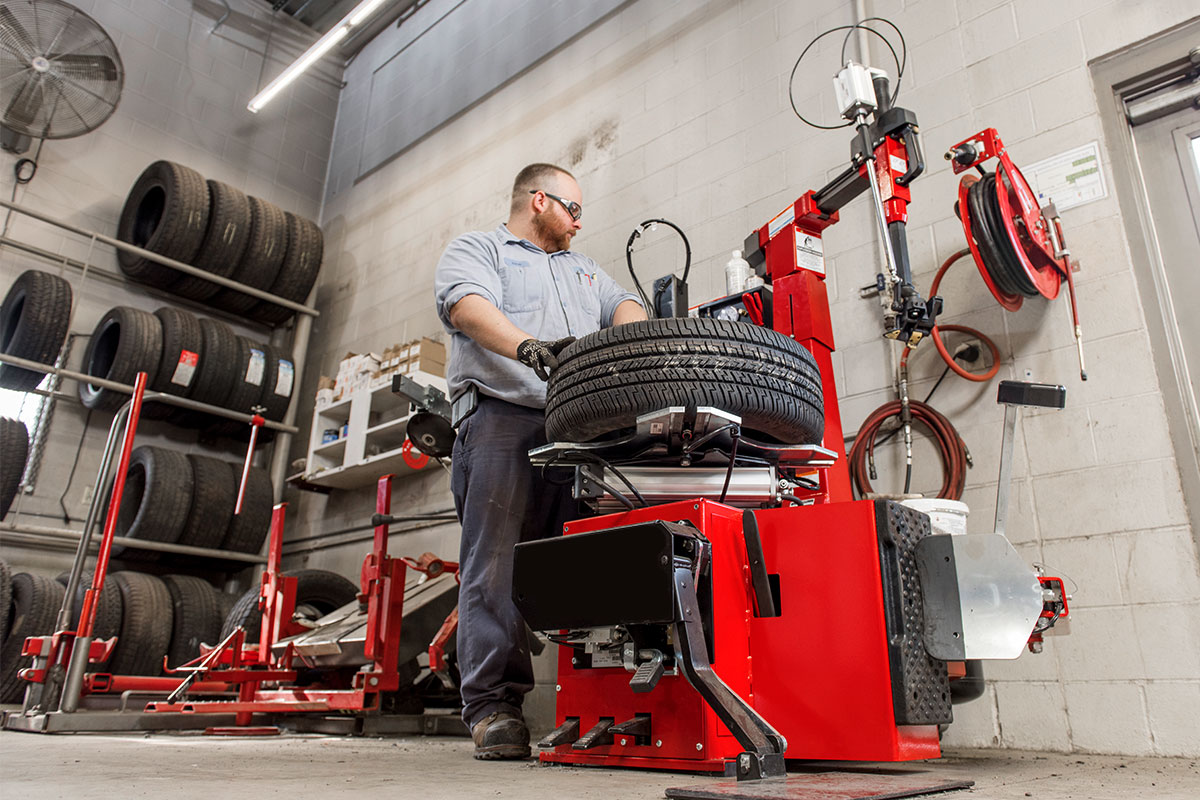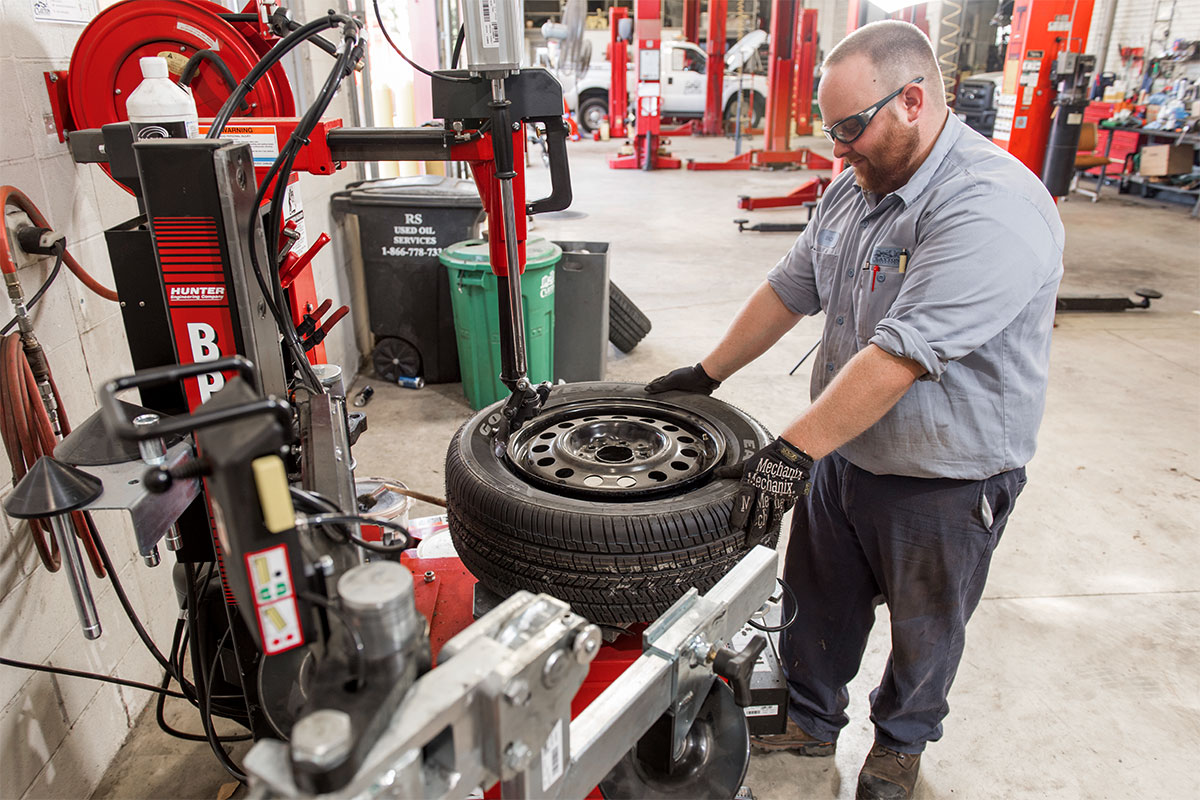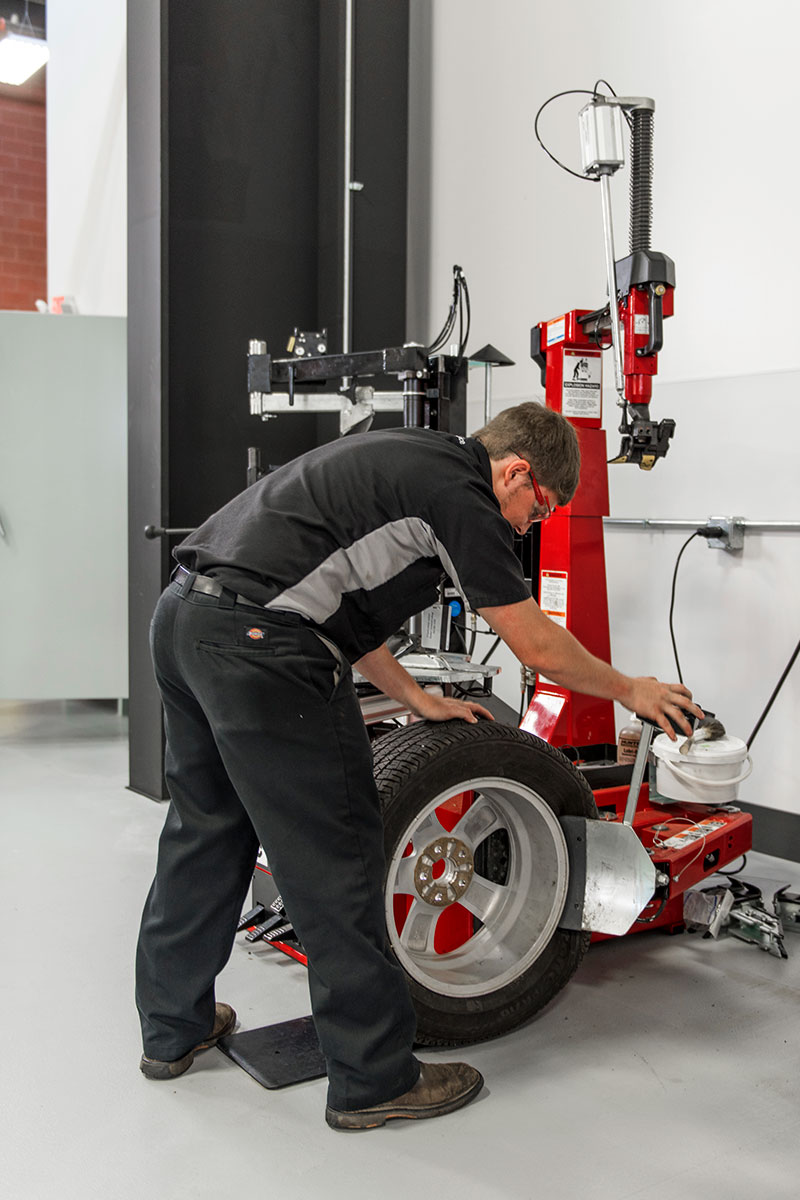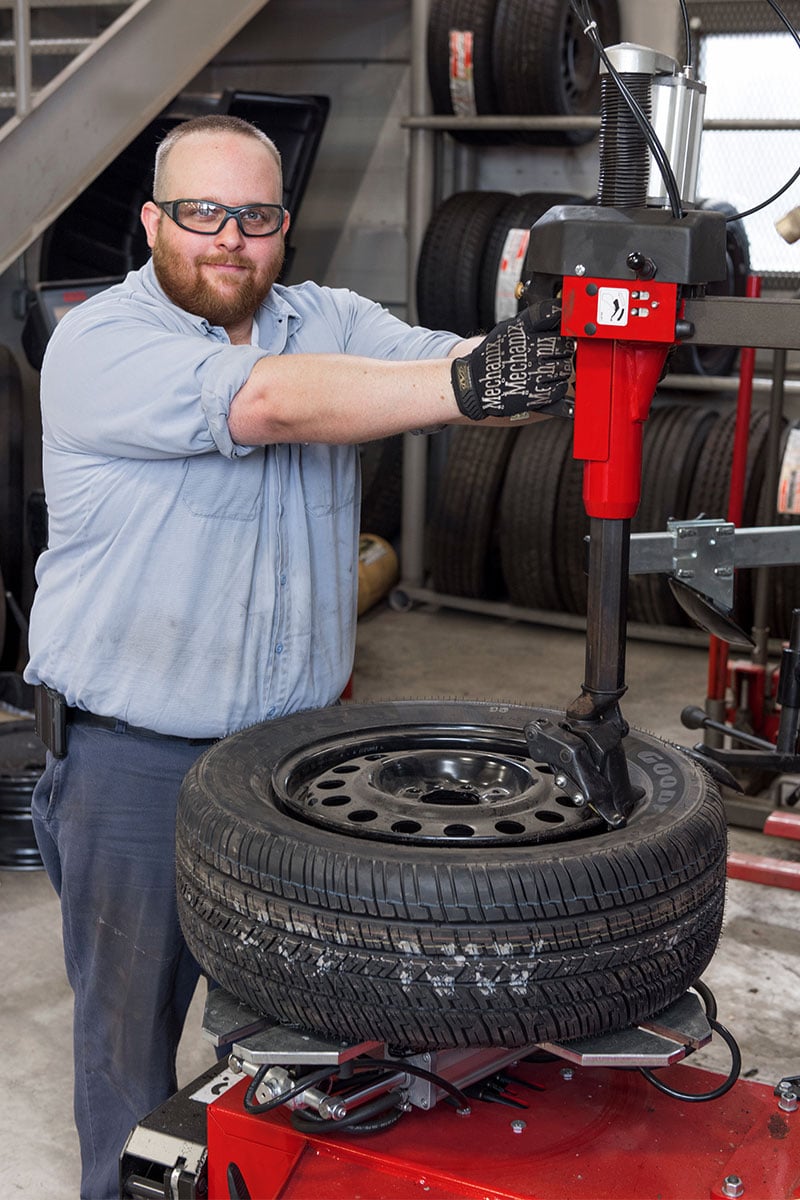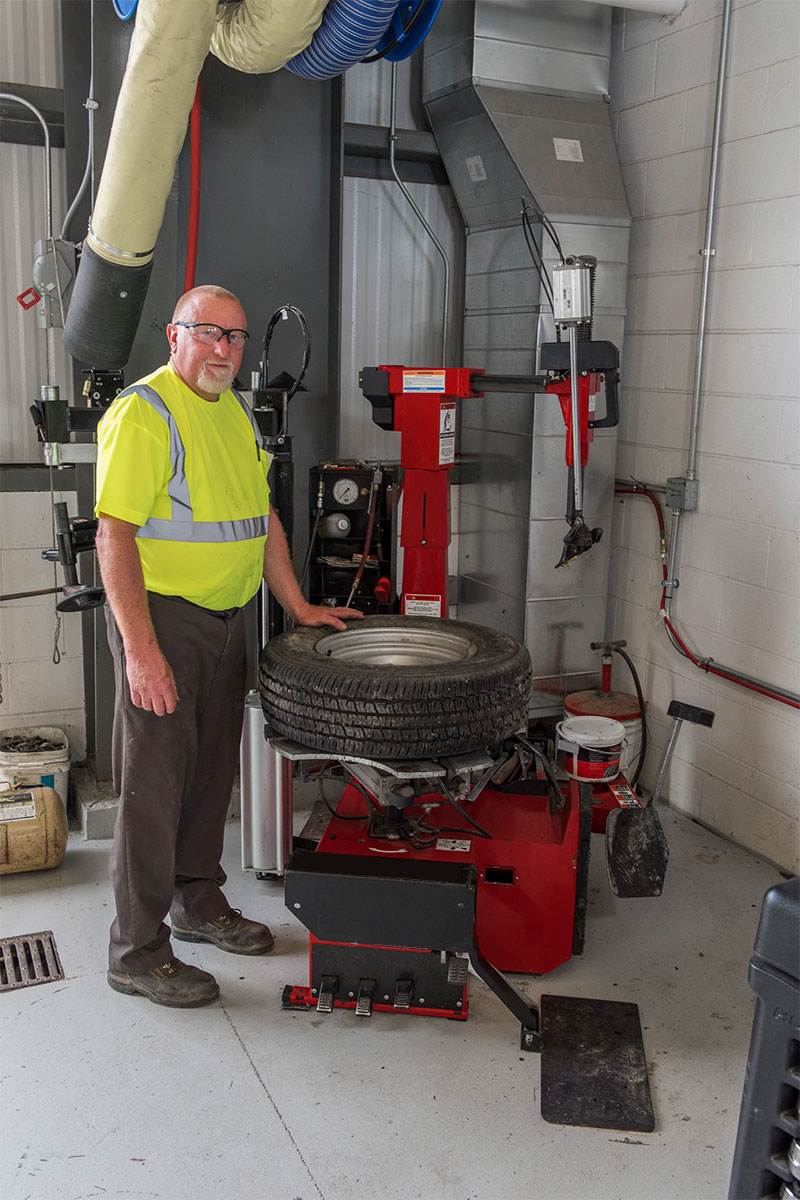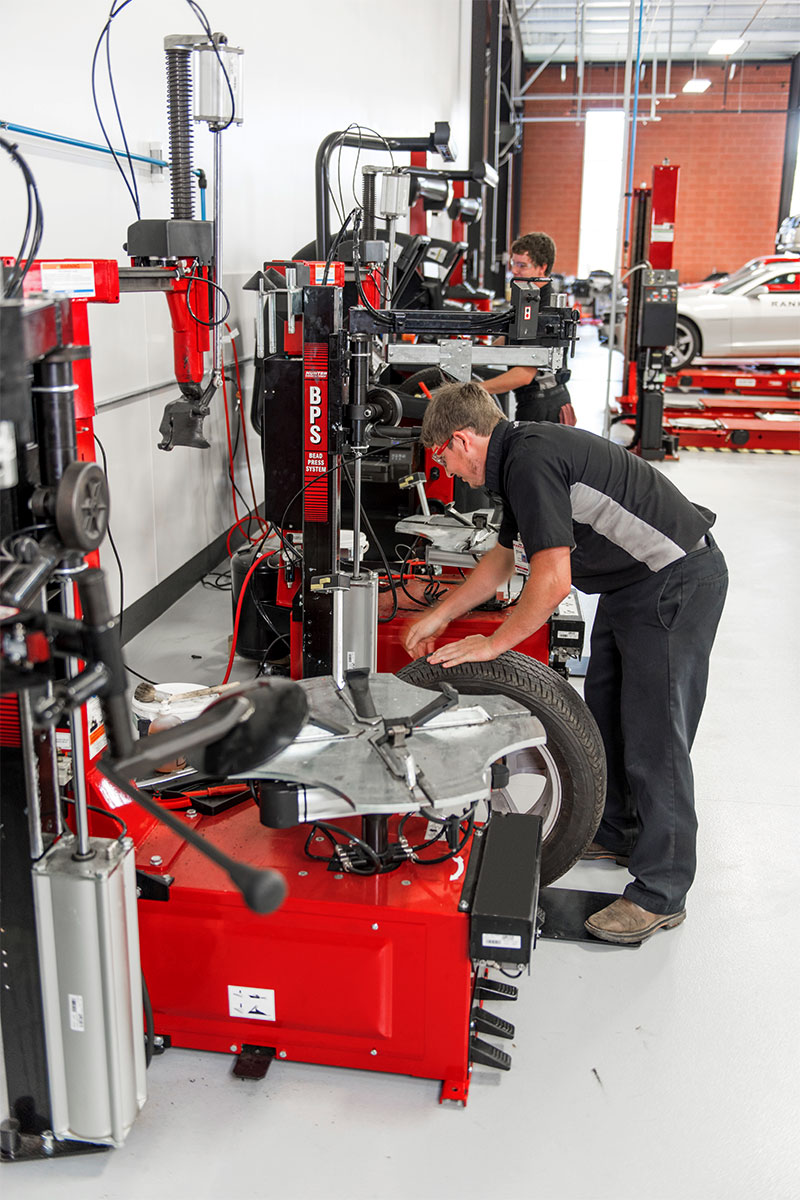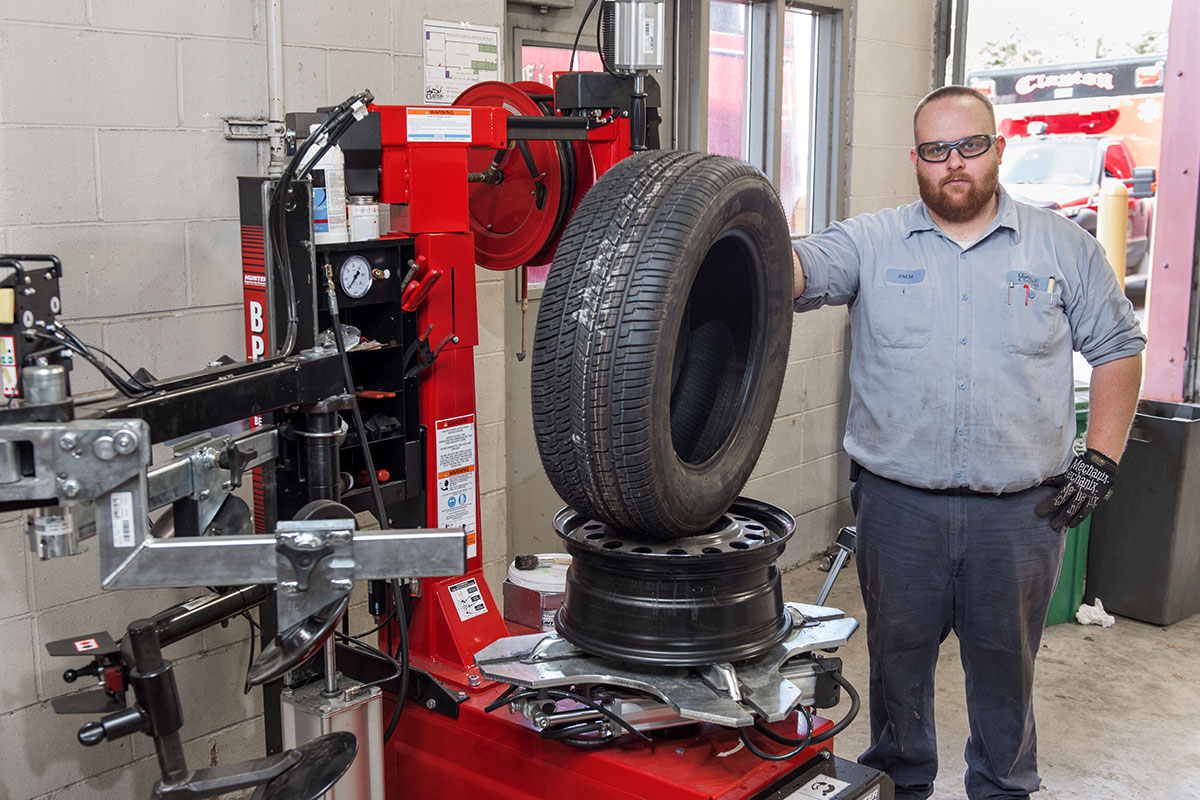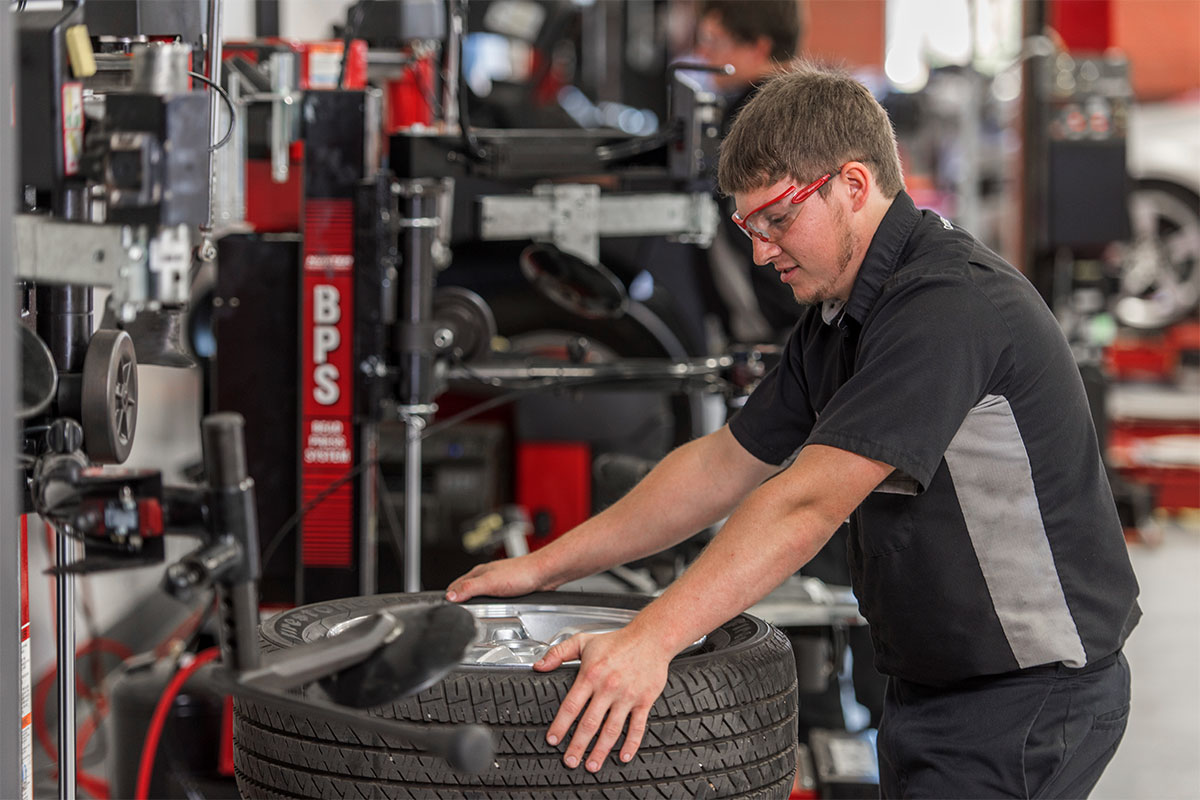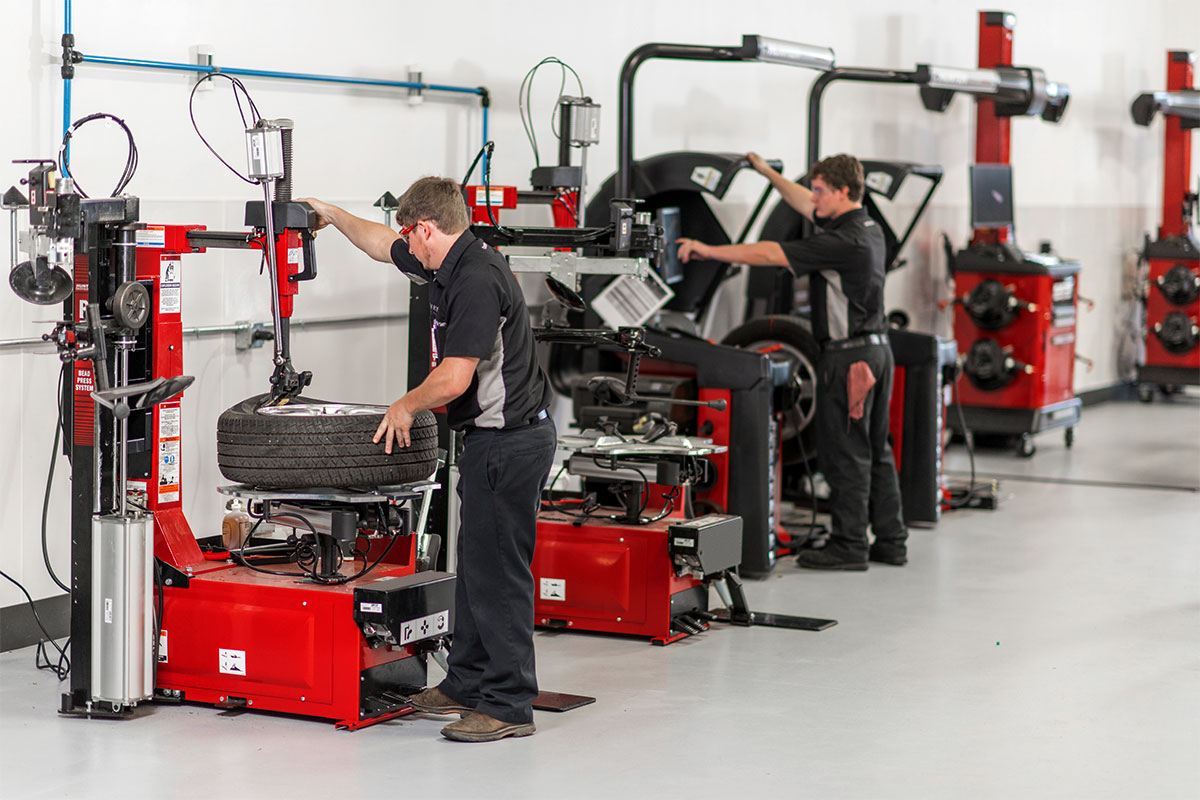 Give your technicians a tire machine proven to last.
Documents
Brochures
2/28/2023

3/9/2020

1/5/2021

2/28/2023
Hunter's 3-Year Warranty
We stand beside our equipment and your purchase.
Hunter Engineering Company warrants new equipment replacement parts for three years and labor for six months.
Explore further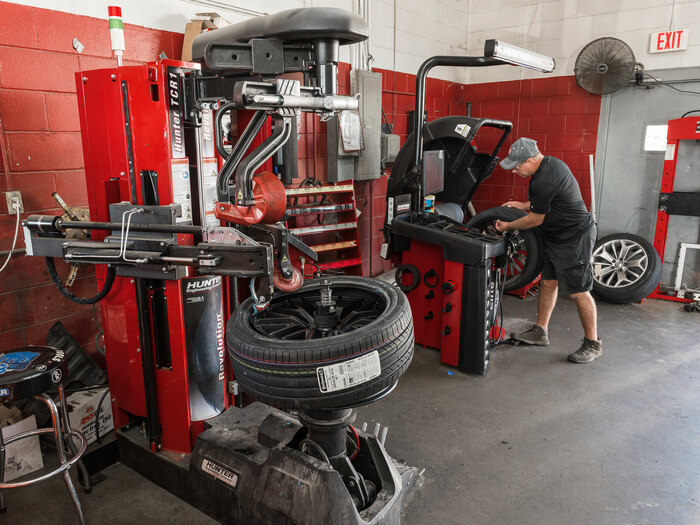 Revolution™
WalkAway™ from your tire changer
WalkAway™ from your tire changer to perform other tasks while it automatically demounts the tire.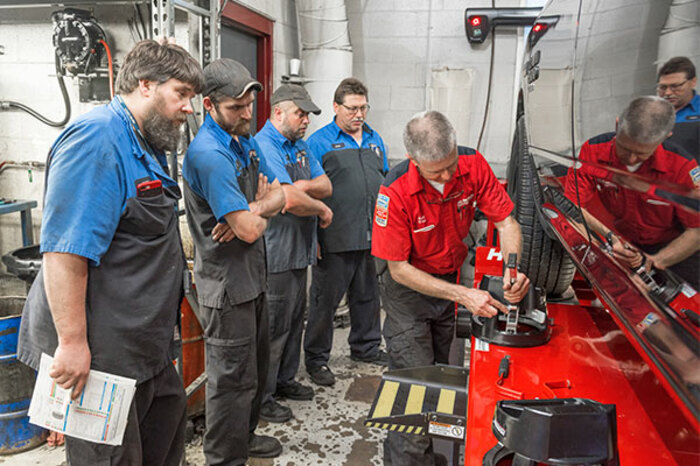 Hunter service
Largest in the industry
Hunter deploys the largest service force of highly-qualified representatives in the industry.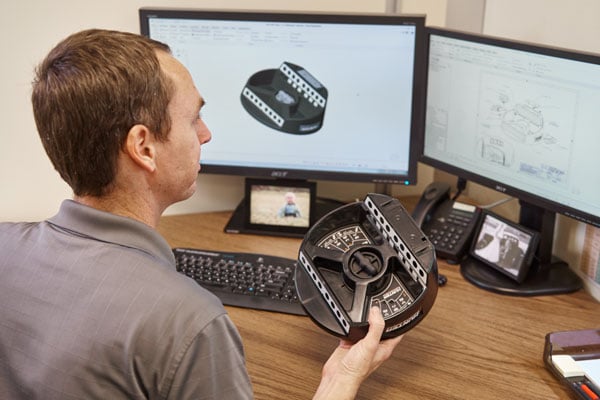 Innovation Team
Award-Winning
Hundreds of patented and exclusive features begin with the research and development team of mechanical, electrical and software engineers.