Hunter Engineering's latest wheel alignment specifications database now available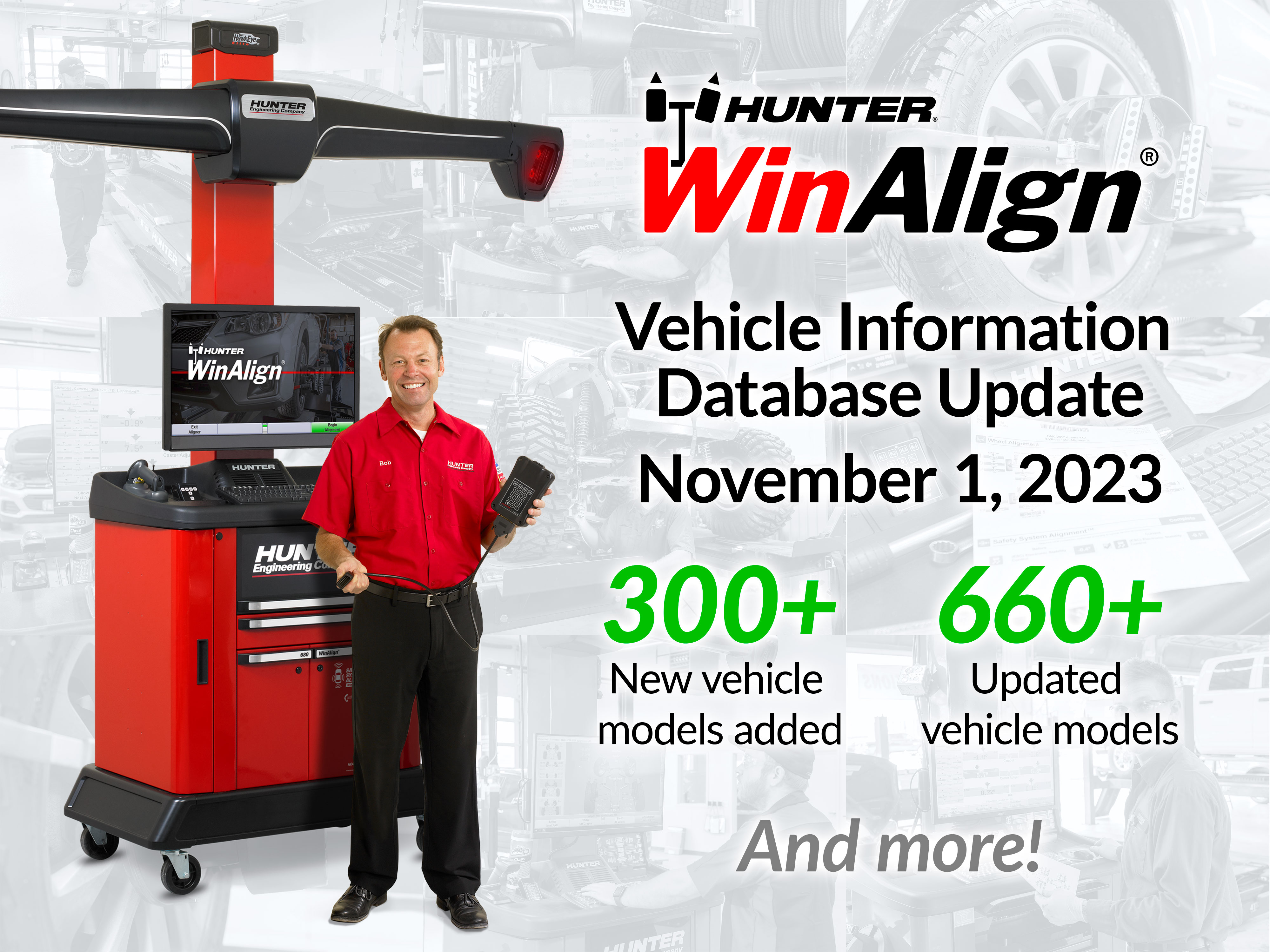 Hunter Engineering's newly updated vehicle information database is now available for Hunter WinAlign® alignment users.
Effective Nov. 1, the release covers new models – those not yet in existence at the time of the previous release this past spring – as well as model year updates, covering OEM changes to existing vehicles.
With nearly half of all vehicles on the road today out of alignment, keeping current with alignment specifications is critical. Wheel alignments are among the highest-margin services repair shops can perform.
There are new specs for more than 300 new models, and more than 660 for existing models. All versions of a particular model are included in the update, encompassing hundreds of additional vehicles.
Also included are more than 450 new or updated CodeLink® applications.
The release incorporates updates to other popular WinAlign® features, such as the tools and kits database, TPMSpecs database and reset procedures, VIN recall support, adjustment assistance, safety system alignment procedures and more, plus equipment connectivity to the HunterNet® customer portal.
To ensure a seamless installation, Hunter customers should contact their service reps to schedule the database update.
Encompassing more than 30 years of continual refinement, WinAlign® provides a wide range of difference-making benefits, including the fastest alignment readings in the industry, comprehensive pre- and post-alignment graphic printouts, and integration with shop and dealer management software.
WinAlign® software has long been regarded as the industry standard, as evidenced by more than 100,000 units installed worldwide, including hundreds of OEM facilities. Powered by the industry's most extensive global vehicle information database, the software is available in 42 languages and backed by a three-year warranty.
For more information, visit https://www.hunter.com/specs.
Hunter Engineering Company® is the global leader in state-of-the-art wheel alignment systems, wheel balancers, brake lathes, tire changers, lift racks, autonomous alignment and tire inspection equipment, diagnostic scan tools and ADAS recalibration equipment. Hunter equipment is approved and used by vehicle manufacturers, automobile and truck dealers, tire dealers and service facilities around the world.
For additional information, visit www.hunter.com or contact Tommy Maitz, director of marketing, Hunter Engineering Company®, at contact.hunter@hunter.com. For additional information, please contact your local Hunter business consultant at https://www.hunter.com/contact.
Follow Hunter Engineering Company® on YouTube, Facebook, Instagram and LinkedIn.