Love's invests in latest Hunter alignment innovation for commercial vehicles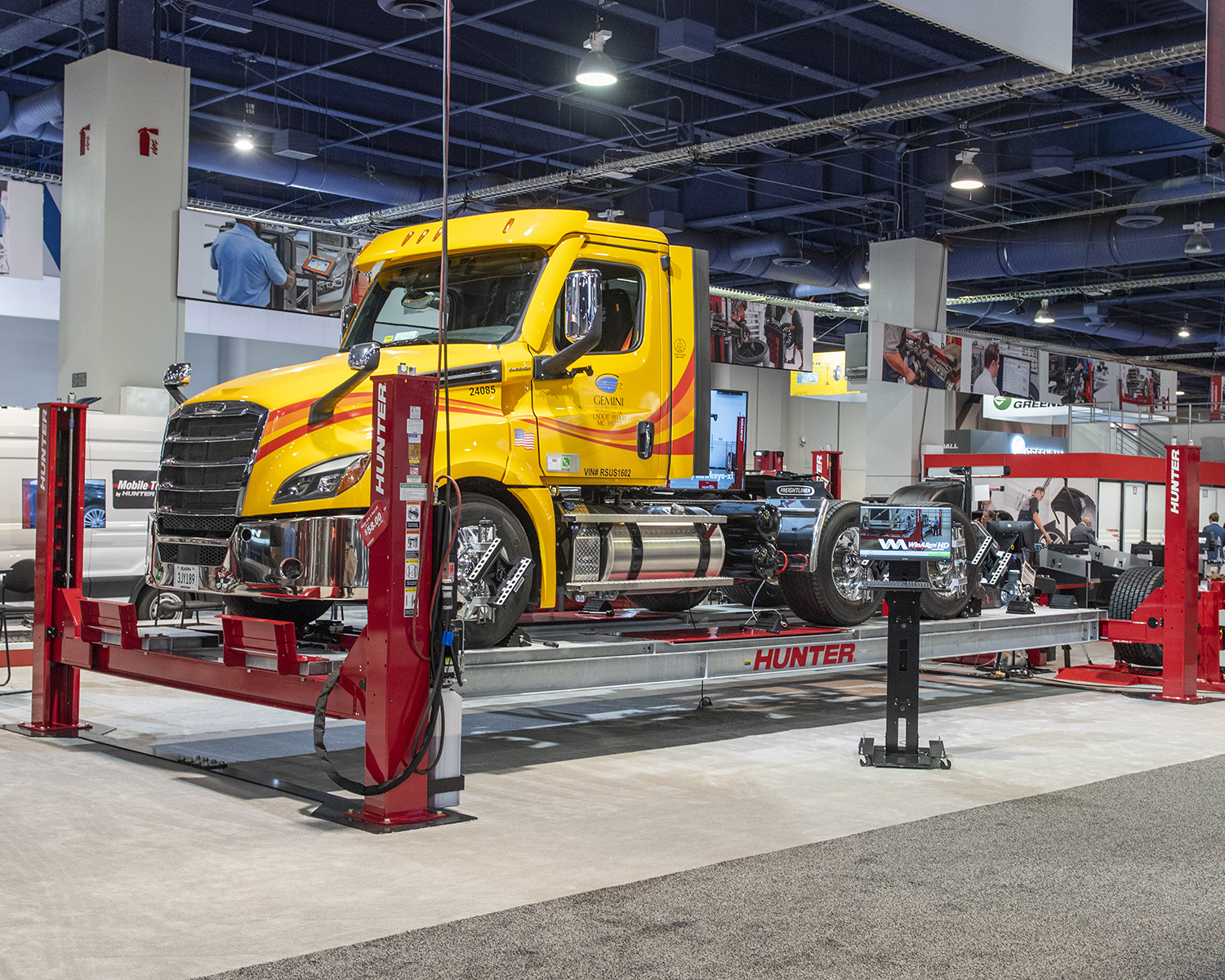 Love's and Hunter Engineering are pleased to announce the rollout of Hunter's new HawkEye® XL alignment system at five Love's locations.
The new aligner is designed for maximum speed, durability and ease of use for heavy-duty, medium-duty and light-duty vehicles, delivering accurate measurements in four minutes or less.
"Love's is excited to further our partnership with Hunter on the new HawkEye® XL alignment technology," said Eric Daniels, Vice President of Total Truck Care for Love's. "Hunter has proven to be a leader in heavy-duty alignment with industry-leading training and support. The HawkEye® XL aligner will allow Love's to continue to grow offerings to serve our customers' needs."
"Hunter is proud to work with Love's on this exciting initiative," said Chip Hiemenz, Hunter Vice President, Key Accounts. "We believe the HawkEye® XL technology will give Love's another option in providing customers a world-class experience and we look forward to supporting them in this endeavor."
The centerpiece of the Hawkeye® XL is visionary new camera technology with extra-long range and extra-large targets, expanded from the industry-leading HawkEye® Elite alignment system.
The lightweight, three-dimensional targets are highly durable, low-maintenance and non-electronic. Precise high-definition cameras provide extra-long-range sight, capturing measurements in a single rolling compensation and displaying live alignment readings for up to three axles at once.
The expanded range delivers expanded results, enabling the XL to easily align 53-foot trailers. With a moveable camera beam and portable cabinet, technicians can perform alignments on either the floor or a lift, in any bay. The aligner's capabilities extend from Class 8 down to passenger vehicles.
The XL offers optional Fully Integrated Alignment with Hunter's L494HD alignment rack, or FIA-compatible turnplate kits to streamline processes. Standard self-centering adaptors fit wheels from 15 to 28 inches. For even more speed and wheel protection, optional QuickGrip® adaptors are available in both heavy-duty and passenger versions.
"Love's is known for providing quick and comprehensive service, and the XL dovetails perfectly," said Alan Hagerty, Hunter Product Manager. "It's fast, very easy to use and very efficient at getting large vehicles in and out. It's a natural fit."
For more information, visit https://www.hunter.com/alignment-machines/hawkeye-xl/ or Loves.com.
About Love's Travel Stops
Love's Travel Stops is the nation's leading travel stop network with 645 Love's locations in 42 states. Founded in 1964 and headquartered in Oklahoma City, the company remains family-owned and operated and employs more than 40,000 people. Love's provides professional truck drivers and motorists with 24-hour access to clean and safe places to purchase gasoline, diesel fuel, fresh coffee, restaurant offerings and more. Love's has over 430 truck service centers, which include Speedco and Love's Truck Care locations. Love's and Speedco combined is the largest oil change, preventive maintenance and total truck care nationwide network with over 1,500 maintenance bays and 1,200 emergency roadside vehicles available for customers. Love's is committed to providing customers with "Clean Places, Friendly Faces" at every stop. To learn more, visit loves.com or follow the company on Facebook, Instagram, LinkedIn or Twitter.
About Hunter Engineering
Hunter Engineering Company® is the global leader in state-of-the-art wheel alignment systems, wheel balancers, brake lathes, tire changers, lift racks, autonomous alignment and tire inspection equipment, diagnostic scan tools and ADAS recalibration equipment. Hunter equipment is approved and used by vehicle manufacturers, automobile and truck dealers, tire dealers and service facilities around the world.
For additional information, visit www.hunter.com or contact Tommy Maitz, director of marketing, Hunter Engineering Company®, at contact.hunter@hunter.com. For additional information, please contact your local Hunter business consultant at https://www.hunter.com/contact.
Follow Hunter Engineering Company® on YouTube, Facebook, Instagram and LinkedIn.