Collision Repair Alignment
Improve your cycle time, quality and customer satisfaction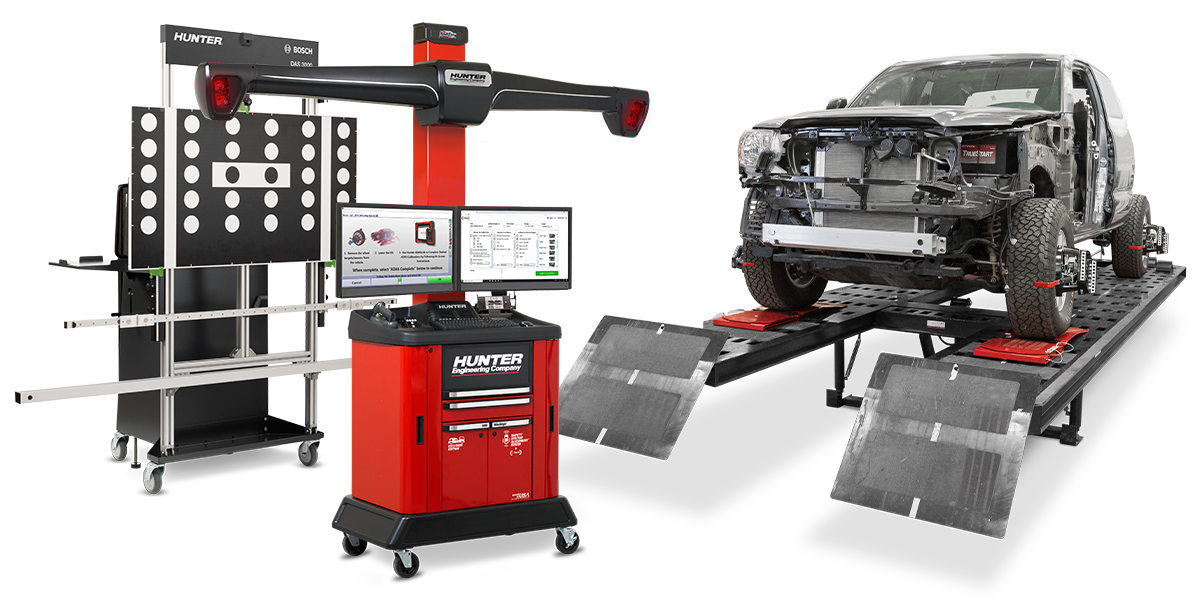 Online Wheel Alignment Guide
Previously, techs needing to know which resets are required after a wheel alignment had to refer to a printed guide, updated every six months. No more. Now Hunter's Wheel Alignment Guide 1708-T is available online free of charge to Hunter customers via Hunter's online customer portal, HunterNet® 2.
ADASLink® and DAS 3000
ADASLink®, Hunter's premium, full-diagnostic scan tool, includes ADAS calibration and secure FCA gateway capabilities, enabling shops to take control of this challenging work by decreasing steps, increasing efficiency and cutting calibration time in half.
ADAS Coverage Guide on HunterNet® 2
Hunter Engineering has taken another major step toward making ADAS calibration as available and accessible as possible. Previously, when needing ADAS calibration information, techs had to look it up manually on the scan tool. Now, Hunter's ADAS Coverage Guide is available online through the HunterNet® 2 customer portal, accessible from anywhere at any time.
Get in touch with your local Hunter team for more information or to schedule a free on-site equipment demo.
This contact form is intended for legitimate Hunter equipment and service inquiries. All other use is prohibited and will be discarded. See Full Terms of Use

It's your shop. Make ADAS your work.
"When you do it all in-house, you're in control."
"Factor in the time to send it out to another shop, what it costs you to get it there, what the other shop is going to bill you for — when you bring all that in-house, you erase all of that."
Jim Smith, Owner, Complete Collision Center, St. Robert, MO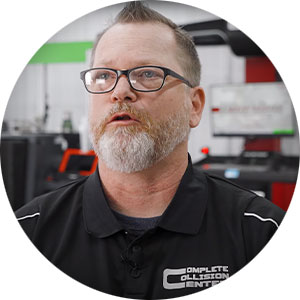 Complete Collision Center finds a complete ADAS calibration solution
Jim Smith, Owner of Complete Collision Center in St. Robert, MO, speaks about how investing in Hunter ADAS equipment allowed them to keep calibration services in-house and control the profits and cycle time of the repair process.
Collision Repair Alignment with HawkEye Elite®
Use your existing frame or collision repair rack to perform alignments in house. Learn how you can maintain control of the vehicle, improve quality, and decrease cycle time with in house alignment service.
Define the standard with Hawkeye Elite® + WinAlign®
With 70,000 systems in use worldwide and a database supporting more than 285 million vehicles, HawkEye Elite® and WinAlign® have long defined the performance standard for alignment equipment past, present and future.
Take Control of ADAS
Hunter's innovative ADASLink® diagnostic scan tool powered by Bosch allows you to take control of ADAS calibrations and keep this profitable work in-house.
Perform all services in-house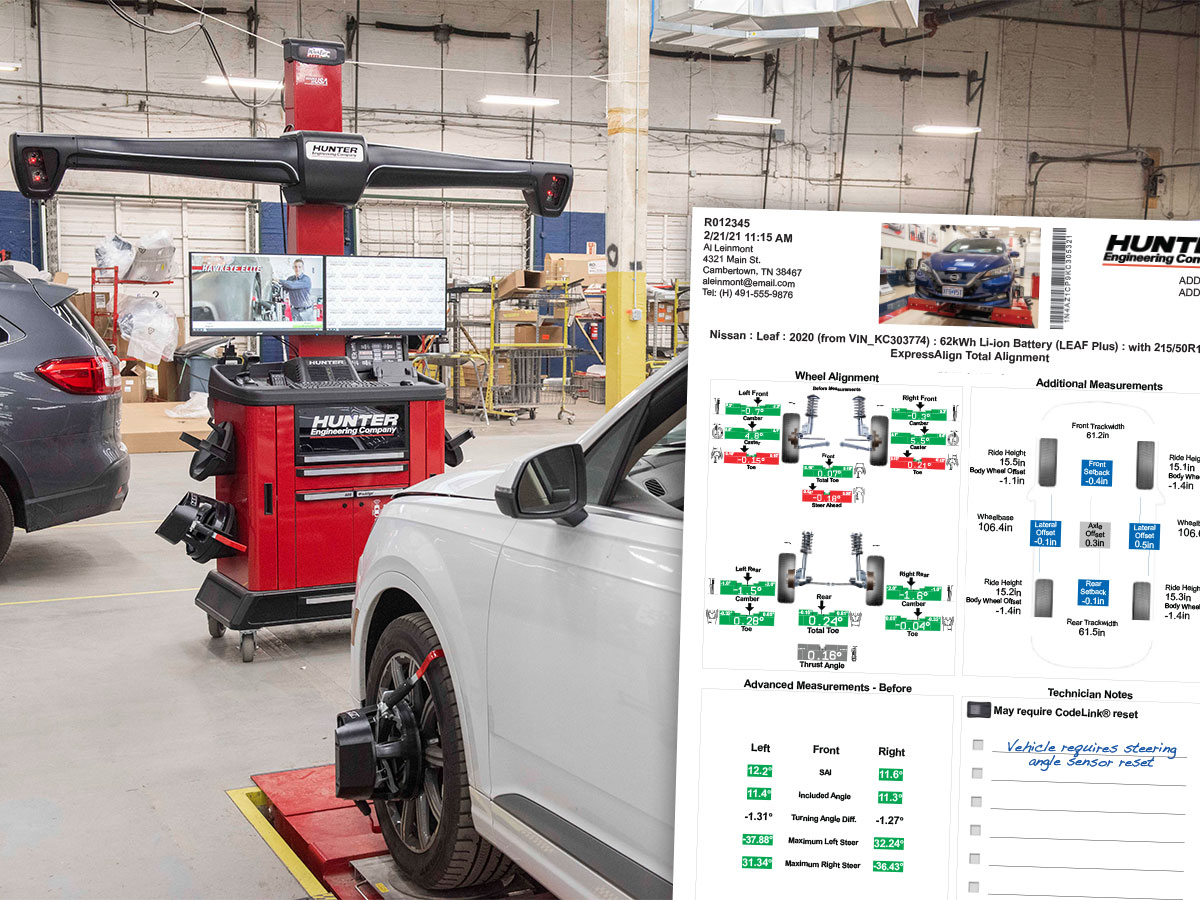 Pre-Repair Diagnostic
Check for hidden issues that could delay vehicle delivery at the end of the repair process.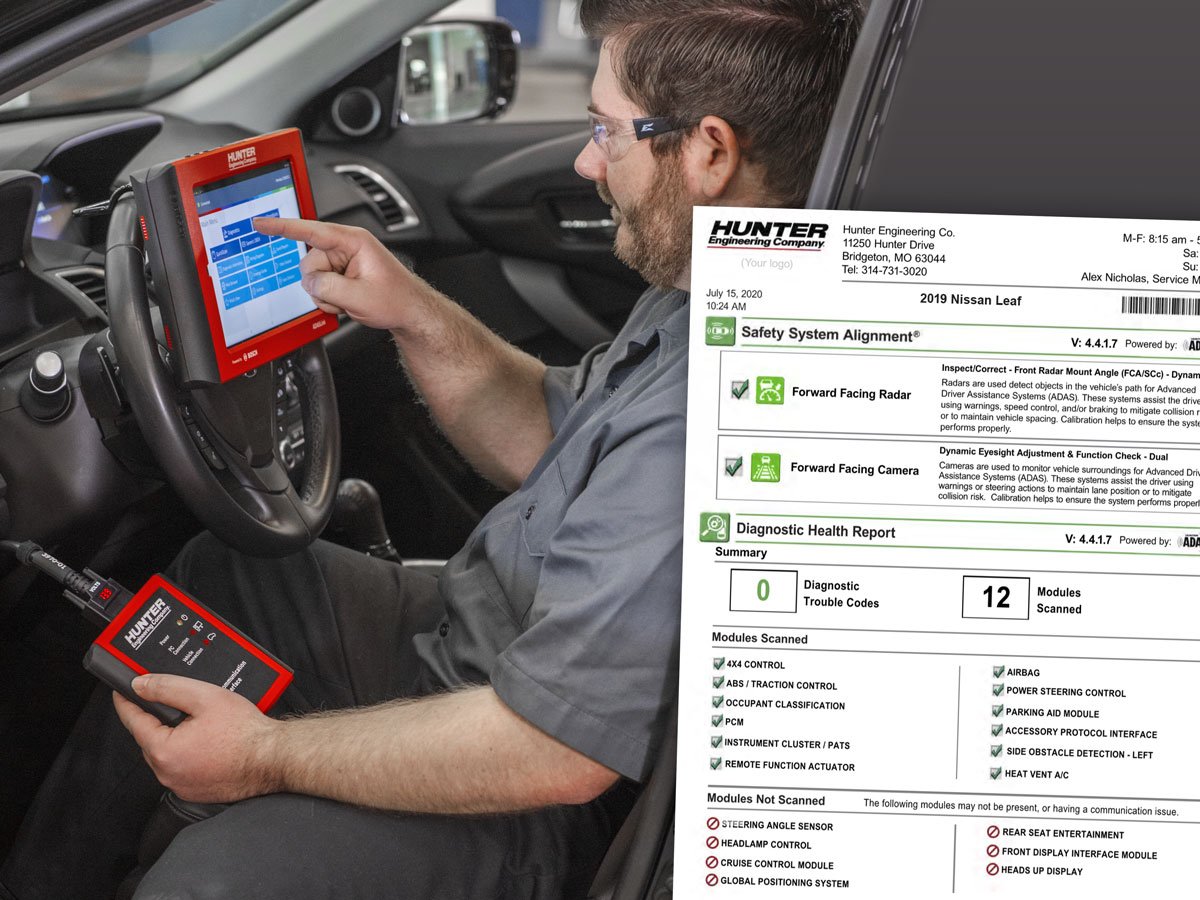 Pre-Scan
Know the vehicle's condition before you start the repair. Allows for better estimating and ordering the right pieces/parts up front.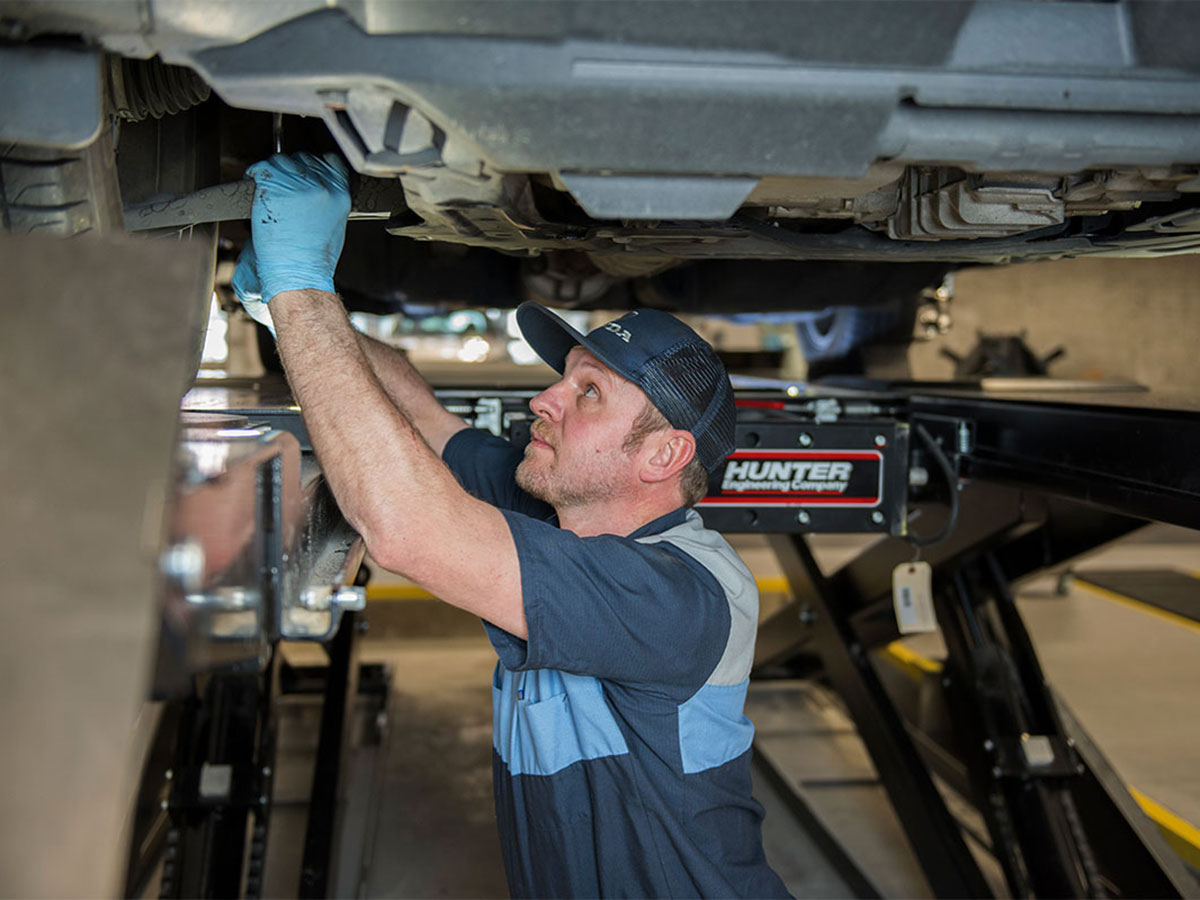 Alignment
Ensure the vehicle is ready to perform and handle as the OEM designed it. Also confirms the vehicle is properly set for ADAS Calibration.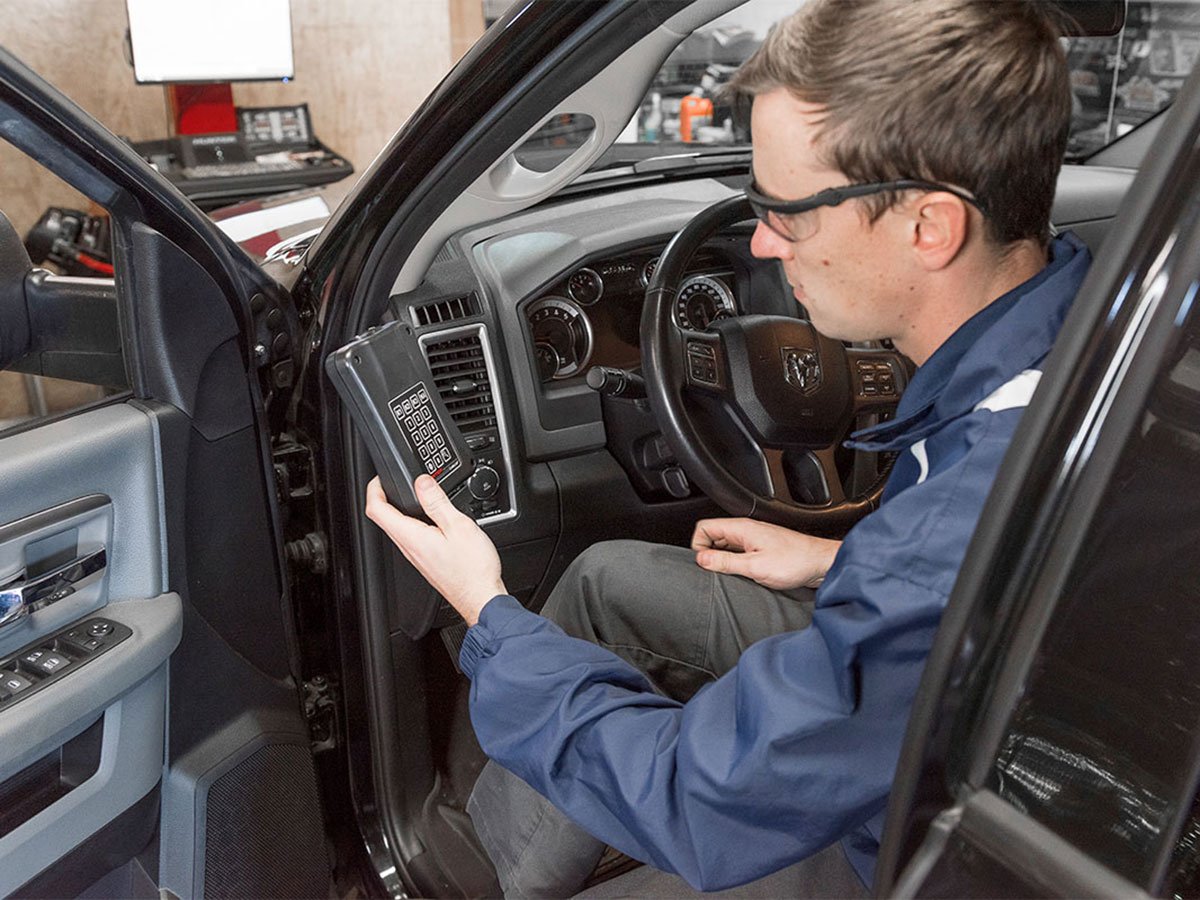 Steering Angle Sensor Reset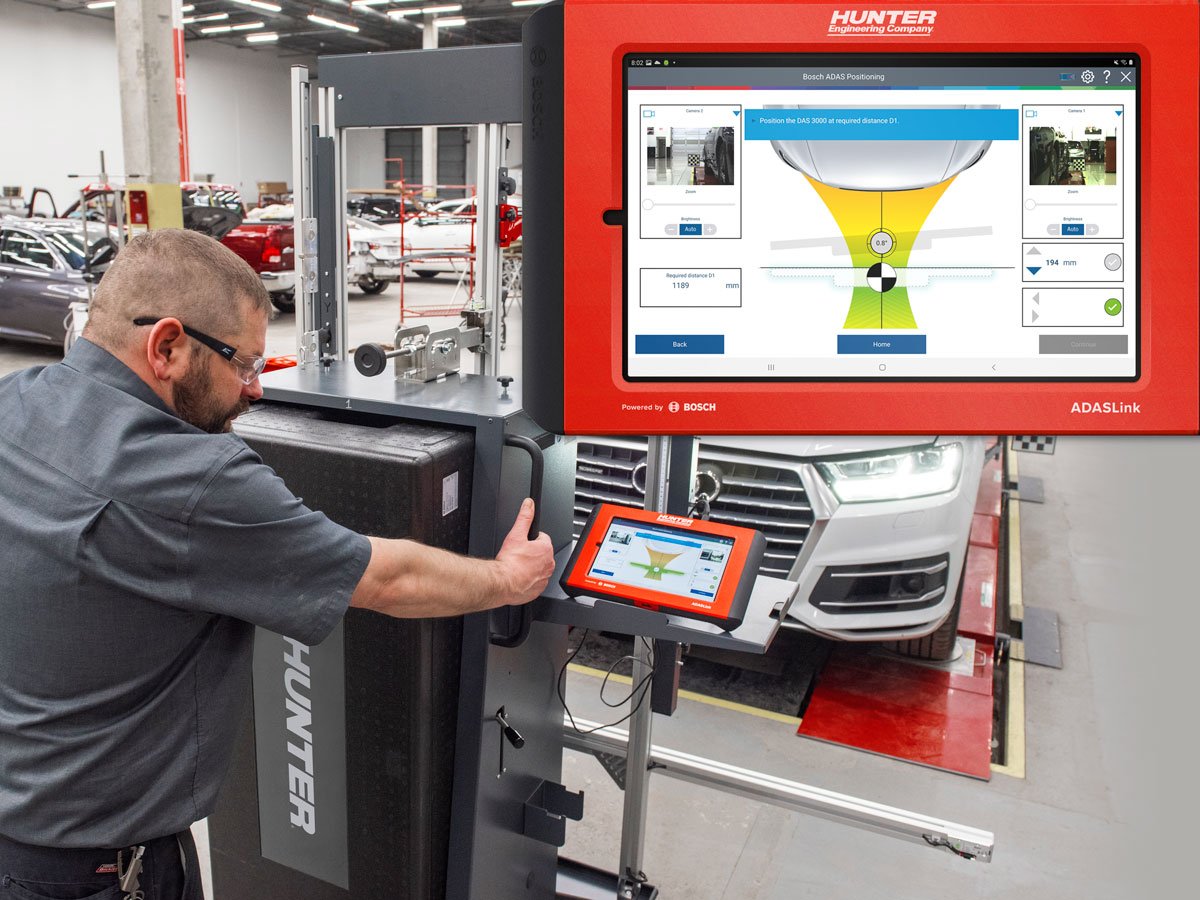 ADAS Calibration
Re-calibrate the safety systems to ensure they perform as the OEM intended.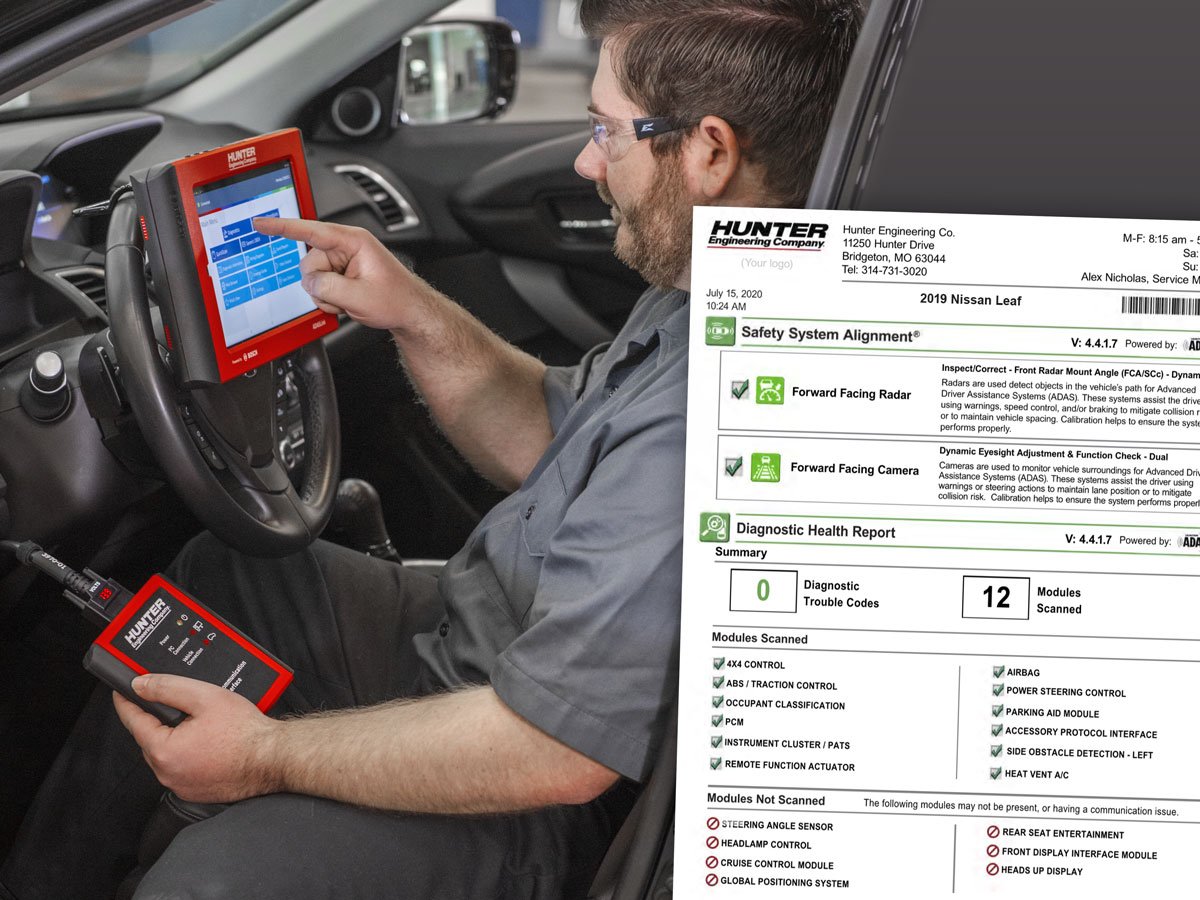 Post Scan
Document that all the vehicle's systems are re-connected and operating properly with no codes prior to delivering the vehicle back to it's owner.
Uncover hidden collision issues before work begins
Multiple measurements with minimal effort
Simply perform a caster steer and place ride height targets to calculate these collision alignment measurements:
Live ride height
Toe out on turns
Max steering angle
Symmetry and setback measurements
Suspension body dimension audit (SBDA) with live ride height
Get in touch with your local Hunter team for more information or to schedule a free on-site equipment demo.
This contact form is intended for legitimate Hunter equipment and service inquiries. All other use is prohibited and will be discarded. See Full Terms of Use