Techs and Automation
Ease-of-use and reliability make
Hunter equipment a technician-favorite in any shop.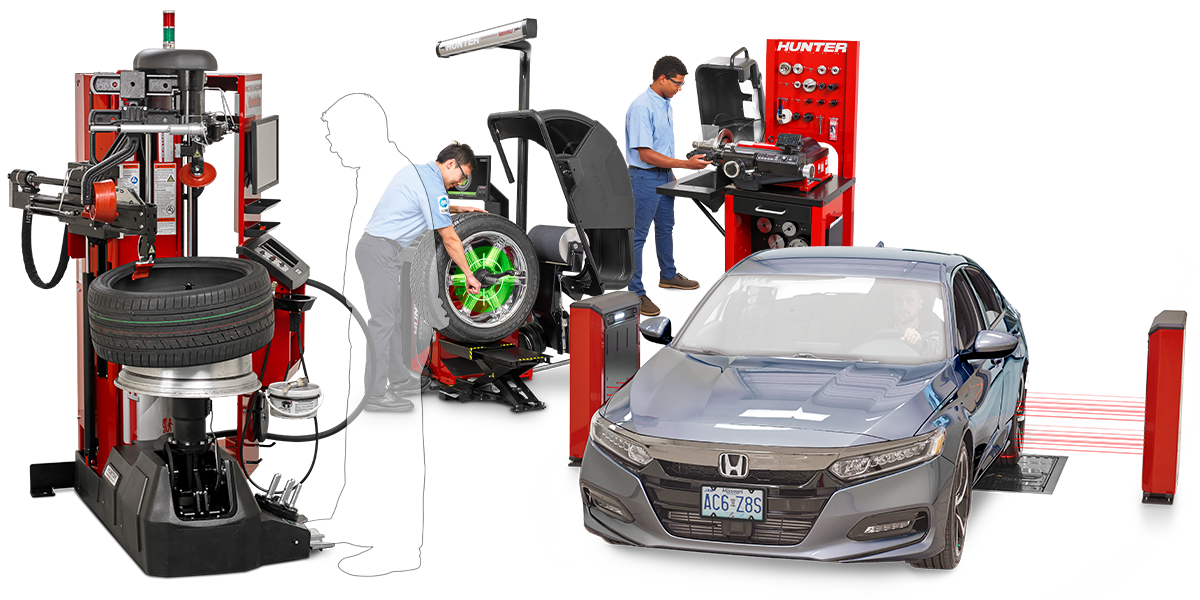 Hunter's new Maverick® designed to give techs complete control
Reflecting user feedback, the Maverick® is designed for technicians who are serious about tire changing. Built proudly in Mississippi, Hunter's new tire changer really sets the wheels in motion by combining the convenience of hydraulic movement with the speed and responsiveness of manual operation.
WalkAway™ - TCR + RFE | Hunter @ SEMA 2022
Explore the benefits of autonomous tire changing, including maximizing safety, eliminating the experience gap, reducing tech fatigue, increasing tech retention and lowering the risk of damaging wheels.
Medium-Duty Inspection Lane
Passenger cars, pickups and heavy-duty trucks have their appropriate inspection equipment. But what about those in-between medium-duty trucks, such as bucket trucks, that are too heavy or wide for the passenger tread system, but not tall enough for the full HD system? Thanks to a software upgrade, Hunter can now bridge the gap with a medium-duty inspection lane.
Mobile Service
The first challenge of providing mobile wheel and tire service is finding reliable equipment that will fit inside a van. Hunter Engineering answers with a compact tire changer and wheel balancer that don't sacrifice durability and productivity for a compact size.
New TCX51C Tire Changer
Hunter's new TCX51C tire changer pairs a swing arm column with a center clamp in a brand-new configuration. The 51C delivers the benefits of a center clamp model combined with the usability and familiarity of a traditional swing arm changer. The result is significantly enhanced wheel protection, eliminating slippage risk.
Get in touch with your local Hunter team for more information or to schedule a free on-site equipment demo.
This contact form is intended for legitimate Hunter equipment and service inquiries. All other use is prohibited and will be discarded. See Full Terms of Use

Efficient equipment leads to productive technicians.
"We want their work environment to be something that they're really proud of."
"Hunter equipment gives [our techs] a better work life, allowing them to work smarter and not harder, and that helps with employee retention."
Sally Thomas, Co-Owner, Thomas Tire, Ashboro, NC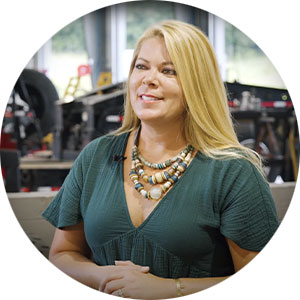 Thomas Tire invests in their technicians by investing in Hunter
Sally Thomas, Co-Owner of Thomas Tire in Ashboro, NC, "invests in really great equipment" because Hunter equipment plays a direct role in their high technician retention rate. Thomas wants the work environment to be something they can be proud of, giving the techs a better work life and allowing them to work smarter, not harder.
Big O Tires invests in their customer and employees
Jesse Burg, Procurement Manager of Big O Tires in Columbia, MO, values cutting-edge technology and longevity in their service equipment. The repeatable accuracy and reliability in Hunter equipment ensures that his customers receive the highest quality service and his technicians get excited to use the equipment.
Thompson's Service Center thrives on a foundation of Hunter equipment
Doug Thompson, owner of Thompson's Service Center in Wiconisco, PA, speaks about his investment in Hunter equipment from aligners, tire changers and balancers to state-of-the-art inspection equipment and HunterNet® 2 portal.
Designed & Built in the USA
Hunter designs and manufactures industry-leading service equipment right here in the USA.
What does employee turnover really cost?

Hands-free procedures take the load off of your technicians.
"The hardest part is rolling it over to the balancer."
"My favorite thing about the Revolution™ tire machine is I don't have to physically bend over and pick up the tires. It's about a 10-15 minute difference doing it on the manual machine as opposed to this. Watch me do one tire, that's all you need."
Charles Sullivan, Eddy's Toyota, Wichita, KS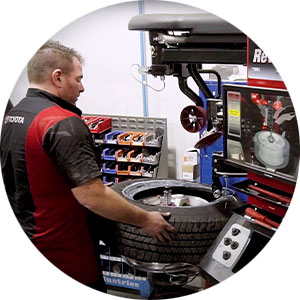 The Revolution™ Helps Eddy's Toyota Change Tires More Efficiently
Charles Sullivan of Eddy's Toyota in Wichita, KS likes using The Revolution™ tire changer because his back doesn't hurt at the end of the day. It doesn't matter if he's changing low profile tires or truck tires, it always takes the same amount of time and effort.
Autotronica "Loves" their Revolution
Anthony Ramirez, owner of Autotronica in Anaheim, CA, loves using the WalkAway™ feature on his Revolution™ tire changer, because he can balance a wheel while the tire changer does the work, increasing productivity and efficiency.
Hunter's AutoComp Elite® Brake Lathe at Laura Ford
Mike Wehrle, Service Manager at Laura Ford in Sullivan, MO talks about the superior surface finish and fast automatic compensation on rotor cuts they get from using the AutoComp Elite® brake lathe.
Revolution™ Walkaway™
See how Revolution™ Walkaway™ accelerates the four tire changeover
Road Force® Elite Diagnostic Wheel Balancer from Hunter Engineering
Hunter's Road Force® Elite is the fastest diagnostic wheel balancer on the market and performs both a traditional balance and Road Force Measurement® in less time than it takes to complete a conventional balance.

"Always-on" automations open up opportunities and free techs to perform other tasks.
"They don't expect that kind of technology at a tire store."
"We know that when we get every vehicle inspected that we're going to sell more product and have a better retention rate with our customers."
Mark Rhodes, President, Plaza Tire Service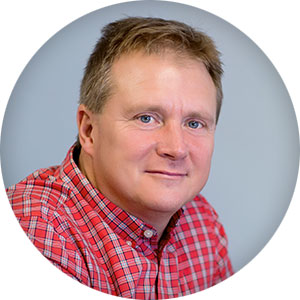 Plaza Tire® "Adds Gross Profit and Revenue" with Quick Check Drive®
Mark Rhodes, President of Plaza Tire Service®, has invested in Quick Check Drive® and Quick Tread Edge® systems at all of the new Plaza Tire locations being built and has the goal of putting the inspection system in each of Plaza's 67 locations.
Morgan Auto Group Quadruples Tire and Alignment Sales
Joe Schlueter, Morgan Auto Group's VP of Fixed Operations, talks about the technological advantages and increased sales generated by Hunter's Quick Check Drive® and Quick Tread Edge® at Jerry Ulm Chrysler Dodge Jeep Ram.
Suntrup upgrades their facilities with Hunter's Quick Check Drive®
Elliot Silk, Service Director of Suntrup Automotive Group in St. Louis, MO, explains why Quick Check Drive® was the best investment made to help sales, retention and overall customer experience at Suntrup Kia South.
"Quadruple" Alignment and Tire Sales With the Quick Check® Drive Unmanned Inspection System
The Hunter Quick Check inspection system has proven to increase service opportunities, gain more sales, and have a shorter payoff than imagined. Find out how.
Get in touch with your local Hunter team for more information or to schedule a free on-site equipment demo.
This contact form is intended for legitimate Hunter equipment and service inquiries. All other use is prohibited and will be discarded. See Full Terms of Use