Truck and Fleet Service
Make sure the road runs through your shop.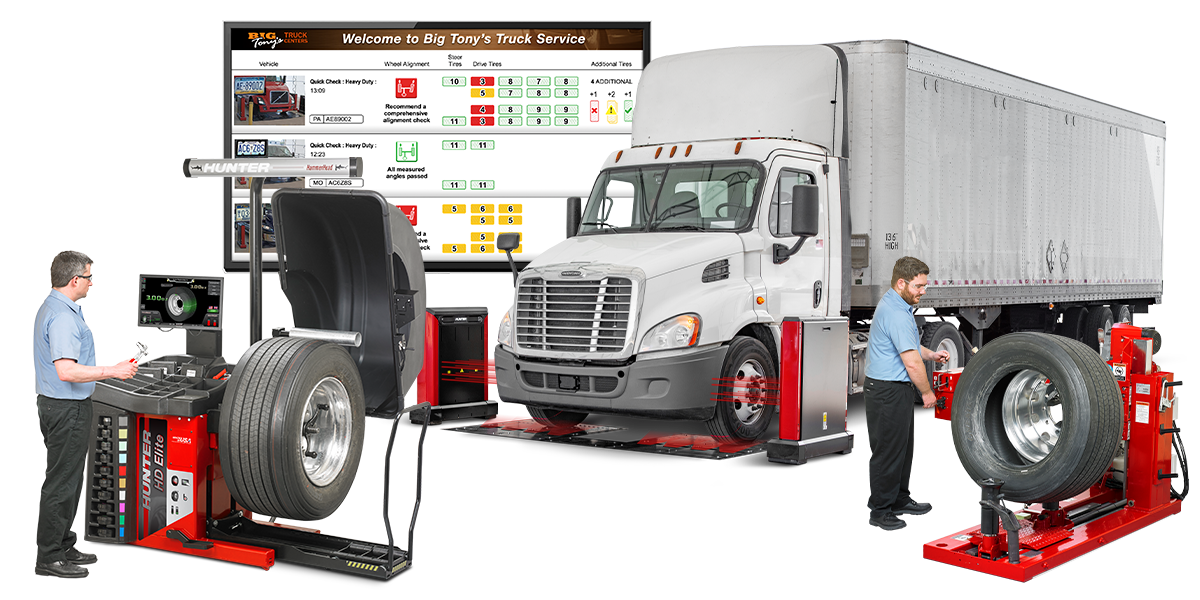 Full HD Product Line
Fuel and tires are among commercial operators' biggest expenses, and in today's economy this is even more true. Owners need to be sure they're investing in equipment that will yield a solid ROI. Hunter Engineering offers a complete line of HD products that meet this need.
Medium-Duty Inspection Lane
Passenger cars, pickups and heavy-duty trucks have their appropriate inspection equipment. But what about those in-between medium-duty trucks, such as bucket trucks, that are too heavy or wide for the passenger tread system, but not tall enough for the full HD system? Thanks to a software upgrade, Hunter can now bridge the gap with a medium-duty inspection lane.
Mobile Service
The first challenge of providing mobile wheel and tire service is finding reliable equipment that will fit inside a van. Hunter Engineering answers with a compact tire changer and wheel balancer that don't sacrifice durability and productivity for a compact size.
Get in touch with your local Hunter team for more information or to schedule a free on-site equipment demo.
This contact form is intended for legitimate Hunter equipment and service inquiries. All other use is prohibited and will be discarded. See Full Terms of Use

Identify alignment and tire wear issues on all axles.
Bergey's doing a "crazy amount" of alignments with Hunter Quick Check® Commercial
Bergey's Tire Centers in suburban Philadelphia has built its reputation on forming a partnership with its commercial customers and providing the best service possible. "We're not just a repair facility," says Steve Ford, regional operations manager. "The equipment we use is to support all that."
Thomas Tire invests in their technicians by investing in Hunter
Sally Thomas, Co-Owner of Thomas Tire in Ashboro, NC, "invests in really great equipment" because Hunter equipment plays a direct role in their high technician retention rate. Thomas wants the work environment to be something they can be proud of, giving the techs a better work life and allowing them to work smarter, not harder.
WinAlign® HD Alignment System - Tractor on Turnplates
Hunter heavy-duty customers can now diagnose tire wear conditions in 1/3 of the time. New technology from Hunter Engineering provides accurate, 3-axle wheel alignment readings in just 4 minutes.
Quick Check® Commercial
TCX635HD Tire Changer
Hunter's HD Elite™ With New Laser Vision System for Touchless Wheel Measurement
Hunter's HD Elite™, a heavy-duty wheel balancer that combines cutting-edge features of Hunter's Road Force® Elite and ForceMatch® HD balancers to help eliminate wheel-related vibration and increase truck tire life.
"It's a really crazy amount of alignments we've been able to sell."
"Not wasting days putting trucks on racks and searching for alignment issues is easy evidence of ROI. Quick Check® Commercial's immediate results save time, money and customer trust."
Steve Forde, Regional Operations Manager, Bergey's Truck Centers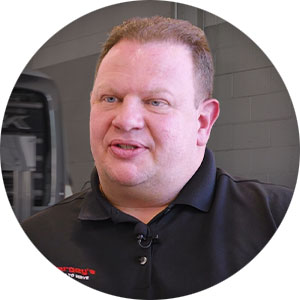 Calculate your equipment payback for fleet businesses
Calculate your equipment payback for service shops
Get in touch with your local Hunter team for more information or to schedule a free on-site equipment demo.
This contact form is intended for legitimate Hunter equipment and service inquiries. All other use is prohibited and will be discarded. See Full Terms of Use