Maxwell Dougan (May 2021 – January 2022)
Name: Maxwell Dougan
School: Missouri University of Science and Technology
Major: Mechanical Engineering
Co-op period: May 2021 – January 2022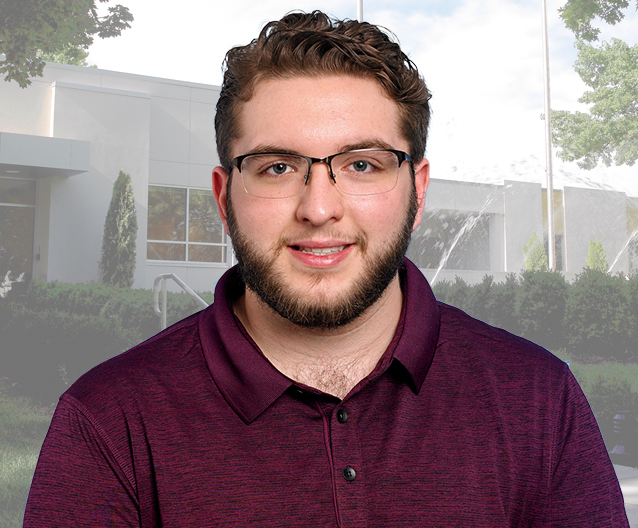 Co-op Experience
What was the interview process like?
I was introduced to Hunter Engineering through a career fair. I had a short virtual meeting with HR about the position, where my resume was passed along to hiring managers. Later, I was contacted for a virtual meeting with my current manager, Brian Cejka, and another Hunter engineer. The interview was relaxed; it appeared the hiring manager was determining my interests and if I was the right fit for the position. What made the interview more enjoyable was the hiring manager, Brian, appeared genuinely interested in what engineering work I had done before, regardless of whether it was personal work or professional work.
Most students just want experience, but they may not know what type of experience they want. Please describe some of the work you did and what type of skills you needed. It is important to note the skills you could apply from what you've learned in school and what you learned on the job.
My primary jobs included prototype assembly, part modification, troubleshooting, and measurement taking. The most important skills for this position are the ability to communicate with others effectively and the ability to look at something happening in the real world and determine what is causing it to happen. Both are skills that you develop in school, but being able to apply them in a professional environment does a great deal for growth.
What experience do you think will be the most useful for you in the future?
The experience of working on real world products and learning about them during different stages of development and troubleshooting will be the most useful. In addition to just seeing the product, being able to ask professional engineers about what some of the thought processes were that went into a product is very insightful to a prospective engineer.
How do you think the overall experience will help you in your career?
The ability to work within your chosen field and gain hands-on experience is irreplaceable, which is exactly what this co-op offered. It gave me a greater understanding of what I can and will be doing as a future engineer. I also gained a large amount of insight into what makes a good engineer and what skills I should focus on developing if I want to be successful as a mechanical engineer.
What aspect of the work did you enjoy the most?
I really enjoyed the hands-on nature of the work because you can gain a greater understanding of how a product works by assembling, modifying, and troubleshooting it directly. It is very satisfying to be able to work from a scattering of parts and build up a fully functional product. In addition, it was nice to know that the engineers would use the work and opinions of the co-ops to make design decisions to create the best product.
What aspect of the work did you not enjoy?
One of the benefits of the co-op position is that you usually work under multiple engineers who all work on different projects, so you gain a lot of exposure. The downside to this, is that there is a lot of information to take in very quickly and a large amount of the co-op is over before you really have a grasp on all the products.
Did you learn anything?
Absolutely, Hunter Engineering covers a wide engineering range, and the engineers are very knowledgeable in their fields and willing to share. The largest limiting factor to what I learned at Hunter was simply time. I learned about everything from machine vision systems to integration between design and manufacturing.
Students often want to know if they will work alone or in a group. Was the work you did more individual or group work, and how does it compare with what you have done in school or at another job?
The majority of the time I worked alone, but there were instances where more than one person was required to complete a task. Despite working alone, I regularly reported to the engineers to ask questions, provide progress updates, and give feedback on the projects I was working on. Compared to schoolwork, it was very similar in that most work is completed individually while working with the professor to clear up any confusion.
What were your living arrangements during co-op? This question is especially important for those that are not from St. Louis.
I lived with my parents in Festus which is a decent commute from St. Louis.
How was the supervision?
The supervision was excellent. Co-ops work with multiple engineers on various projects throughout the term, so they are constantly working with different engineers. All the engineers do a good job of making the co-ops feel as if they are working with them to solve problems, rather than doling out tasks and approving work.
Anything else you'd like to tell us about yourself, Hunter Engineering, the co-op program or the work?
Hunter Engineering has a lot to offer any prospective employee or co-op. The work environment is very relaxed while still maintaining a good drive to get things accomplished. The co-op program is very well put together and does a good job of making sure that the work done by co-ops is used for the betterment of the company.