Hunter Engineering introduces the Auto34R Tire Changer, the latest evolution of the popular Auto34 series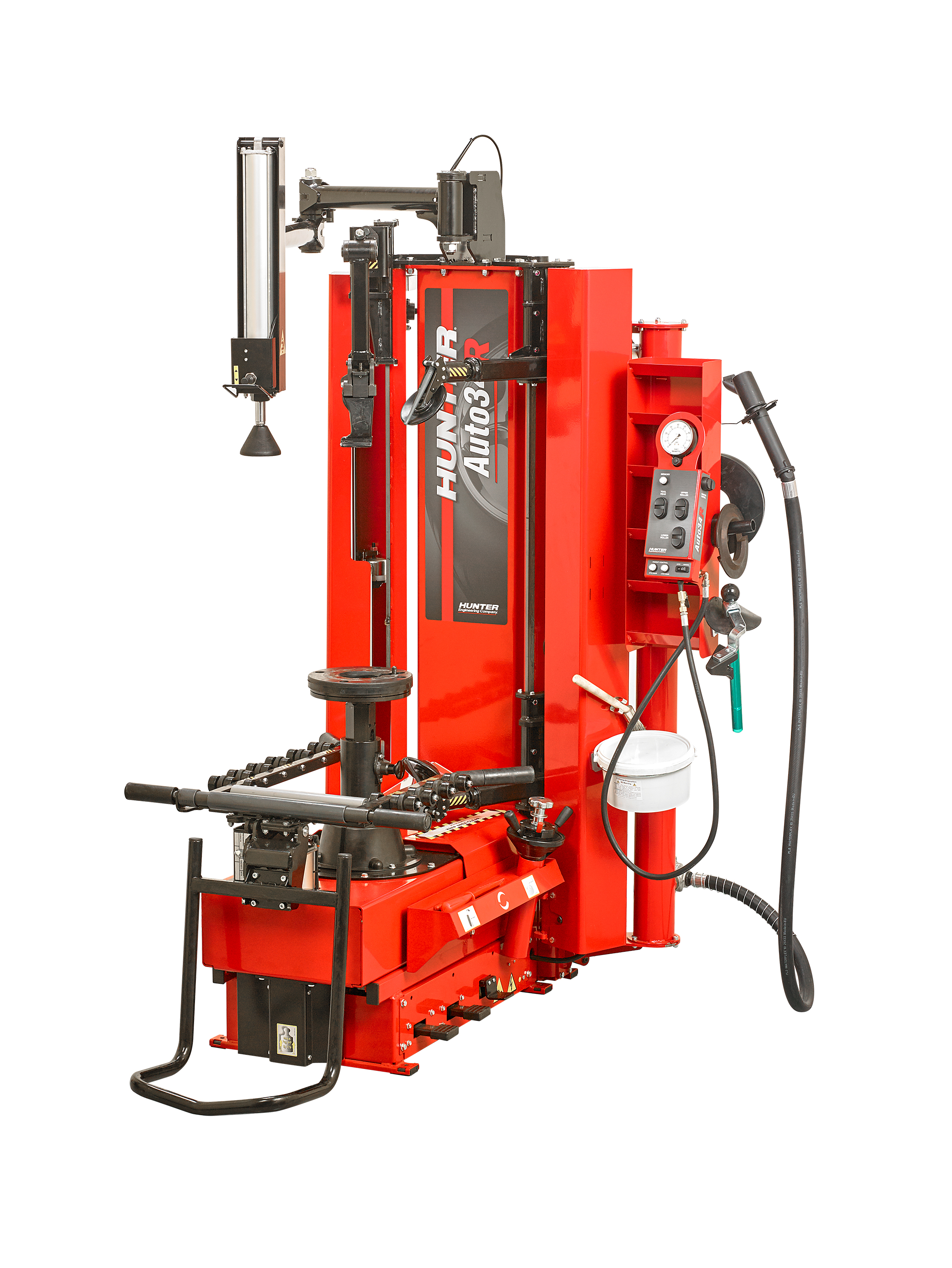 ST. LOUIS -- Hunter Engineering Company® is introducing the new Auto34R Tire Changer, designed to quickly and easily service the broadest range of assemblies, while also dramatically reducing the opportunity for wheel damage through operator error.
The Auto34R's speed and ease of use derive from its innovative telescoping chassis that brings the wheel to the rollers and tool head. The new mechanism clocks the rollers and tool head to match the curve of the wheel. Direct rim tracking lowers the stress on beads during mount and demount cycles, saving operator time and reducing the risk of wheel damage.
For shops with space constraints, the compact sliding chassis considerably reduces the need for floor space. Similarly, the bead press arm is center-mounted for a smaller swing radius. The new chassis also eliminates many moving parts, delivering efficient operation over a long service life.
The Auto34R excels on assemblies where the greatest care is desired. The new model's electric actuation and three-button control panel provide for simple, smooth and responsive adjustments, saving time, operator frustration and the risk of damage from crashing rollers into wheels.
"The Auto34R is so easy to operate, because diameter changes are so simple to make precisely," said Jim Hudson, Hunter tire changer product manager. "It's a great machine for shop owners, too. The unique design eliminates many common tire changer wear points like cables, telescoping arms and locking cylinders, all while reducing the floor space needed to install it."
Everything about the new Auto34R has been designed with speed and efficiency in mind, including the return of Hunter's Auto34S feature favorites like automatic indention and a memory function that conveniently returns the mount head to rim height. Additionally, a new high-volume vertical blast tank offers a more powerful blast that also saves space—providing superior capability while conveniently fitting against a wall.
Hunter Engineering Company® is the global leader in wheel and tire service, alignment systems, brake service and inspection lane equipment. Hunter® equipment is approved and used by vehicle manufacturers, automobile and truck dealers, tire dealers and service facilities around the world.
For additional information, visit our website at www.hunter.com or contact Maddie Laviolette, Marketing Analyst and Communications Specialist, Hunter Engineering Company®, 314-716-0380. For more information, please contact your local Hunter® representative at https://www.hunter.com/contact
Follow Hunter Engineering Company® on YouTube, Facebook, Instagram, Twitter and LinkedIn.