Hunter Engineering Summer Finance Promotion offering 0% interest rate for 12 months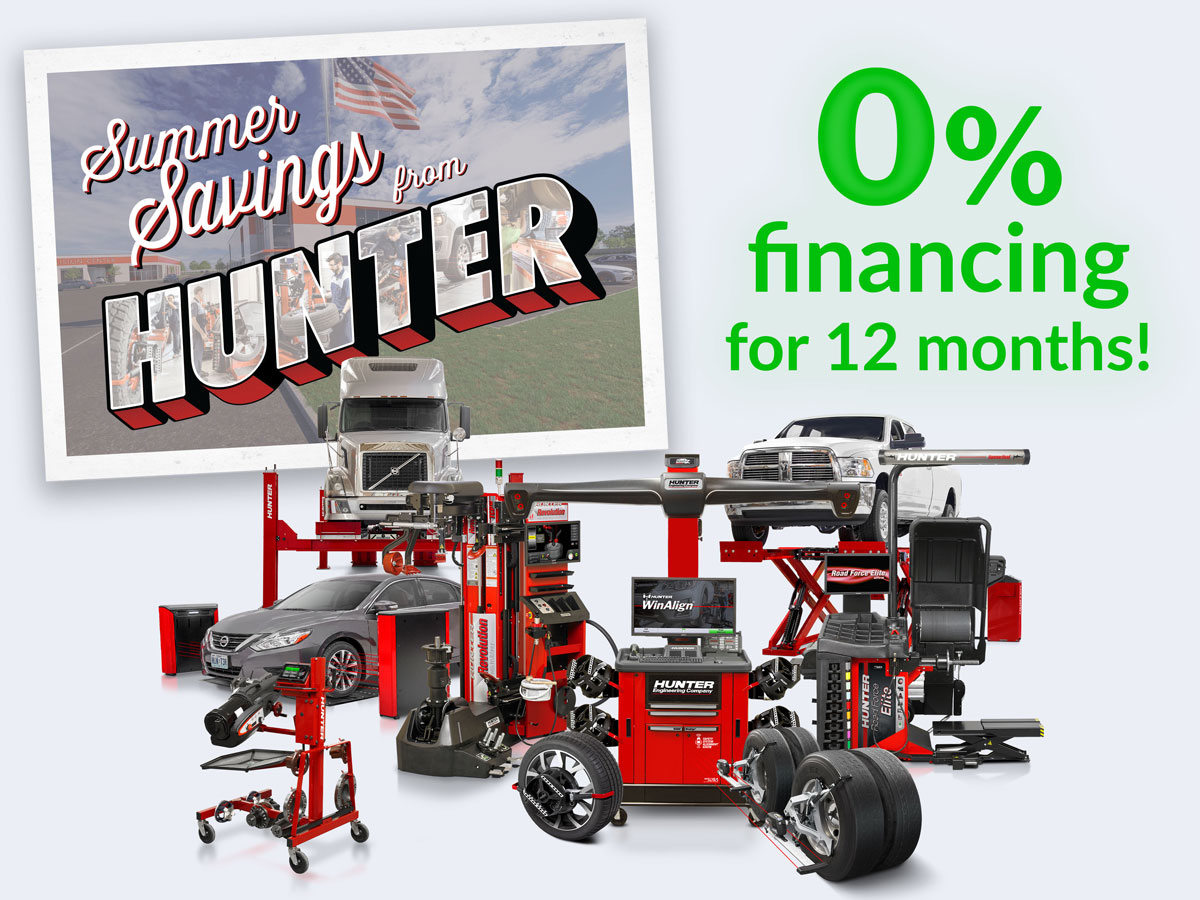 Hunter Engineering is pleased to announce a Summer Finance Promotion, effective June 19 through July 31, 2023.
Offered in partnership with GreatAmerica, the promotion includes a 0% interest rate for a term of 12 months, and a 3.9% rate for 24 months. Discounted rates are also available for 36-, 48- and 60-month terms.
The offers are available across all U.S. market segments with a $10,000 minimum order requirement. Canadian customers are encouraged to contact their local Hunter business consultant for information on similar deals.
The 2023 promotion also includes special discounted offers on demonstration equipment. Additionally, the purchase of a DAS 3000 static ADAS calibration system will include a free TPMS tool and battery tester.
The promotion is valid through participating Hunter distributors. The offers are subject to the end user's credit approval and do not apply to equipment coming out of distributor stock.
"With all the focus on rising interest rates, we wanted to give our customers a chance to lock in some really favorable terms," said Larry Watson, Hunter vice president, sales, North America. "We're looking forward to many of them taking advantage of these great opportunities."
For more information, visit https://www.hunter.com/summer.
Hunter Engineering Company® is the global leader in state-of-the-art wheel alignment systems, wheel balancers, brake lathes, tire changers, lift racks, autonomous alignment and tire inspection equipment, diagnostic scan tools and ADAS recalibration equipment. Hunter equipment is approved and used by vehicle manufacturers, automobile and truck dealers, tire dealers and service facilities around the world.
For additional information, visit www.hunter.com or contact Tommy Maitz, director of marketing, Hunter Engineering Company®, at contact.hunter@hunter.com. For additional information, please contact your local Hunter business consultant at https://www.hunter.com/contact.
Follow Hunter Engineering Company® on YouTube, Facebook, Instagram and LinkedIn.