Hunter Engineering and Tekion partner to drive customer service experience plus dealer profitability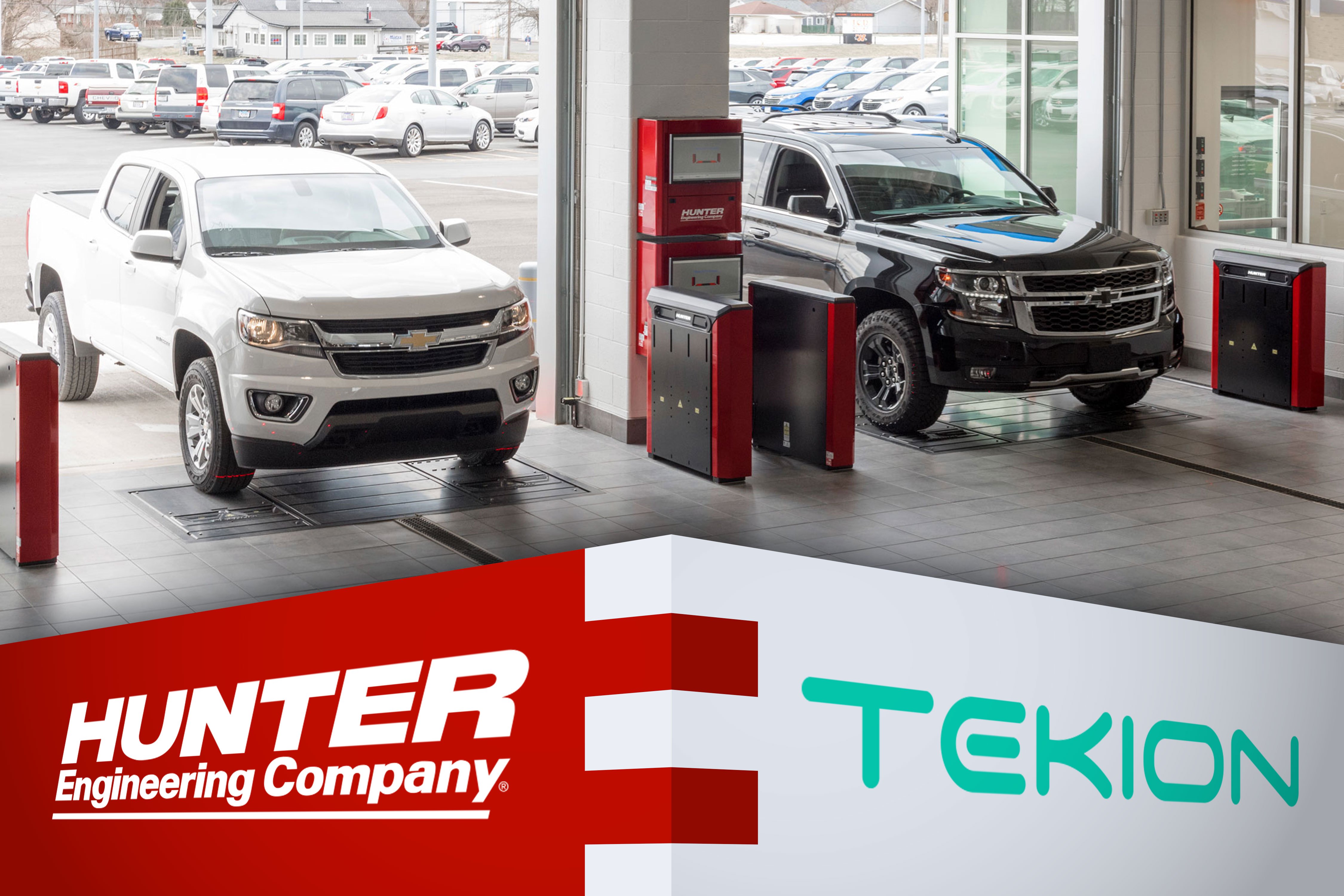 Hunter Engineering is pleased to announce a new integration between Hunter's unmanned inspection equipment and Tekion's end-to-end cloud-native platform, Automotive Retail Cloud (ARC).
 "With traditional services shrinking due to the growth of electric vehicles, dealerships will need to find more dollars per repair order," said John Zentz, Hunter senior vice president of sales. "Taking full advantage of the opportunities provided by equipment such as Hunter's Quick Check® Drive autonomous inspection system won't be a luxury, but a necessity."
With this new partnership, automotive dealerships across North America will have greater opportunity to drive more alignment and tire sales through instant, automated access to inspection data.
As a vehicle passes through Hunter's unmanned inspection equipment, alignment angles and tire tread depth are instantly measured with industry-leading laser precision, requiring no labor or stopping. The vehicle inspection data populates in real time in the Tekion platform, instantly documenting the walkaround for advisors and multipoint inspection for technicians for greater efficiency.
Tire measurements and alignment results are automatically added to the multipoint inspection while the Hunter inspection sheet and media are automatically added to the repair order.
The comprehensive vehicle inspection readout can be sent to the customer to ensure a streamlined, consistent experience.
The integration is now available for Hunter unmanned inspection customers and carries no monthly equipment fees. Dealers can invest in their Hunter equipment for life.
Alignments traditionally rank among the highest-margin services a shop can provide, while manufacturers have long advocated increasing tire sales as a method of customer retention, additional services and new vehicle sales. On average, 50 percent of vehicles require alignment adjustment when the angles are truly measured and compared to the OEM specifications, evidenced by the millions of vehicle inspections with Hunter equipment.
"Hunter is fortunate to have so many loyal auto dealer customers invested in inspection equipment, and we're glad to be able to make this integration available to them," Zentz said. "This new process will result in more alignments, more tire sales and a safer vehicle for the customer."
"We're happy to integrate Tekion ARC with Hunter's unmanned inspection equipment to deliver more value to dealers and consumers via our Automotive Partner Cloud," said Guru Sankararaman, CFO and SVP of operations at Tekion. "Now more than ever, fixed ops efficiency and revenue generation are necessary for dealer profitability, while vehicle longevity and cost savings are top of mind for consumers. This integration delivers on all of these points."
Tekion's Automotive Retail Cloud is the first and fastest cloud-native platform including all functionalities of a DMS and accompanying tech stack to run a seamless retail business. ARC modernizes the end-to-end automotive retail journey, improves consumer experiences, and brings the highest efficiencies to retailers by connecting consumers, dealers and OEMs better than ever before through their cutting-edge platform.
For more information, visit https://www.hunter.com/connected-equipment/integration-partners.
For additional information, visit www.hunter.com or contact Tommy Maitz, director of marketing, Hunter Engineering Company®, at contact.hunter@hunter.com. For additional information, please contact your local Hunter business consultant at https://www.hunter.com/contact.
Follow Hunter Engineering Company® on YouTube, Facebook, Instagram and LinkedIn.
About Hunter Engineering
Hunter Engineering Company® is the global leader in state-of-the-art wheel alignment systems, wheel balancers, brake lathes, tire changers, lift racks, autonomous alignment and tire inspection equipment, diagnostic scan tools and ADAS recalibration equipment. Hunter equipment is approved and used by vehicle manufacturers, automobile and truck dealers, tire dealers and service facilities around the world.
About Tekion
Positively disrupting an industry that has not seen disruption in over 50 years, Tekion has challenged the paradigm with the first and fastest cloud-native automotive platform that includes the revolutionary Automotive Retail Cloud (ARC) for retailers, Automotive Enterprise Cloud (AEC) for manufacturers and other large automotive enterprises, and Automotive Partner Cloud (APC) for technology and industry partners. Tekion connects the entire spectrum of the automotive retail ecosystem through one seamless platform. The transformative platform uses cutting-edge technology, big data, machine learning and AI to seamlessly bring together OEMs, retailers/dealers and consumers. With its highly configurable integration and greater customer engagement capabilities, Tekion is enabling the best automotive retail experiences ever. Founded in the Silicon Valley, Tekion employs over 2,500 innovators globally. For more information, visit www.tekion.com.