Hunter Engineering introduces Hawkeye® XL alignment system for trucks, trailers, buses and more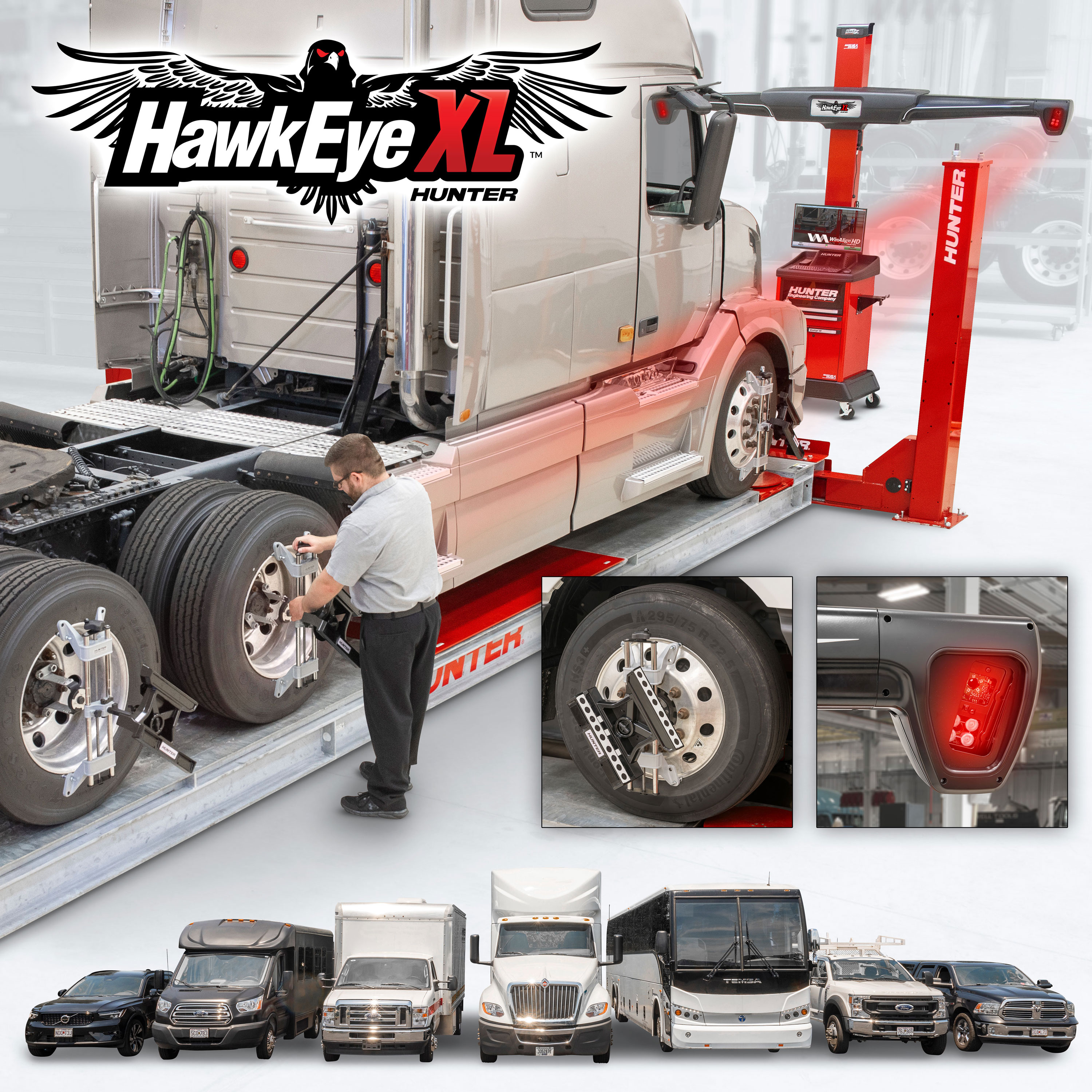 Hunter's new Hawkeye® XL alignment system is designed for maximum speed, durability and ease of use for a wide range of commercial vehicles.
The versatile aligner provides highly accurate measurements in four minutes or less.
"With our old system, I was doing 15 trucks in one 10-hour day," says technician Vernon Embree of Prime Inc., who tested the Hawkeye® XL with their large fleet of newer trucks. "Now I've hit 26 trucks in one day. I would definitely recommend the XL to anybody."
The new aligner will be on public display for the first time in the Hunter booth at SEMA in Las Vegas, Oct. 31-Nov. 3.
At the heart of the Hawkeye® XL is visionary new camera technology with extra-long range and extra-large targets, expanded from the industry-leading Hawkeye® Elite alignment system.
The aligner features lightweight, three-dimensional XL targets that are highly durable, low-maintenance and non-electronic. Precise high-definition cameras provide extra-long-range sight, capturing measurements in a single rolling compensation and displaying live alignment readings for up to three axles at once.
The extended range delivers extended results, enabling the XL to easily align 53-foot trailers. With a moveable camera beam and portable cabinet, technicians can perform alignments on either the floor or a lift, in any bay.
The XL offers optional Fully Integrated Alignment with Hunter's L494HD alignment rack, or FIA-compatible turnplate kits to streamline processes. Standard self-centering adaptors fit wheels from 15 to 28 inches. For even more speed and wheel protection, optional Quick Grips are available in both heavy-duty and passenger versions.
Additionally, Hawkeye® XL connects to the HunterNet® 2 customer portal, allowing shop owners to monitor alignment performance remotely and in real time.
The XL's efficiency, versatility and low maintenance combine to yield more uptime and a lower cost of ownership. Misaligned wheels can have a sizeable impact on commercial vehicle fuel cost and tire wear.
"Technicians love the simplicity and ease of use of the Hawkeye® XL," says Hunter product manager Alan Hagerty. "It's perfect for heavy-duty shops looking to speed up and supersize their alignment capabilities."
For more information, visit https://www.hunter.com/alignment-machines/hawkeye-xl.
Hunter Engineering Company® is the global leader in state-of-the-art wheel alignment systems, wheel balancers, brake lathes, tire changers, lift racks, autonomous alignment and tire inspection equipment, diagnostic scan tools and ADAS recalibration equipment. Hunter equipment is approved and used by vehicle manufacturers, automobile and truck dealers, tire dealers and service facilities around the world.
For additional information, visit www.hunter.com or contact Tommy Maitz, director of marketing, Hunter Engineering Company®, at contact.hunter@hunter.com. For additional information, please contact your local Hunter business consultant at https://www.hunter.com/contact.
Follow Hunter Engineering Company® on YouTube, Facebook, Instagram and LinkedIn.