Hunter Engineering introduces the SmartWeight® Elite wheel balancer, the ultimate in simplicity and efficiency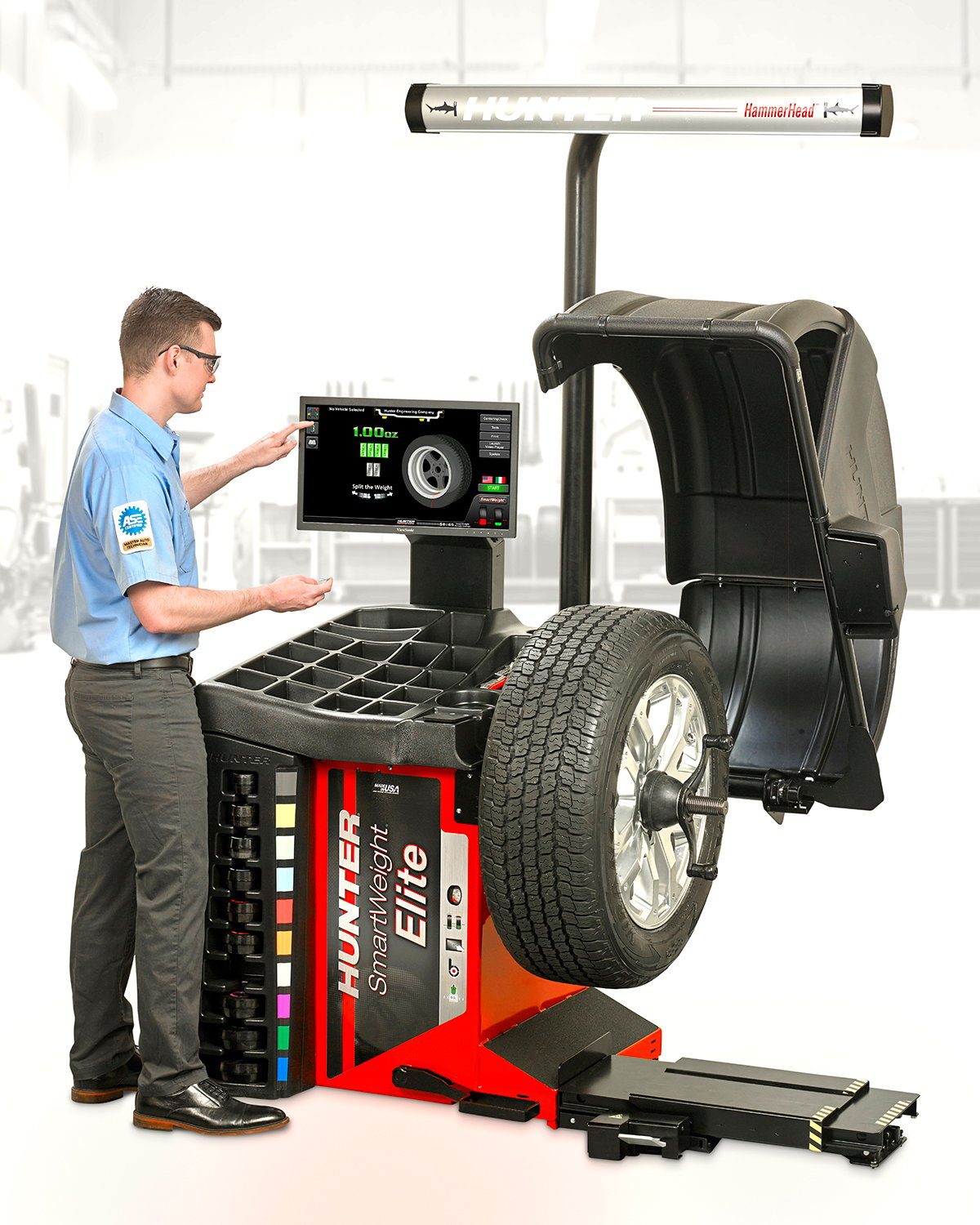 ST. LOUIS – Hunter Engineering is happy to introduce the SmartWeight® Elite wheel balancer with no-touch measurement, specifically designed for maximum speed, efficiency and accuracy.
The machine's remarkable simplicity comes from replacing dataset arms with a pair of diagnostic lasers that provide all the necessary data for doing the job right the first time.
For years, a technician would need to set the arms at the right locations, enter dimensions and determine where the weights should go. Now, when the SmartWeight® Elite's hood is lowered, the lasers automatically scan the entire inner rim, providing precise locations for weight placement.
This scan is the heart of Hunter's patented SmartWeight® vision system, designed to identify expanded areas suitable for placement. SmartWeight® offers single-weight solutions more often than any other balancer, thus reducing weight usage and resulting in superior balance as well as ride quality. Additionally, the system further increases balancing speed and accuracy by designating weight placement anywhere along the wheel, rather than only the left or right planes.
The SmartWeight® Elite's automatic functions include measurement and dimension entry; inside rim runout, which helps identify bent wheels; spoke locations, to conceal weights; and CenteringCheck®, to ensure the wheel is properly centered on the shaft.
The technician mounts the wheel, closes the hood, places the weights and removes the wheel. This can be done in approximately 70 seconds, providing an extremely quick and easy balancing experience. The automated process not only reduces the risk of error, but also the need for operator training – an important consideration in shops with higher employee turnover.
"The most important thing about the SmartWeight® Elite is that it does exactly what a balancer should do – it balances, right now," said Greg Meyer, Hunter product manager for wheel balancers and brake lathes. "In the past, operators had to interact with the machine. Now they simply put the hood down and the magic happens. It tells them how much weight and where to put it. It's really that easy."
Hunter Engineering Company® is the global leader in state-of-the-art wheel alignment systems, wheel balancers, brake lathes, tire changers, lift racks, diagnostic scan tools and ADAS recalibration equipment. Hunter equipment is approved and used by vehicle manufacturers, automobile and truck dealers, tire dealers and service facilities around the world.
For more information, visit www.hunter.com or contact Tommy Maitz, director of marketing, Hunter Engineering Company®, at contact.hunter@hunter.com. For additional information, please contact your local Hunter business consultant at https://www.hunter.com/contact.
Follow Hunter Engineering Company® on YouTube, Facebook, Instagram and LinkedIn.