Hunter Engineering's new customer portal HunterNet® 2 named winner in MOTOR Top 20 contest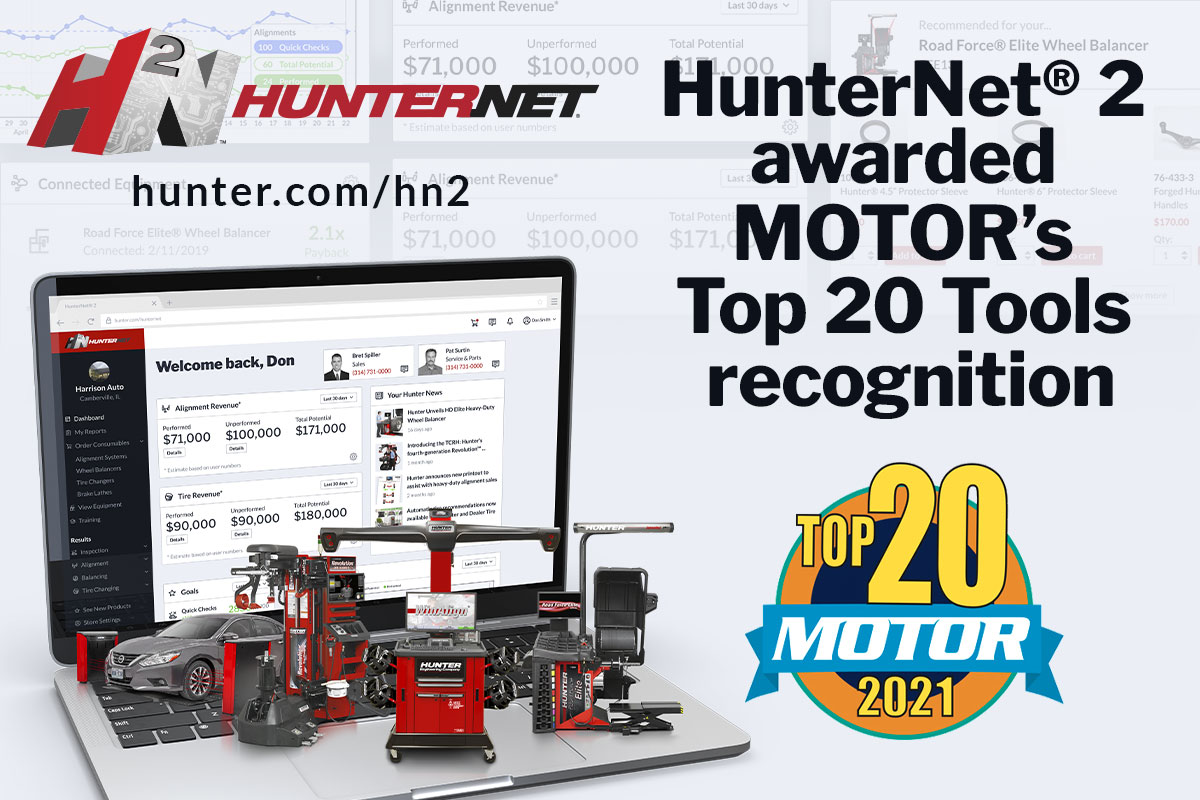 Hunter Engineering is proud to win another MOTOR Top 20 Award. This year, the honor comes for its groundbreaking HunterNet® 2 customer portal.
HunterNet® 2 is designed to make Hunter-equipped shops more productive and profitable by using data to supercharge their equipment investment. Accessible online from anywhere, the portal allows owners to drive alignment and tire revenue by monitoring equipment utilization over time.
Managers can use this automated, centralized resource to take full control of their equipment, numbers and profitability to realize a faster return on their investment.
HunterNet® 2 can also be used to analyze shop performance over time to set and track data-based goals, view equipment payback literally as it happens, receive automated reports, and keep equipment producing by conveniently ordering consumables at any time.  
The HunterNet® 2 portal is available to Hunter customers at no additional cost.
For 2021, MOTOR expanded its contest beyond tools and equipment to include any automotive industry solution developed in the past year, such as shop supplies, training materials, virtual classes, replacement parts and process improvements.  
"We're extremely pleased that in awarding HunterNet® 2, MOTOR and its voters recognized the importance of shop owners truly understanding how their investment in quality equipment is contributing to the success of their business," said Alan Hagerty, product manager for the HunterNet® portal. "We're grateful for that support, and proud to increase Hunter's value to our customers by helping them see their investment pay off in real time." 
Hunter has been named a winner in the contest 11 times in the past 15 years. 
 "For years, MOTOR has recognized the industry's most remarkable new tools and equipment," said John Lypen, editor and publisher of MOTOR.com. "This year, we were pleased to see the variety of new solutions from across the industry and celebrate the companies that created them. Congratulations to each MOTOR Top 20 Award winner." 
 To learn more, visit https://www.hunter.com/hn2. 
Hunter Engineering Company® is the global leader in wheel and tire service, alignment systems, brake service and inspection lane equipment. Hunter® equipment is approved and used by vehicle manufacturers, automobile and truck dealers, tire dealers and service facilities around the world.
For additional information, visit www.hunter.com or contact Tommy Maitz, senior manager, digital marketing, Hunter Engineering Company®, at contact.hunter@hunter.com. For more information, please contact your local Hunter® business consultant at https://www.hunter.com/contact.
Follow Hunter Engineering Company® on YouTube, Facebook, Instagram and LinkedIn.